A California man has pleaded guilty to the murder of his 5-year-old son—months after the boy was reported missing by his mother.
Aramazd Andressian Sr., 35, of South Pasedena, pleaded guilty in court on Tuesday to one count of murdering Aramazd Andressian Jr.—nearly one month after investigators found the boy's body near Lake Cacuma in Santa Barbara County. In his court appearance, he stayed calm and serious, CNN reported.
Andressian's attorney, Ambrosio Rodriguez, said that his client is "beyond words in regretting" killing the child. He added that his client told police about the location of his son's remains.
He now faces 25 years to life in prison. His sentencing date is Aug. 23, the Los Angeles County District Attorney's Office stated, according to KTLA.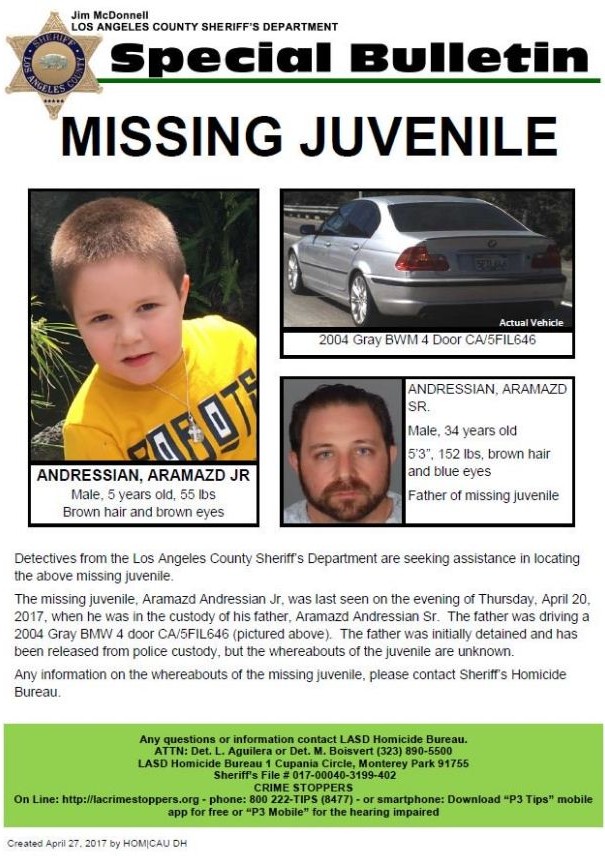 His son, known as "Piqui," was reported missing in April by his mother, Ana Estevez, two days after he and his father went to Disneyland.
Police say Estevez and Andressian Sr. were embroiled in a divorce and custody over the son. Andressian Sr. may have killed the child in retaliation, they said.
In a police report cited by KTLA, Andressian Sr. told police that he had harmed the boy and left him in Santa Barbara County.
"This is a tragedy. Cases like this really tug at your heartstrings," Deputy District Attorney Craig Hum said outside court, as reported by CBS News.