California Gov. Gavin Newsom signed legislation Oct. 8 making the controversial ethnic studies program a statewide requirement for high school graduation starting in the 2029–30 school year.
The new law also requires junior high schools to offer at least a one-semester course in ethnic studies, commencing with the 2025–26 school year.
Assemblyman Jose Medina (D-Riverside), who authored Assembly Bill 101 (AB 101), said the bill has been "a long wait."
"I think schools are ready now to make curriculum that is more equitable and more reflective of social justice," Medina said in a statement. "The inclusion of ethnic studies in the high school curriculum is long overdue. Students cannot have a full understanding of the history of our state and nation without the inclusion of the contributions and struggles of Native Americans, African Americans, Latinos, and Asian Americans."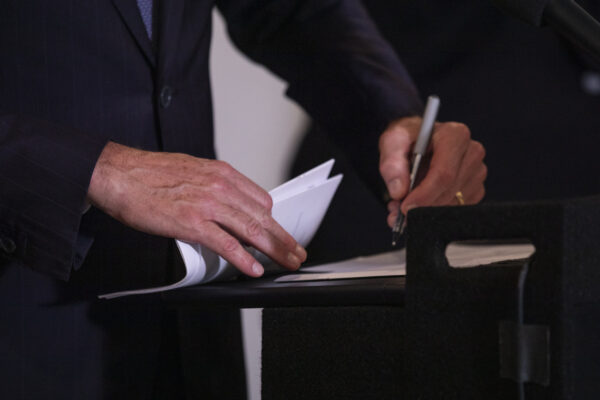 The legislation comes in the wake of the National School Board Association comparing angry parents attending school board meetings in recent months to protest ethnic studies—claiming the subject contains critical race theory (CRT)—to a form of "domestic terrorism."
California Secretary of State Shirley Weber applauded the bill, which she fought to pass while she was an elected member of the state Assembly.
"At a time when some states are retreating from an accurate discussion of our history, I am proud that California continues to lead in its teaching of ethnic studies," Weber said. "This subject not only has academic benefits but also has the capacity to build character as students learn how people from their own or different backgrounds face challenges, overcome them and make contributes to American society."
But many parents disagree. They claim the Ethnic Studies Model Curriculum will sow hatred and racial division because it's based on CRT, which classifies people as oppressed and oppressors based on "privilege" and the color of their skin.
Celeste Fiehler, a parent in Riverside County who has shown up to protest CRT at local school board meetings in Desert Sands Unified School District, told The Epoch Times that she fears the ethnic studies will backfire and worsen racial tensions in America.
Parents have shown up in droves at school board meetings "pleading" for board members to reject the curriculum and help fight against the state-imposed legislation, Fiehler said.
"Parents from all walks of life and political parties are pushing back on this hate curriculum," she told The Epoch Times via text message on Oct. 8.
"Biracial students have it the hardest, having to choose a parent to side with, while being taught to hate the other," and many are "being taught to hate the white side of their race.
"CRT is not only dangerous, but it puts blame on students who have nothing to do with our country's past. It will cause more division in our schools and in our communities."

David Whitley, a concerned parent in Irvine echoed those sentiments. He told The Epoch Times that California's ethnic studies curriculum "teaches racism under the guise of diversity."
"The public schools need to be teaching American history and all the things that unite us, not the things that divide us," Whitley said.
Kelly Schenkoske, a parent in Monterey County who now homeschools her children, has attended Salinas Union High School District meetings in Monterey County to oppose mandatory ethnic studies in the classroom.
Newsom's decision to sign AB 101 into law "further solidifies the slippery slope" California schools have chosen to take, Schenkoske told The Epoch Times via text. "The school system has become a vehicle of propaganda, control and neo-Marxist indoctrination."