California lawmakers passed a landmark bill on Sept. 9 that requires warehouses to disclose productivity quotas and prohibit targets that violate worker health and safety codes.
The amended AB 701 passed the Assembly with a 52–19 vote and is currently sitting on the governor's desk for approval.
The bill aims to protect warehouse workers at distribution centers such as Amazon from productivity quotas that need to be completed within a certain timeframe, thus resulting in missed meals and bathroom breaks.
"We've heard disturbing stories of back-breaking working conditions in Amazon warehouses that use algorithms to enforce dangerous work speeds," author of AB 701 Assemblywoman Lorena Gonzalez (D-San Diego), the bill's author, said in a statement.
"Amazon is pushing workers to risk their bodies for next-day delivery, while they can't so much as use the restroom without fearing retaliation. AB 701 gives workers the tools and protections necessary to be able to speak up and seek real relief against the health and safety abuses they've experienced in these warehouses."
Advocates of the bill view the legislation as an opportunity to enforce work quotas as warehouse employees report high-speed labor tasks where they are forced to skip breaks.
"Thanks to AB 701, warehouse workers at places like Amazon will no longer be fired for simply using the restroom in the middle of their shift," Ron Herrera, president of the Los Angeles County Federation of Labor, said in a statement. "Workers can finally make a living instead of making a trip to the emergency room."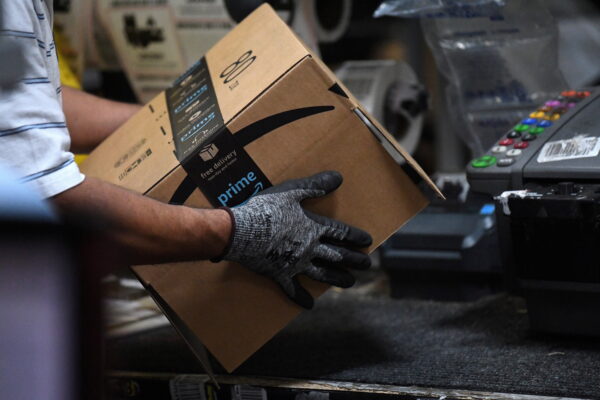 Yesenia Barrera, a former Amazon warehouse employee, shared her experience of keeping up with the company's high demand that resulted in injuries.
"The job is actually very physically demanding. On top of the work that we do all day, you know it takes a toll on worker's mental health," Barrera said at an Aug. 30 press conference. "As workers, we're constantly lifting, we're bending, we're reaching, we're twisting items up to 60 pounds, and that's 10 hours a day, five days a week, and that doesn't even include the mandatory overtime."
"This is where the injuries start to increase right at the time that Amazon calls peak. … Anytime that you spend not on an item, not moving it around, it can lead to accumulating time off task, which does lead to injury, or it can lead to termination. Times off task can even accumulate, even if you use the restroom, if you're getting water. If you're cleaning off your station time, the time gets used against you."
Barrera expressed the distress workers in the warehouse are in, attempting to move quickly so they don't lose their jobs.
"I personally got injured at Amazon, trying to keep up with their pace of work," Barrera said. "In trying to keep up with my workload, the boxes that were incoming were too many, and my scanner got stuck. I was struck in the face."
Barrera explained to her manager who approached her following the incident to see why she had stopped scanning products. She was taken to an on-site clinic and received a paper towel with cold water.
According to Barrera, she was not asked if she was okay and was expected to head back to the workplace.
"Amazon is keeping these practices, keeping these workers working fast at high speed, but it's costing them their bodies," she said. "We're all here together to ask our representatives to pass the warehouse worker protection act, to be able to ensure that warehouse workers are protected, to be able to ensure that there's going to be more safer and sustainable jobs."
Some business groups suggest the bill is intended to boost labor organizing efforts.
Rachel Michelin, head of the California Retailers Association, suggested that while she supports accountability of workplace safety standards, the bill is too broad and lumps the entire warehouse industry together.
"If there is a business that is not living up to the workplace standards, they should be held accountable, we don't disagree with that," Michelin told NPR. "But do we need this broad, sweeping legislation … that impacts every aspect of the supply chain in California? I don't think so."
Amazon and the California Retailers Association were not immediately available for comment.