California Legislator Honored With Environmentalist Award
September 15, 2013 8:04 am Last Updated: September 14, 2013 9:05 pm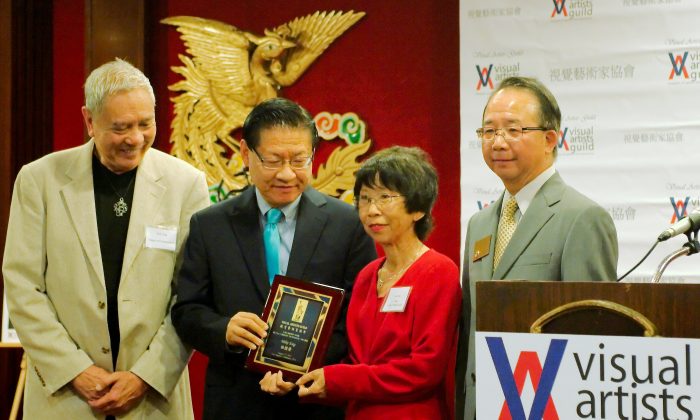 LOS ANGELES—Two environmentalists were honored at a recent awards ceremony sponsored by the Visual Artist Guild on Aug. 17. Michael Eng, a former California Assemblyman, and a former mayor and council member of Monterey Park, Calif., spoke about legislation he presented in 2010 to improve California's water quality. 
Later in the evening, Wu Lihong, China's Lake Tai environmentalist, was also honored.
California Assemblyman Discovers Problems
In his acceptance speech for the Champion of Human Rights Award, Michael Eng made his position on California's water quality succinctly clear: "First, California has worse water than some of the worst countries in the world."
Eng then brought it even closer to home. 
"There are communities within 10 or 15 minutes of us that have to pay twice for drinking water. First they pay for water at the tap, but that water is not drinkable because it has chemicals and pollutants. And then they have to pay a second time to buy water at 7-Eleven or wherever the local supermarket is. And these are poor communities, communities that don't have much money. … This is the second situation," said Eng. 
Unknown to many residents in California, many communities, especially newer ones, is the extent of pollution under their feet. 
"The third condition for this legislation is that I live in an area that is one of the largest Superfund sites in the United States, which has been polluted by volatile, organic compounds and many, many other chemicals," said Eng. 
"And the water is moving, so this highly polluted water could pollute other large areas. It's an area of [underground] water that is so large, it's almost the size of Manhattan. It's a very, very large area. And that's further down from where I live in the San Gabriel Valley." 
Several representatives of various communities approached Eng in 2010 about the difficulties they encounter for caring for their families and communities. 
"We want to have legislation that will make California the first state in the United States of America to make water a human right," the representatives told him. Eng accepted the challenge.
'I Was Shocked'
Eng unexpectedly faced a wall of opposition from his own party, as well as Republicans. 
"I authored Assembly Bill 685. It took two years to complete, because there was so much opposition—I was shocked," said Eng. The Governor signed the bill last year.
"What we did was we got all the different disadvantaged communities from California to come together and say that water is life. Water is health. Water is the future of our children. Water is the future of our economy. Because when people have to pay too much for water, they pay less for food. If businesses spend too much on water, they spend less on creating and maintaining adequate jobs," said Eng. 
"So after two years and a huge, huge fight in the legislature—the first year, I was told that the bill was dead—but … we were able to convince more and more advocates in Sacramento that this was very, very necessary."
Signed by Governor Brown
On Sept. 25, 2012, almost exactly a year ago, Governor Jerry Brown signed Assembly Bill 685 into law. 
"I like to say Bill 685 keeps hope alive. Bill 685 is for our children, and their children, and their children, to keep their hopes and dreams alive. So that's why I am honored anytime someone asks me to speak about water. I am very happy to say we need more organization; we need more people like you to put pressure on our decision-makers," said Eng. 
He mentioned that after introducing the bill, each year has brought more legislator support for this and similar efforts.
Only the First Step
Bill 685 is not a regulatory bill. It has no teeth. According to Eng, "very simply it says that every time someone in California makes a decision about water … they must deliberate, meaningfully deliberate, meaningfully consider that water is a human right in California." 
Eng indicated that there are bills in the legislature at this time regarding clean water. "Hopefully it will build into a giant tidal wave of moral authority … because that is our right, just like clean air is our right," said Eng.
Ann Lau presented the Champion of Human Rights Award.