SACRAMENTO—Amid soaring gas prices, lawmakers announced a $400 gas rebate for all state taxpayers.
"Soaring gas prices are hitting Californians at the pump," Assemblywoman Cottie Petrie-Norris said on March 17 at the steps of the state capital. "We know our constituents are hurting right now."
The $400 rebate is equivalent to a one-year gas holiday that for most cars provides 52 trips to the pump, Petrie-Norris said.
The funding to cover the cost of the rebate will come from the state's budget surplus.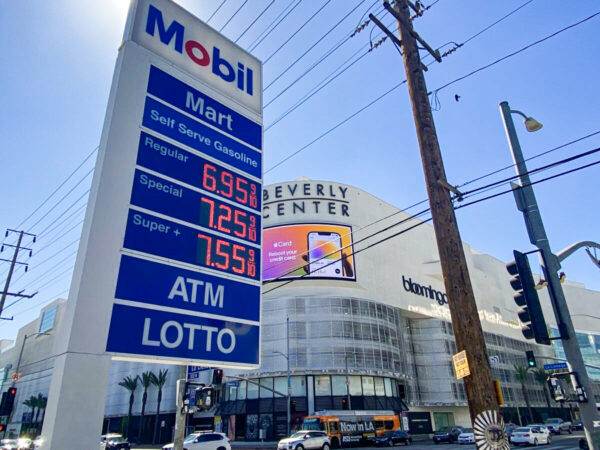 Petrie-Norris announced the proposal alongside Assemblymembers Cecilia Aguiar Curry, Jesse Gabriel, Adam Gray, Rebecca Bauer-Kahan, Jacqui Irwin, Evan Low, Blanca Rubio, Chad Mayes, Carlos Villapudua, and Sharon Quirk-Silva.
The lawmakers attributed the spike in gas prices to the war between Russia and Ukraine.
While Gray praised the proposal, he insisted that the rebate was just the first step toward the solution.
Quirk-Silva applauded the effort to pay taxpayers to allow low-income families to purchase other needed goods, such as groceries or diapers.
The lawmakers claimed the gas rebate would be a better solution to combat rising gas prices than the recently proposed legislation to suspend the gas tax, as it would not guarantee the money would end up back in the hands of consumers, they said.
Assemblymen Kevin Kiley's and James Gallagher's attempt to suspend the 51-cent per gallon gas tax failed to pass in an Assembly committee on March 15 in a partisan 40–18 vote.
Gallagher was quick to respond to a proposal brought forward by Petrie-Norris and question why lawmakers wouldn't just suspend the gas tax now as residents need immediate relief.
"Capital Democrat's Plan = Everyone gets a check from the government at some undetermined date in the future," Gallagher wrote on Twitter. "Whether you own a car, or not. Whether you use gas, or not. Whether you are a billionaire, or not."
Following the Thursday morning announcement of the gas rebate, Kiley stated the effort to suspend the gas tax will be brought forward again to the state assembly next week.
"Legislators are telling constituents they voted against suspending the gas tax because they hadn't read the 2-page bill," he wrote on Twitter. "We'll give them another chance next week."
Aside from the $400 gas rebate proposal that can take weeks to vote upon, Gov. Gavin Newsom proposed in January to suspend the increase of the gas tax in July to offset inflation adjustments.
However, Newsom announced at the State of the State address that the effort wasn't enough. He said he planned to provide state residents with a rebate to help with high gas prices.
Petrie-Norris on Thursday confirmed lawmakers would be working closely with the governor to shape the proposal.