Several counties were added to Gov. Gavin Newsom's state of emergency March 14 enabling them to receive storm and relief response, as Southern California braces for more rainfall.
Alpine, Trinity, and Orange joined 40 other counties that are already under a state of emergency since March 1 as a result of heavy winter storms since last month.
Additionally, President Joe Biden issued a Presidential Emergency Declaration March 10 authorizing federal assistance to regions impacted by the storms.
"With storms forecasted to continue through mid-March, California continues to mobilize personnel and resources to impacted communities across California," Newsom said in a release Tuesday.
On the same day, the Orange County Board of Supervisors announced a local state of emergency, over concerns about landslides of some coastal homes in Newport Beach. Hillsides in the beach town began collapsing last month due to excessive rainfall.
Meanwhile, the Orange County Register reported that the Orange County Sheriff's Department yellow-tagged four apartment buildings in San Clemente—about 30 miles south of Newport Beach—due to possible landslides on March 15.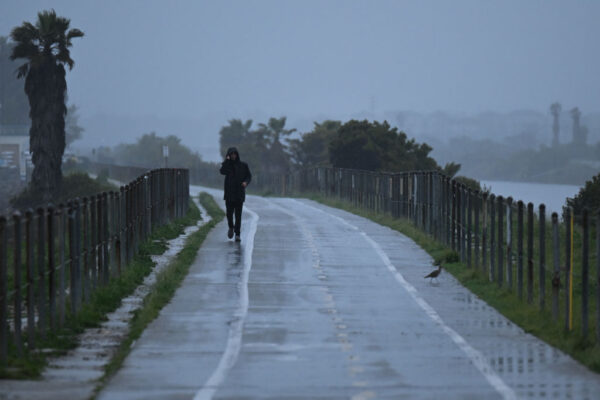 The local emergency will allow the county to receive assistance for previous damages caused by the severe weather, as well as future storms. Board members said during their Tuesday meeting that the storms have caused $6.4 million in damages so far.
Heavy rain hit Southern California late Tuesday evening, prompting a flood advisory for Los Angeles and Ventura Counties overnight, which ended Wednesday morning as the rainfall receded.
According to meteorologist Ryan Kittell with the National Weather Service, the storm is moving from the north to the south, so San Diego County can expect showers late March 15, too.
"It will then move inland from there, but it's going to continue to march southeast and out of Southern California over the course of the day," Kittell told The Epoch Times.
So far, he said, forecasters haven't seen any major flooding, since the rain began Tuesday evening.
Forecasters said another storm is headed to the Southern California region this weekend and rain is expected Tuesday and Wednesday next week as well.
With the exception of a short period in January, Southern California has been repeatedly hit by storms since December, leading to higher-than-normal levels of rain and unusual snowfall at lower elevations.
The storms have lifted several regions out of drought conditions altogether, according to U.S. Drought Monitor data.