California has announced it would not implement any vaccine mandates for students to be able to attend public schools until at least mid-2023.
The state in October 2021 became the first in the country to announce a vaccine requirement for students to attend school. But the mandate has not come into effect because Food and Drug Administration (FDA) has yet to fully approve the vaccines for people of ages within the 7–12 grade span.
Gov. Gavin Newsom's administration indicated it would only enforce the mandate if or when the FDA fully authorizes the vaccines for children. In that scenario, California would start the rulemaking process to add the COVID-19 vaccine to other vaccinations needed to attend school in person—such as for measles, mumps, and rubella.
Previously, Newsom estimated the mandate would take effect for the start of the 2022-23 school year. On Thursday, the administration said it would not try to implement the COVID-19 vaccine mandate for the 2022–2023 school year, and therefore any mandates wouldn't take effect until after full FDA approval, and later than July 1, 2023.
"So based on these two facts—we don't have full FDA approval, and we recognize the implementation challenges that schools and school leaders would face—that we are not moving to have a vaccine requirement for schools in this coming academic year and no sooner than July 2023," California Health and Human Services Secretary Dr. Mark Ghaly said in an interview, reported The Associated Press.
Christina Hildebrand, president and founder of A Voice for Choice Advocacy, a group that opposes vaccine mandates, told AP, "From a perspective of keeping children in schools, this was the right move. The number of children that are unvaccinated, and if they were removed from school, would have been a much bigger disaster."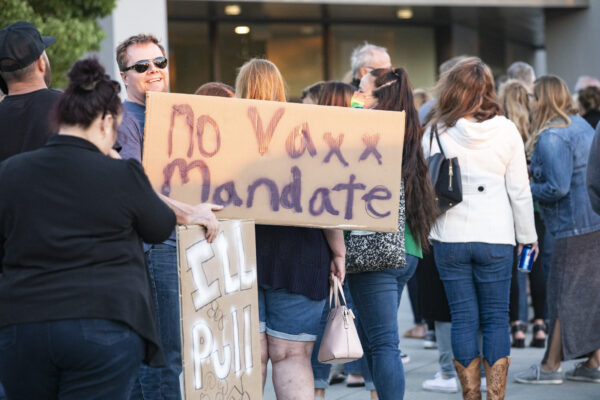 Currently, the only vaccine against COVID-19 available for people aged under 18 in the United States is Pfizer's—it is authorized for emergency use for children aged 5–17. No vaccines have been given full, final approval to anyone younger than 16.
The FDA in October 2021 delayed a decision on whether to grant Moderna an EUA for its COVID-19 vaccine for those aged 12 to 17, saying it needs more time to further review the vaccine's risk for myocarditis in this population.
Besides California, Louisiana has announced a vaccine mandate for K-12 schools, according to the National Academy for State Health Policy. The District of Columbia also has a mandate.
Louisiana's mandate has an opt-out option for parents who can apply to exempt their children by citing religious, medical, or philosophical reasons via a written dissent. California's mandate would permit exemptions for medical reasons and personal beliefs. Medical reasons often require confirmation from a doctor.