PERRIS—A Southern California couple got some unexpected help delivering their baby.
Amanda Tadeo of Perris went into labor Jan. 16, according to a Riverside County news release about the birth. Amanda and her husband Oswaldo Tadeo were racing to the hospital when they realized they didn't have enough time, county spokeswoman Brooke Federico said.
So the Tadeos stopped at Riverside County's code enforcement office, thinking someone there might be able to help.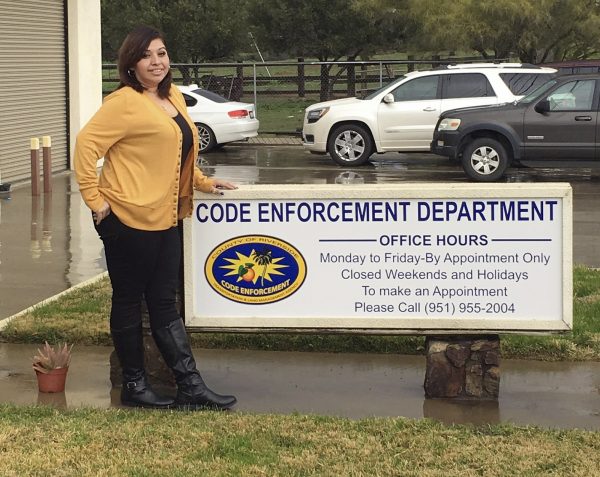 Code enforcement employee Angie Solis was walking into the office on the cold and rainy day when she heard Oswaldo yell from the couple's van: "My wife is in labor! She's about to have a baby!"
Solis found Oswaldo on the phone with firefighters and Amanda's baby crowning.
"When I first saw her in labor, I was freaking out and asked my coworkers 'What do we do?'" Solis said, according to the news release.
At 6:47 AM, a couple stopped their van at our office near Lake Mathews & requested aid. The female had gone into labor & the baby's head was crowning. Riverside County Code Enf. Aide A. Solis kept her composure & assisted the young mother in giving birth to a boy. #RivCoNow pic.twitter.com/V4ymjAH8w9

— Riverside County Code Enforcement (@RivCo_Code) January 16, 2019
Solis jumped into action by supporting the baby's head as it emerged and comforting his mother. The baby was born into Solis' hands, who held him until he began crying and then placed him on his mother's chest, Federico said.
"I was overwhelmed with joy for the family," Solis said.
On 01/16/18, at 6:47 AM, a young couple stopped their vehicle in front of the West Regional Office and requested aid….
Federico said other code enforcement employees covered the mother and newborn with blankets and sweatshirts. Paramedics arrived shortly after and took them to a hospital.
The Tadeos named their son Damian and the family is doing well back at home, Federico said.
Births in the United States
Approximately 3.86 million births took place in 2017 in the United States, according to a report (pdf) from the Centers for Disease Control and Prevention published in November 2018. Data was gleaned from birth certificates.
That number was down two percent from 2016. Birth rates declined for women 39 or younger but increased for older women.
The birth rate for women in their 20s continued to drop, a trend that started in 2006, and hit a record low for 20- to 24-year-olds, at 71.0 births per 1,000 women.
The rate for women aged 30 to 34 had been increasing in recent years but declined two percent from 2016 to 2017, the first decline since 2010. The birth rate for women aged 35 to 39 also declined by one percent, the first decline since 2010.
But the birth rate for women aged 40 to 44 was up to 11.6 births per 1,000 women, a two percent increase since 2016, and continuing a trend since 1985. Women aged 45 to 49 saw a birth rate of 0.9 births per 1,000 women, a figure unchanged from 2016, but the number of births to women aged 45 and over rose three percent from 2016 to 2017.
There were 840 births to women 50 or older, essentially unchanged since the previous year, although the number has been increasing since 1997.