Heightened tensions among opposing sides regarding the teaching of critical race theory—or its underlying tenets—in K–12 schools erupted into chaos at a local school board meeting in Temecula, California, last week, creating deeper rifts in the community.
The otherwise sleepy city tucked away in southwest Riverside County known best for its wineries has become the latest crucible in the heated war of words over critical race theory, or CRT.
The Temecula Valley Unified School District fell under the national media spotlight in December when a slate of newly elected conservative school trustees—Joseph Komrosky, Jen Wiersma, and Danny Gonzalez—were sworn into office. The trio shifted the balance of power on the school board and voted to ban CRT at the board's first meeting after the Nov. 8 election.
The other trustees, Steven Schwartz and Allison Barclay, opposed the resolution banning CRT, both claiming that the topic isn't taught in district classrooms.
The special meeting on March 22, which lasted nearly five hours, was billed as a workshop to inform parents about CRT and why the school board banned it from being taught in classrooms.
"We're not debating whether we should have [CRT] or not. It is condemned. It is gone," Komrosky said at the meeting. "We have local control here as school board members. We can make it explicitly clear what we condemn. Racism is morally reprehensible, and CRT is racism in disguise."
Dozens of activists, including parents, politicians, teachers, and students, showed up at James L. Day Middle School to protest the ban, while a few hundred others gathered to hear the presentations of six expert panelists.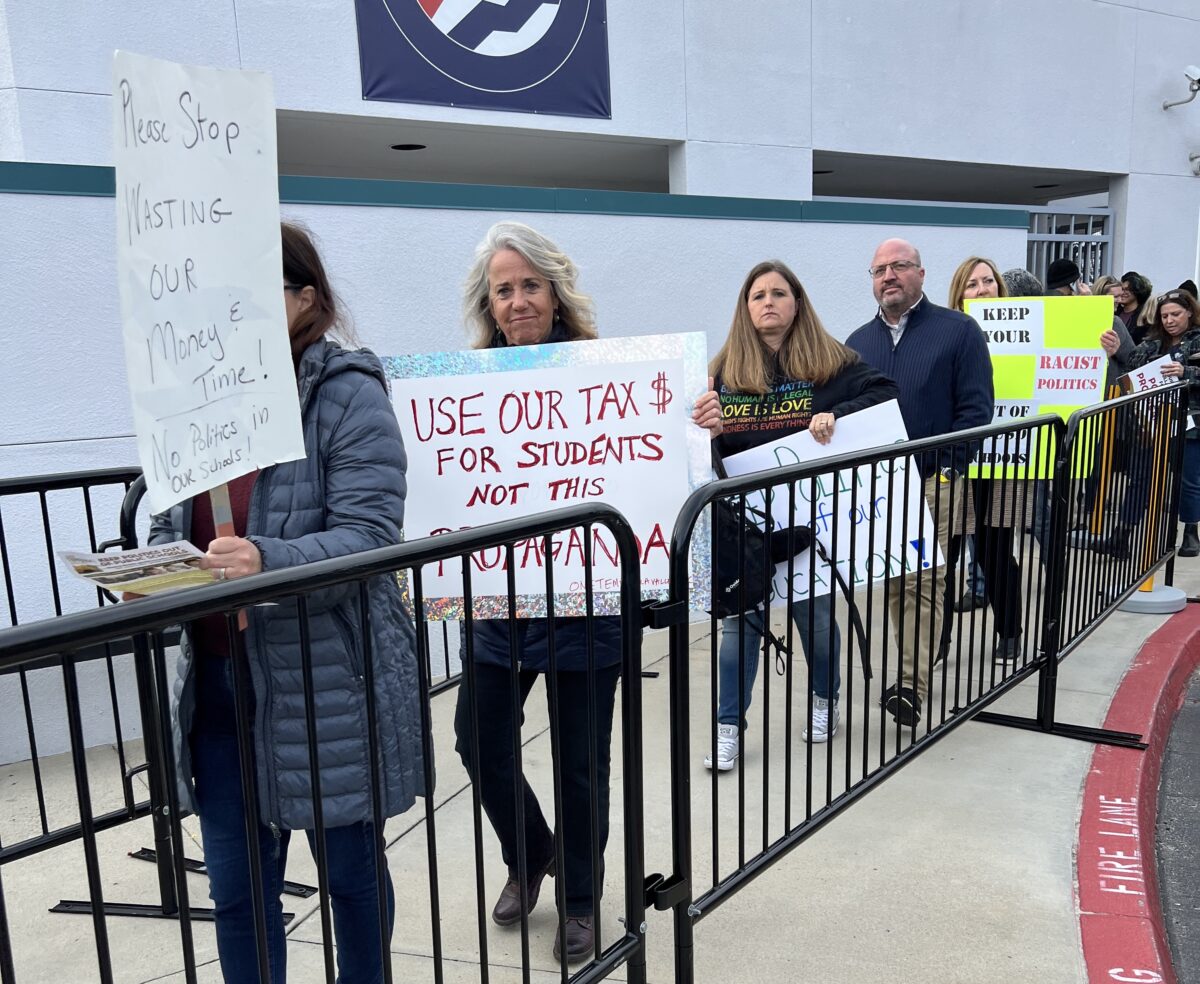 The panelists were Dr. Joe Nalven, a professor of cultural anthropology, peace and justice, and indigenous religions at the University of San Diego; Walter H. Myers, an adjunct faculty member at Biola University and Master of Arts, Science, and Religion; Wenyuan Wu, director of Californians for Equal Rights, who spoke via Zoom; Esther Valdez-Clayton, an immigration attorney and former school board president; Brandy Shufutinsky, director of education and community engagement at the Jewish Institute for Liberal Values; and Chris Arend, former Paso Robles Joint Union High School District board member, who played an instrumental role in drafting the CRT ban resolution.
All of the panelists opposed CRT being taught in K-12 schools and told the audience that banning it is not a ban on teaching black history or ethnic studies, contrary to the signs and claims of protesters.
Audience Members Removed
The meeting got off to a raucous start with the public comment portion, as Deon Hairston, a local black pastor, gave a fiery speech against racism and the CRT ban.
"Your continued blatant, willful ignorance of the black experience in this country is not only shameful, but also detrimental to the education and growth of our children," he told the board and panelists who were invited to speak on the issue.
As he walked away from the podium, Hairston said a woman in the audience told him that, "If I feel that way, why don't I get out of the country?" and he shouted the alleged comment to the crowd.
Hairston continued yelling and was warned twice before Komrosky told sheriff's deputies to escort him out of the school auditorium.
As Hairston left the building, some protesters surrounded the woman and pointed at her, chanting "get that woman" and "kick her out," and she was also later escorted out.
Gonzalez later told The Epoch Times the woman could be heard saying something, but he could not confirm what she said. The alleged comment was inaudible on recordings.
Komrosky suspended public comments and called a recess, but before order was restored, a student protester draped in a Pan-African flag confronted a parent. She walked towards the man and put her hand on his chest.
When the man said, "Don't touch me," San Jacinto City Councilor Brian Hawkins moved toward him, grabbing his arm and shouting repeatedly "That's a child!" over the crowd until the man said "Shut up!" and walked away.
Deputies asked the man to leave and escorted him out.
The man, who asked not to be named for fear of retaliation, told The Epoch Times he has retained legal counsel and is prepared to sue anyone making false accusations against him.
A narrative being spread that he sought out the girl with the flag and got in her face is "is a complete lie," he said.
Jenn Reeves, a local activist, recently posted video clips on TikTok of the incident between the man and the girl with the flag from the March 22 meeting, claiming Hawkins prevented the man from "assaulting" the girl.
But, several videos show the girl with the flag jumping in front of the man and putting her hand on his chest.
"I didn't know what happened, and then I looked down. I saw it was a person, and I pointed at my chest. … I just said 'Don't touch me,'" the man said.
Hawkins, who was wearing a Black Panther Party hoodie under his open suit jacket, ran unsuccessfully for Congress as a Republican in 2022 and adamantly opposed CRT during his campaign.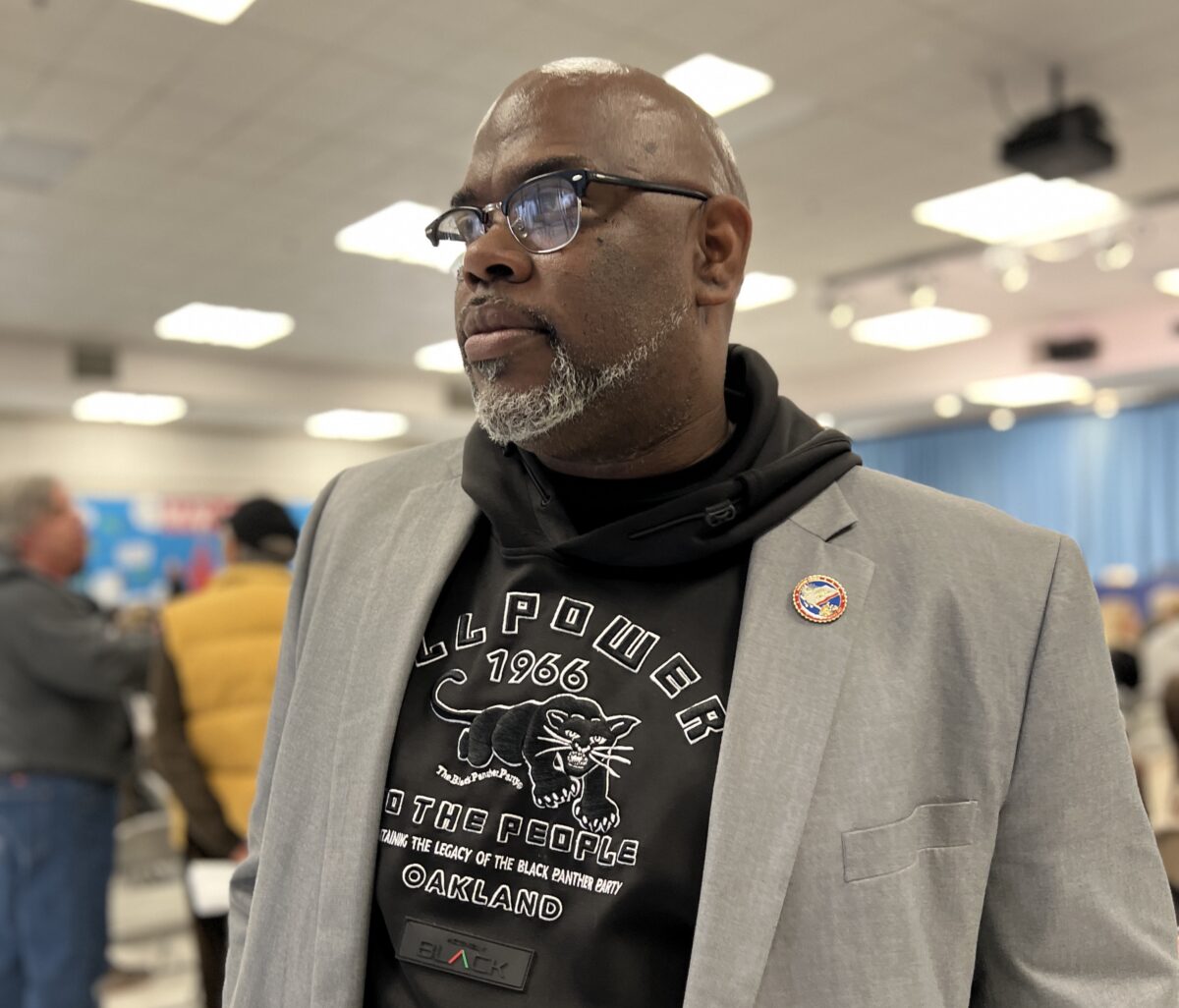 He later told The Epoch Times he has changed his mind about CRT and left the GOP at the end of last year before registering as a Democrat in February.
The immediate solution for unity in the district is to repeal the CRT ban, Hawkins said.
"This piece of paper has caused more harm than good," he said.
CRT Controversy
A San Diego parent who goes by the pseudonym Ben Richards and advocates for parents' rights, told The Epoch Times that Temecula is now "the tip of the spear" in the national fight against critical race theory.
Richards claims there is a coordinated effort by educators and activist groups such as Fight Back Collective to portray those who oppose CRT as "white Christian nationalists" and "foment, coordinate and support leftist student walkouts," in the district, Richards said.
Fight Back Collective states on its website that school boards across the United States "are being infiltrated by far-right white supremacists running on a campaign of 'parents' rights.' Usually endorsed by hate groups such as Moms for Liberty and backed by dark money, these school board members are banning 'CRT,' attacking trans youth and LGBTQ+ kids, and running smear campaigns on teachers who support inclusivity."
Students are being told they are either a racist, or an anti-racist and that in order to be the latter, they must become an activist and support CRT, Richards said.
"CRT seeks to create student activists and that is exactly what you're seeing in Temecula," he said.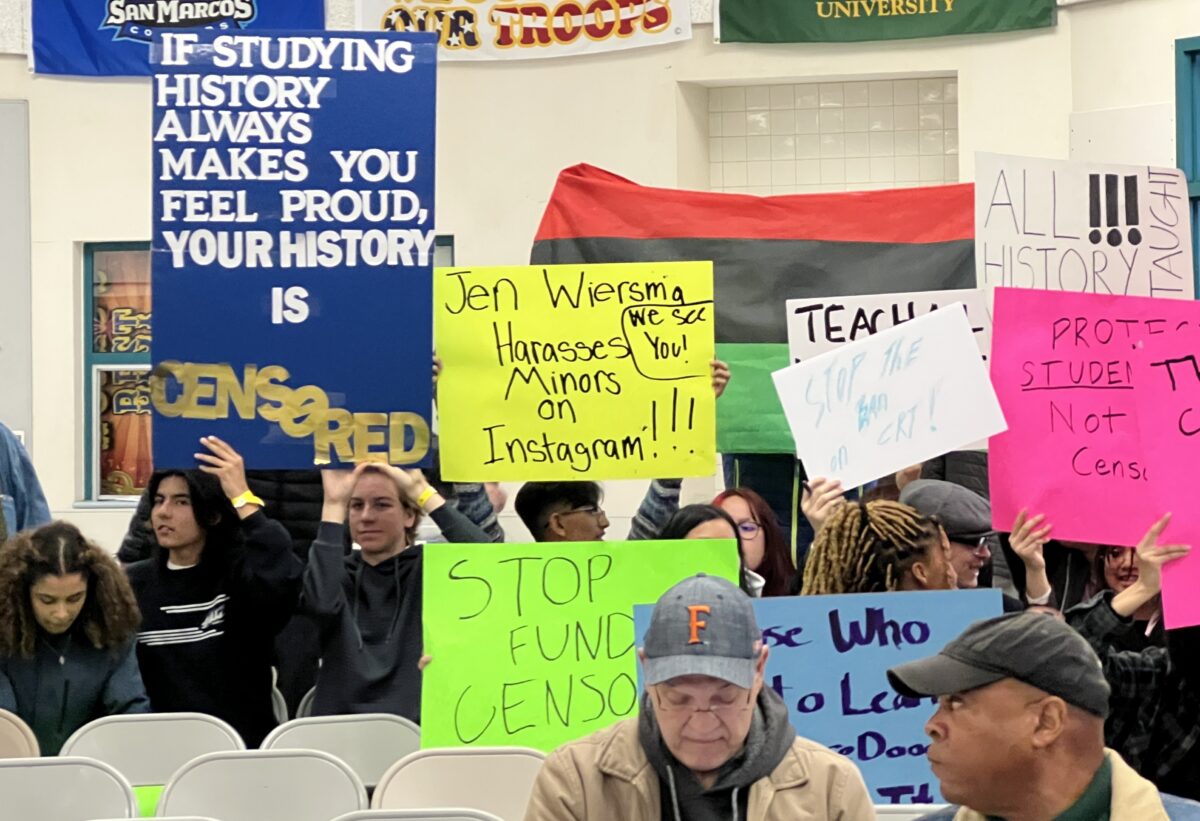 Jeff Pack, a member of the One Temecula Valley Political Action Committee, known as OneTVPAC, which opposed the CRT ban, told The Epoch Times in an email the group is calling for Komrosky and Wiersma to resign immediately.
"The behavior of TVUSD school board members Komrosky, Wiersma, and Gonzalez mirrors those happening in other school districts across the country. They are seemingly following a national political playbook line-by-line with no regard to whether any of the resolutions they are passing or actions they are taking have anything to do with Temecula Valley Unified School District whatsoever," he said. "That's bad governance in our eyes."
The California School Boards Association (CSBA), which represents more than 1,000 school boards, has stated that it's up to each school board to decide whether or not to teach CRT.
Troy Flint, a spokesman for the association told The Epoch Times in 2021 the CSBA doesn't endorse CRT nor does it believe that critical race theory is "widely taught" in California schools.
"Mostly what you see in those cases where elements of CRT are being taught in the classroom [is] that it's an individual decision the teacher has made … that this is a way to communicate or to illustrate a particular concept that they think enhances a student's understanding of the material," Flint said in 2022. "But, you're not seeing CRT as a whole or as a matter of practice taught in California schools on a widespread basis."
On July 3, 2021, the National Education Association, a teacher's union which represents nearly 3 million educators nationally, passed a resolution to promote CRT and "fight back against anti-CRT rhetoric." Days later, the American Federation of Teachers, another national teachers' union affiliated with the AFL-CIO representing 1.7 million members, denied CRT was being taught in public schools.
Meanwhile, opponents of CRT say the tenets of the topic are taught and are sending a racially divisive message to schoolchildren. They argue the underlying principles of CRT pit racial groups against one another, and portray white people as "oppressors" and non-whites as "oppressed."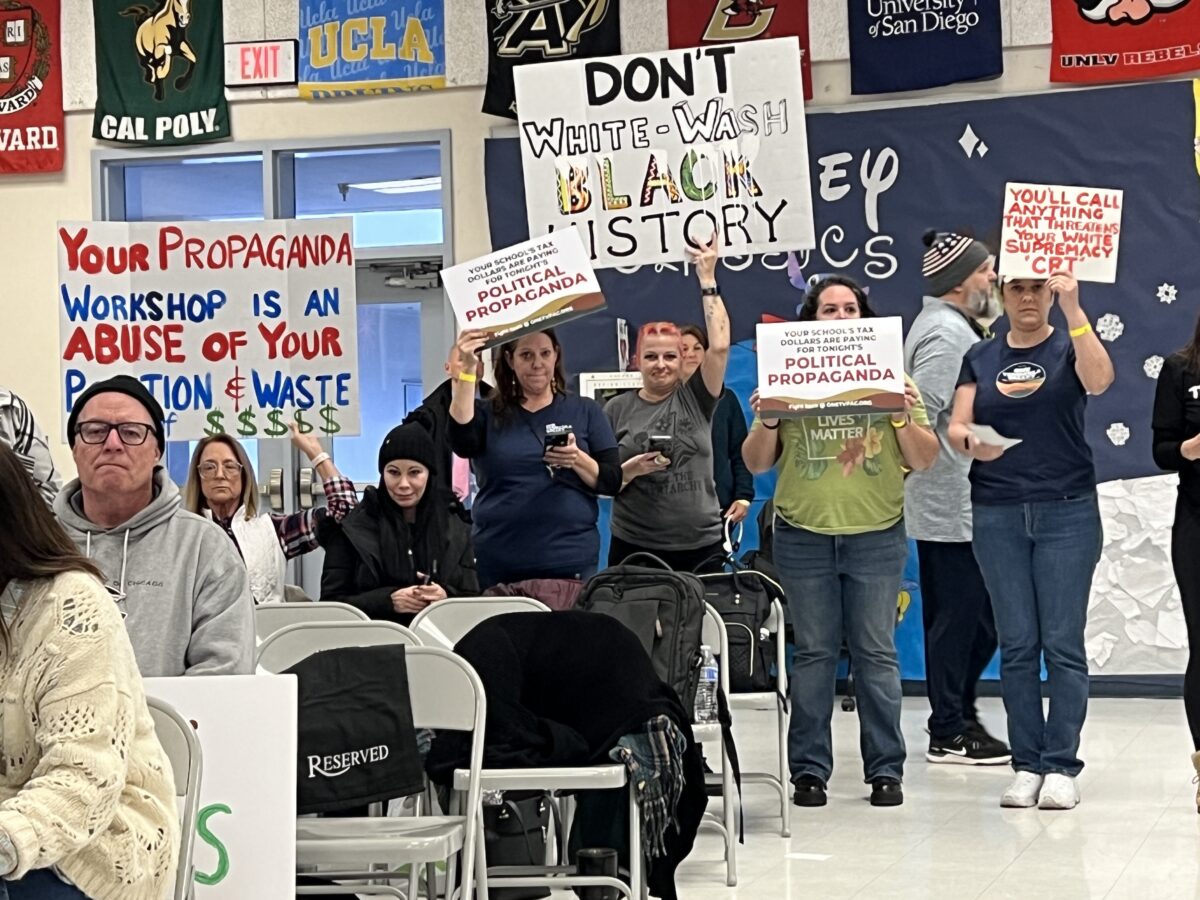 'Not Going to Be Deterred'
Trustee Wiersma told The Epoch Times she won't back down on the CRT ban because that's what she campaigned on and that's what parents who voted for her expect her to do.
"I'm not going to be deterred through the harassment and people's attempts to cancel what we were elected to do, and that is to represent the people," she said.
The board majority is committed to continuing discussions and focus groups to educate the community about critical race theory and why it was banned, she said, stressing the workshop was never intended to be a debate.
"It was to strengthen the reasoning behind passing the resolution, and to help educate people and answer questions. Unfortunately, there were people there simply to hijack it and cancel the meeting," she said. "I think a lot of that was staged, of course, and it's unfortunate."
People seated near the back of the auditorium felt intimidated and threatened by "the mob mentality," and couldn't focus on what the speakers had to say, she said.
Near the end of the meeting, Gonzalez said that despite claims CRT is not being taught in the district, it has crept into lessons in the district through supplemental materials.
The resolution is intended to provide clarity to parents and teachers on how to deal with controversial topics and set preventative guardrails "knowing that we don't want CRT in public schools," Gonzalez said.
Trustee Barclay denied CRT is taught in district classrooms and said she is not suggesting it should be taught, but blamed the ban for dividing the community.
"It's strictly a political stunt that is divisive," she said. "We did not have this division before this resolution."
Trustee Schwartz left his seat after public comments and didn't return to hear the panelists' presentation and discussion. However, he did appear after the discussion to speak with panelist Shufutinsky.
Schwartz told The Epoch Times via email the forum was a waste of money that would have been better spent on classroom supplies and materials.
"The 'purpose' of the forum was supposedly to educate about CRT. It actually was an indoctrination by opponents," he said. "CRT was never part of our curriculum. Whether people support it or don't is irrelevant to the issue. I was opposed to the resolution being proposed at the first board meeting. The issue never should have been raised, as it has caused chaos in the community."
Stephanie Dawson, a parent who spoke in support of the workshop and was heckled during her public comments, told The Epoch Times it was unfortunate the panelists' presentations were "overshadowed" by the protest.
"The signs and their part in the chaos that unfolded made it clear that they weren't there to learn anything … but instead, were there to just agitate and disrupt," she said. "It seemed as if they were ready to pounce on anything that could ignite the night, so the comment that woman made was enough for them to just jump on it."
Dawson said CRT has infiltrated the classroom whether people want to see it or not, and while she's disappointed the city is so divided over it, she believes banning it is for the best.
"The ban is going to be a good thing," she said. "I support it even more now that I've learned so much from the panelists."
Another parent, who asked not to be named for fear of retaliation, told The Epoch Times the meeting was supposed to be a safe environment for parents to learn more about CRT and why it was banned from district classrooms, but instead devolved into "chaos" and "anarchy" as protesters heckled those who spoke in favor of the ban.
Two groups of protesters flanked both sides of the auditorium along the back wall.
"On one side … you had a lot of students with signs—a lot of screaming, yelling, and name-calling, and on the other side of the room there appeared to be adults with signs doing the same thing," the man said. "They were heckling; they were being loud; they were moving around. They had signs in everyone's faces. It was obvious they were there to completely disrupt the event."
The three audience members were removed "for disrupting the meeting and/or making inappropriate personal comments toward another audience member," according to a joint statement by Komrosky, the school board president, and Wiersma, the board clerk, on the district's website.
"The race of these individuals was irrelevant to the removal decision, just as any other personal attribute of either individual would also be completely irrelevant," they stated. "While it is always regrettable when a removal has to occur, the Board's rules and policies are intended to promote an orderly process for Board meetings and an open, reasoned, and effective dialogue and exchange of ideas."