Calgary Man's Mother Kidnapped in China
October 20, 2005 12:00 am Last Updated: October 20, 2005 12:00 am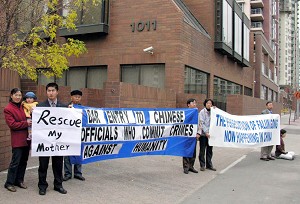 CALGARY, Canada – On December 13th, 2000, Kevin Duan, a mechanical engineer in the southern Chinese province of Guangdong, answered a call to repair a photocopier, but not just any photocopier. The machine was at a small underground printing house where followers of Falun Gong produced informational pamphlets about the Chinese government's violent persecution of their spiritual belief–a persecution the government denies is happening.
Duan, himself a Falun Gong practitioner, knew his actions could land him in danger. Since the Chinese government outlawed Falun Gong in July, 1999, it attempted to shut off all channels of communication to prevent the public from finding out that followers of Falun Gong were being tortured and killed for their beliefs. The government was then in the midst of tightening internet surveillance to prevent discussions on topics like Falun Gong, democracy, or the Tiananmen Square Massacre. Like the radio, television and print media, the Communist Party was working to ensure only one voice prevailed, its voice.
With no independent media channels or legal options at their disposal, millions of Falun Gong practitioners throughout mainland China began resorting to peaceful–yet dangerous–grassroots methods to get the word out about the persecution. In basements and apartments across the country Falun Gong practitioners have set up underground printing houses. Often, those printing houses are discovered and untold numbers of Falun Gong supporters have been arrested, tortured, and sometimes killed for their efforts to reveal a persecution the communist government wants hidden.
On that fateful December day, Duan became one of them. Some 30 police surrounded the printing house and arrested him and the three other Falun Gong practitioners inside. During his first night in police custody, he says he was beaten from 11pm to 6am the next morning. Police hit him with metal batons, kicked him, and smashed his head against the corner of the wall. When he lost consciousness amid the beatings, the police poured cold water on him to revive him so they could continue the abuse.
For the next 15 months, he languished in detention where he faced regular torture, brainwashing, and forced labour for refusing to recant his belief. Meanwhile, police extorted over one hundred thousand Yuan from his family.
Following his release, Duan and his wife Sophia Wang managed to escape to Calgary in August 2003. Until recently, Duan has tried to keep a low profile, fearing that if he spoke publicly about the abuse he suffered in China the Chinese authorities might take revenge on his family still in Guangdong province.
Earlier this month, however, Duan heard news the governor of Guangdong province, Huang Huahua, would lead a 200-member delegation to Vancouver in late October. He joined efforts led by the Falun Dafa Association of Canada to request that the Canadian government deny Huang entry to the country in accordance with the Canadian Crimes Against Humanity and War Crimes Program. The Association says that Huang has been actively involved the persecution of Falun Gong in Guangdong, resulting in over 97 deaths-by-torture of practitioners.
Duan says he also intends to bring a lawsuit against Huang for the torture he suffered under Huang's jurisdiction.
In the last month, the Falun Dafa Association has called upon the Canadian government to bar entry to two other Chinese officials who they say were also involved in persecuting Falun Gong. They were successful; in both cases, the Chinese officials never showed up.
Last Thursday, Duan attended an Edmonton press conference to recount his experience of being tortured for his beliefs. Hours later, his worst fear had been realized–his mother, 64-year-old Liu Yueyu, was kidnapped by authorities in Guangdong. Police put her through hours of interrogation about her son before she was released and went into hiding. She hasn't been heard from since.
Duan believes police are targeting his mother in an attempt to silence him. He says it's not uncommon for the Chinese government to harass or detain the family members of Chinese expatriates who criticise the government.
"We are very concerned about Liu Yueyu's safety," said Xun Li, president of the Falun Dafa Association in a statement on Sunday. "We call upon the Canadian government and human rights organizations to monitor and protect her safety."
The Chinese consulate could not be reached at the time of this article.