The so-called "Cajun Navy"—an informal network of good Samaritans based in Texas and Louisiana that was formed after Hurricane Katrina—is heading to flood-ravaged Houston.
"There's no telling how many are already over there," said 39-year-old Joey Hains of Lafayette, La., USA Today reported. Hains said he's going to Houston.
"Okay Texas The Cajun Navy from Louisiana is enroute to Dickinson. We have been given the GREEN LIGHT to enter your area," said the group's leader in Facebook post, VOA News reported.
"The reality of the Cajun Navy is everybody out here with a boat that isn't devastated gets out and helps others," Clyde Cain, who is in charge of the Facebook page Louisiana Cajun Navy, told USA Today.
On Sunday, as ABC13 reported, pickup trucks and small fishing boats could be seen heading from Louisiana to southern Texas for the rescue effort.

"To me, going in and pulling people out of the water was just the right thing to do. It was our responsibility as citizens, Louisianans," said Sara Roberts, a person who was of the original group.
Heavy rains in Texas have left thousands of people stranded, and rebuilding efforts are expected to take years.
Schools, airports, and office buildings in the nation's fourth largest city were ordered shut on Monday as scores of roads turned into rivers and chest-high water filled neighborhoods in the low-lying city that is home to about 2.3 million people. The area's vital petrochemical industry also was crippled, Reuters said.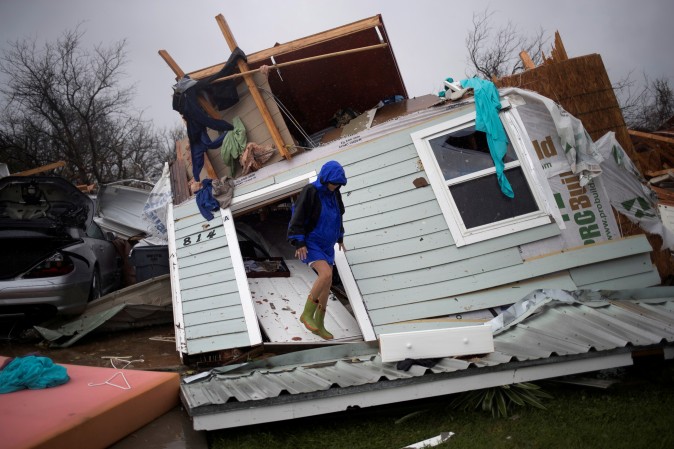 More flooding is expected as water levels continue to rise, putting more residents at risk. More than 30,000 people are expected to be placed temporarily in shelters, FEMA Administrator Brock Long said at a news conference on Monday. The National Weather Service said the worst of floods are expected Wednesday and Thursday, although there is still uncertainty over the storm's path.
The U.S. Army Corps of Engineers said Monday that it was releasing water from two nearby reservoirs into Buffalo Bayou, the primary body of water running through Houston.

"If we don't begin releasing now, the volume of uncontrolled water around the dams will be higher and have a greater impact on the surrounding communities," said Colonel Lars Zetterstrom, Galveston district commander of the Corps.
Reuters contributed to this report.