Eight Hour Update: Cadillac continues to lead the race, with Jeff Giordon in the #10 Wayne Taylor Racinbg Cadillac DPi V.R leading the #22 Extreme Speed Motorsports Nissan DPi driven by Bruno Senna. The #31 Whelen Engineering Cadillac lost time behind the wall with a starter problem, the car currently runs sixth.
Toni Vilander in the #62 Risi Ferrari leads GTLM ahead of Scott Dixon in the #67 Ford GT  and Patrick Pilet in the #911 Porsche 911 RSR.
Connor De Phillippi in the  #29 Montaplast Audi currently leads GTDfrom R Liddel in the #57 Stevenson Audi and Jeroen Bleekemolen in the #33 Riley Motorsports-Team AMG Mercedes AMG GT3.
Kyle Massonin the #38 Performance Tech Preca leads Protoype Challenge despite the car having lost time to repair accident damage.
The rain continues to fall, alternating between a light mist and actual rainfall. The track is wet in the infiled and dryer on the banking, which is playing havoc with the Continental rain tires; several teams have had flats probably due to the tires overheating.
The race is currently under caution for the seventh time, with the #16 Change Racing Lamborghini spinning out of the Bus Stop and hitting the wall hard.
UPDATE: With five-and-a-half hours passed, the weather has decided to attend the Rolex 24 at Daytona. 
The rain is not that hard yet, but the radar does not offer a promising prognosis.
The race is once more under yellow as Marcel Fässler in the  Corvette Racing C7.R has stalled on track after being whacked by the #69 Ford GT.
DAYTONA BEACH, Fla.—The Rolex 24 at Daytona is only five hours old—less than a quarter of the way through.
With the race almost a quarter done, Cadillac has been the car to beat at the Rolex 24 at Daytona.
Dane Cameron in the #31 Whelen Engineering Cadillac DPi V.R started from the pole and led for the first three hours before losing the lead to Ricky Taylor in the #10 Wayne Taylor Racing Cadillac. The #5 Mustang Sampling Cadillac held onto third despite having an issue with its lighting system.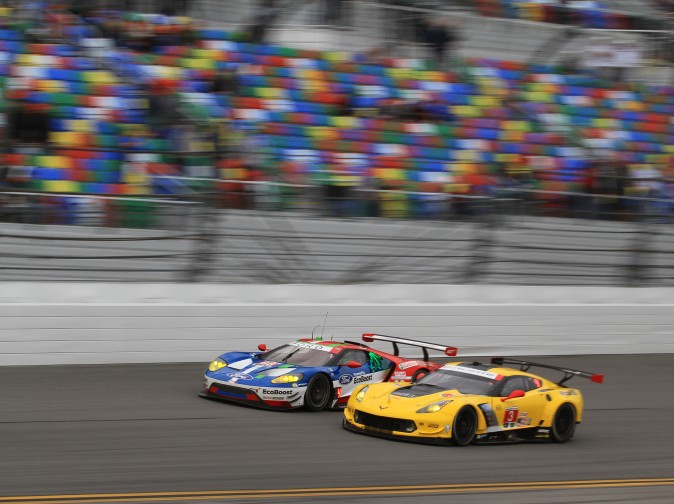 Ford. Ferrari, Corvette in GTLM
Ford Chip Ganassi Racing brought a quartet of Ford GTs to Daytona, and it paid off, with the #66 leading the GT Le Mans class followed most of the time by the #62 Risi Competitzione Ferrari 488 GTE, with one of the two Corvette Racing C7.Rs in third.
The race is currently under a full-course caution because the #38 Performance Tech PC-class Oreca hithteh wall, tearing off its right front corner.
The #73 GTD Park Place Porsche 911 GT3 R got punted by the #26 Bar1 Oreca PC, multiple Rolex winner Scott Pruett got pushed into the wall in the #15 GTD 3GT Racing Lexus RC F GT3.
The race is currently being broadcast on Fox Sports 2 and IMSA.com.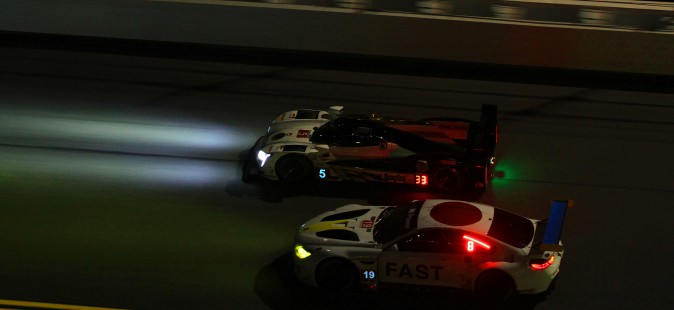 More to come.