Meet the 2017 Cadillac CT6 Sedan Turbo Platinum AWD. There's a mouthful and one heck of a name plate! Our tester black beauty was crammed with General Motors latest technology as befits the marques status as its top-of-the-line sedan and presents itself as a very capable driving machine under most road conditions. Did I mention that my wife was impressed with the seats (how she tends to initially gauge any vehicle)—especially with the massage feature?
Introduced to North America for model year 2016, the CT6 is considered Cadillac's flagship sedan for good reason. Much like Buick now touts itself as a brand which produces automobiles of all shapes and sizes to appeal to a broader demographic, the Cadillac brand today, specifically this CT6, is not the land yacht of yesteryear your grandfather might have driven. To be clear, the CT6 is one of the most agile jewel-in-the-crown sedans on the market today, benefiting from a surprisingly low curb weight and excellent chassis tuning—for what is still considered a large vehicle, that is. The model we drove for a week was the Cadillac CT6 3.0 L V6 twin turbo, mated to an eight-speed automatic transmission and all-wheel drive.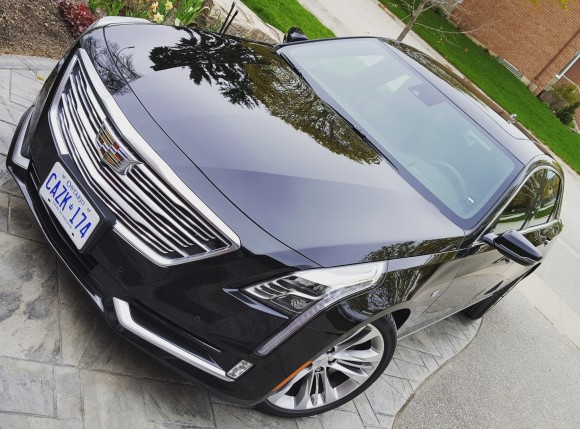 Ride comfort generally is quite good, especially with the available magnetically controlled suspension. All things being equal, the chassis is reasonably tight and the handling and overall dynamics of this sedan are pretty good. The CT6 is about the closest thing to a full-size sports sedan. But it's still a long-wheelbase car and a wide one too. In truth, although an enjoyable, grin-inducing ride, there is too much car to deliver truly sporty handling. With the twin-turbo V6; the CT6 is fast, but with a lot of weight on the nose. Consequently, they do have a tendency to understeer, which is why Cadillac offers a rear-steer system in the Platinum-badged sedan to improve the vehicle's ability to manoeuvre better.
Compares Well to the Competition
However, generally-speaking, more expensive competitive sedans from German manufacturers such as in a BMW 7 Series, the Mercedes S-Class, or even the Audi A8 may have greater appeal to an individual who enjoys the "challenge" of driving—but remember that those models also come with a greater MSRP.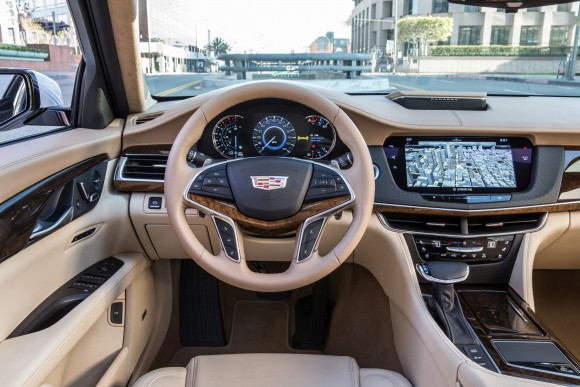 Slide into the multiple-adjustable power driver's seat and sit behind the wheel: the CT6 boasts some of the best craftsmanship and most tasteful interior design and quality the brand has accomplished in a very long time. Not only is the interior to be admired, engineers have taken to heart previous harsh criticism of Cadillac's maligned CUE infotainment interface: now it is much easier to use but for those unfamiliar with the idiosyncrasies of the system, it can be complicated for new users until repetitive use for common functions soon takes care of that.
The CT6's interior is arguably Cadillac's finest cabin yet (that mantle will, if it comes to market as expected, be bestowed on the stunning Escala concept vehicle), and it is rife with high-quality materials. The design follows a Spartan-like spare philosophy—yet achieves quiet elegance with its simplicity.
Tech and Safety Features Abound
As for safety features, the CT6 is loaded: it offers everything you might expect as standard equipment (with side-curtain airbags, anti-lock brakes, and a backup camera), plus front knee airbags and the seemingly ubiquitous OnStar emergency communications system. There are few, if any, options not built into this automobile, incorporating almost every accident-avoidance technology on the market—including forward-collision warning with automatic braking, night vision, lane-keeping assist, a blind-spot monitoring system, rear cross-traffic alert and lane-departure warning with automatic steering intervention—and a vibrating seat warning system that initially may surprise the driver!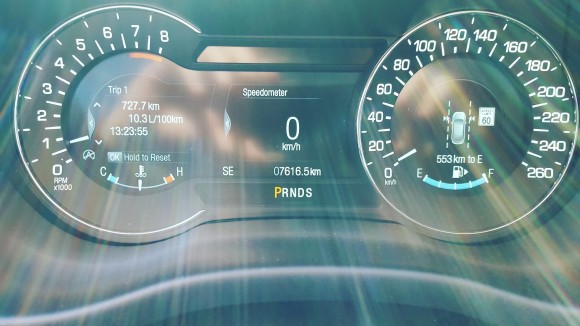 These days, to meet the demand and expectations of consumers, Cadillac has seen fit to offer an audiophile experience sure to enamour any aural experience. The base entertainment system is the perfectly adequate 10-speaker Bose audio system. The Bose-engineered Panaray top-tier audio system is an added benefit in the Cadillac's Platinum-trimmed cars. The name, Panaray is a word combining "panoramic" and "array," a reflection of the overriding sound-design goal as well as the actual speaker technology used. Panaray in the CT6 uses four Class D amplifiers to drive 34 speakers positioned in 19 locations throughout the car, and it's controlled by the same CUE infotainment interface that operates the audio system in any other Cadillac.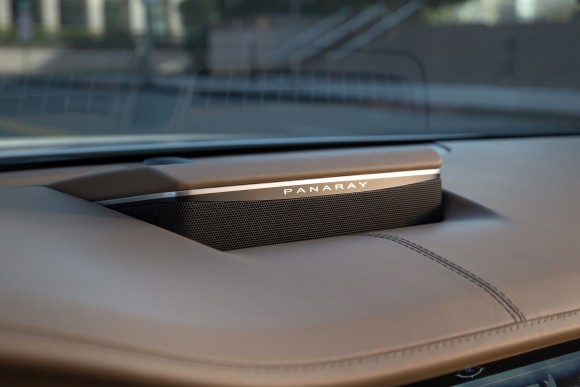 Panaray is an audio system that always assaults your ears with big sound, which, undoubtedly will appeal to some owners. It's powerful and sure to dazzle audio neophytes with its motorized center speaker, rising from the dash when the vehicle's ignition is engaged. While I must admit I did enjoy some of the nuances of sound, I could not help but wonder if the average consumer will truly appreciate or be aware of the often subtle differences compared to standard equipment.
Rear-View: A Different Perspective
One of the CT6's most useful items is the rear-view camera mirror. GM engineers have fitted the standard aft-facing mirror with a full-colour display. The user may toggle it on or off to show an actual real-time video feed from the backup camera, which increases rear visibility by more than 200 percent. While it is quite convenient it does take a little getting used to since the screen's refresh frame rate results in almost unnaturally crisp images as things move through the field of view.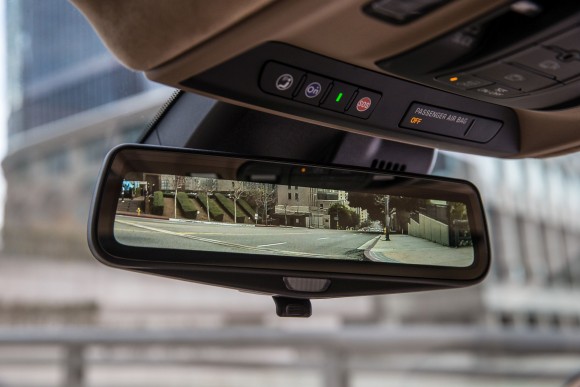 All in all, the CT6 acquits itself very well in terms of ride, handling, performance, technology, and value-add: when compared to its German competition in this segment, stands out in many areas—but most of all in terms of monthly payments! Definitely worth a look if you happen to be in the market for a premium sedan that tries very hard (and succeeds) to please most people. By the way, if you have kids, or even attention-challenged young adults, the built in Wi-Fi will allow streaming of movies to handheld devices—or the rear seat video monitors. Expect no more chants of, "Are we there, yet?"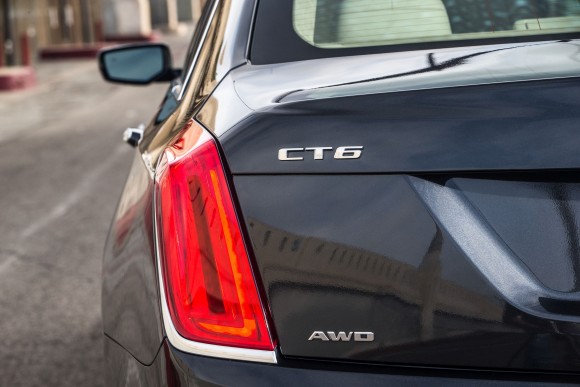 2017 Cadillac CT6 Turbo Platinum AWD
Body Style: All-wheel drive (AWD) luxury sedan.
Engine: 3.0 L V6, twin turbo, 404 horsepower and 400 lb.-ft. of torque with eight-speed automatic transmission.
Cargo Capacity: 433.25 litres.
Fuel Economy (stated): 13.0 L/100 km city/9.0 L/100 km highway. Over the course of one week, I drove over 700 kilometres and averaged 10.3L/100 km combined. Premium fuel (91 octane or higher) recommended.
Price: $100,530*.
*Excludes freight and PDI. HST and other taxes extra.
David Taylor is an independent automotive lifestyle writer, producer, and editor based in Barrie, Ontario who is fascinated by innovation and technology which enhance the overall driving experience. He's also a member of the Automobile Journalists Association of Canada (AJAC). Follow him on Twitter @Omemeeozzie or on Instagram @hugoscaroftheweek.