Department of Transportation Secretary Pete Buttigieg joined Virginia Gov. Ralph Northam on Tuesday to sign a $3.7 billion deal with Amtrak and CSX Transportation to expand passenger and commuter rail between Washington, D.C. and Richmond.
Buttigieg told reporters at a signing ceremony at the Alexandria Amtrak station that the multibillion-dollar deal is a preview of what the Biden administration can accomplish if the controversial infrastructure plan is passed by Congress.
President Joe Biden is expected to unveil his proposal for federal investments in physical infrastructure on March 31 in Pittsburgh.
"While colossal, this is just the beginning of what's possible for infrastructure in this country," former Democratic presidential candidate Buttigieg said after Northam signed the deal that was first announced in December 2019.
Northam described the deal a "historic" initiative that will help "get people and goods where they need to go more efficiently, reduce congestion and pollution, and create a more inclusive economy."
"We have an unprecedented opportunity to build a 21st century rail system in Virginia and along the entire East Coast," Northam said in a statement. "Together with our partners at Amtrak, CSX, and VRE, we are making critical investments that will fundamentally transform our transportation infrastructure, delivering long-term economic benefits for our workers and communities as we rebound from the pandemic and into the future."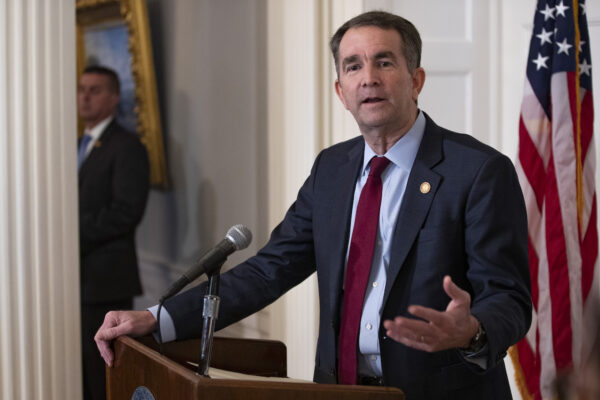 Buttigieg lauded the relief provided to Amtrak and public transit under Biden's $1.9 trillion COVID-19 relief package. The aid package was passed with zero Republican votes earlier this month after congressional Democrats used the reconciliation budget process to bypass the filibuster.
"Help is here," Buttigieg said.
A major piece of the puzzle is construction of a new Long Bridge over the Potomac River for passenger rail.
Currently passenger and freight rail share the century-old bridge, creating a point of gridlock for Eastern rail traffic. Under the plan, passenger and freight rail will be separated.
The project will allow Amtrak to double service between Richmond and Washington, D.C. Virginia Railway Express, the state's commuter rail service, said it expects service to increase by 60 percent.
In all, Virginia is acquiring 384 miles of CSX right-of-way, and 223 miles of track, primarily on the I-95, I-64. and I-85 corridors.
In addition to northern and central Virginia passenger and commuter rail, the project will increase Amtrak service to Newport News and Norfolk. It includes right-of-way acquisition from Petersburg to Ridgeway, North Carolina, and from Doswell to Clifton Forge. Officials said the Petersburg acquisition could facilitate expansion of high-speed rail service, while the Clifton Forge acquisition can be used to expand east-west passenger service.
The work is not expected to be completed until 2030.
"In order to reduce congestion and travel times for commuters, we need long-term investments in our rail system. That's why I was proud to have successfully pushed for the December COVID-19 relief package to allow for the construction of a new Long Bridge on the Potomac River, which will double the capacity of the rail crossing right here in the commonwealth and with our neighbors in Washington, D.C.," Sen. Mark R. Warner (D-Va.) said of the deal.
The Associated Press contributed to this report.