Chair of the Iowa Democratic Party Troy Price blamed a "coding error" for the delay in the results of the Iowa caucus, adding that the first batch of results released Tuesday night are made up of 62 percent of precincts from all 99 counties in the state.
As of 5 p.m. ET, former South Bend, Ind., Mayor Pete Buttigieg was the leader in the Democratic caucus, while Sen. Bernie Sanders (I-Vt.) was second. Buttigieg was leading with 26.9 percent of the vote. Sanders was second with 25.1 percent, Sen. Elizabeth Warren (D-Mass.) was third with 18.3 percent, and former Vice President Joe Biden was fourth with 15.6 percent, according to the partial and incomplete results.
As of Wednesday morning, Buttigieg led with 71 percent of the results reported. He had earned 419 "state delegate equivalents (SDEs)," or the final number tabulated by the state Democratic party. Sanders had 394 SDEs, Warren had 287, and Biden had 241.
"I apologize deeply for this," Price told a news conference on Tuesday night. "Last night, we were faced with multiple reporting challenges."
The delay prompted fears of election interference or hacking, but Price sought to downplay those claims, telling reporters that the voting data is secure and always was secure.
"We have been working day and night to make sure that the results are accurate," he remarked.
The fracas prompted the Nevada Democratic Party to say that for its Feb. 22 presidential caucuses, it will not be using the same app or vendor employed in Iowa.
Sanders criticized the delay in results.
"I think this is not a good night for democracy. If I'm a first-time voter, and I came out [and] voted, and the results are not coming in 16 hours, that's a little bit disconcerting," Sanders told reporters on Tuesday.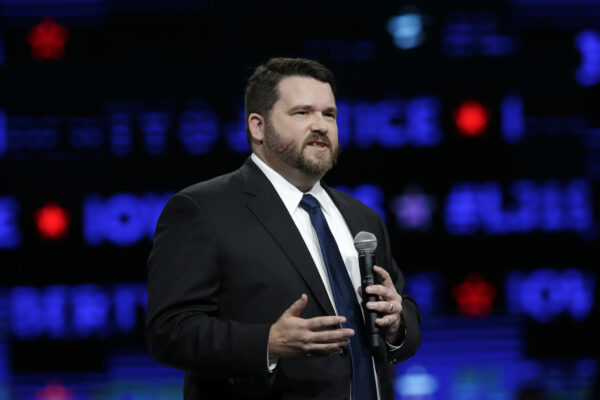 While the delay is regrettable, Sanders said there is no reason to doubt the caucus process.
"I think we should all be disappointed in the inability in the party in not giving timely results, but we are not casting aspersions in the votes that are being counted," Sanders said.
Some local officials reported having trouble last night using the mobile app to report results from schools, community centers, and other locations. But when they turned to the traditional method, which entails calling results in by telephone, they were put on hold and could not get through.
"We had people with their phones on speaker who were stuck on hold from 9 through at least 11," said Bret Nilles, the Democratic Party chairman in Linn County. He said he had no problems recording results through the app.
Iowa Democrats had been keen to be more transparent in this year's caucuses after complaints from Sanders about the 2016 caucuses when he and rival Hillary Clinton earned roughly the same number of delegates. He asked the party for an audit.
President Trump, meanwhile, panned how the Democratic Party handled the situation, writing on Twitter that the delay is an "unmitigated disaster." However, he later pushed back against calls to do away with the caucus system: "It is not the fault of Iowa … As long as I am President, Iowa will stay where it is. Important tradition!"
Reuters contributed to this report.