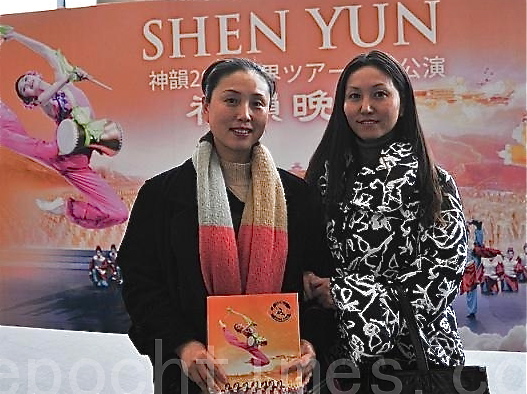 NAGOYA, Japan—After two successful shows in Tokyo, Shen Yun Performing Arts New York Company arrived in Nagoya on Feb. 17. Chinese people in Nagoya were proud of Shen Yun after seeing the performance because the company presented authentic traditional Chinese culture from the past five thousand years.
A businesswoman, Ms. Li, has been in Japan for many years. At intermission, she spoke poetically about her response to the performance. Ms. Li said," Lotus Leaves and Sleeves of Silk were amazing. When they danced, I saw a clear spring in a desert."
She said the lyrics of the songs allowed her to understand many things. Before intermission, bel canto vocalists sing two songs, with the titles, "The Truth Has Been Clearly Told for a While,' and 'Break Open the Gates of Delusion."
Ms. Li said, "I felt lost in the current life. I am busy working all day long and try to make as much money as possible. I have no genuine goal. After watching Shen Yun's performance, I feel that I have a goal in my life now. I yearn to go to the golden paradise shown on the digital backdrop," said Ms. Li.
She said the show supported her belief that good will be rewarded and evil will be punished. "People who are benevolent are the winners in the war between good and evil."
Mr. Huang from Liaoning Province, China, has been in Japan for five years and works in a Japanese company. He said he felt that the way the show began and ended with a war between good and evil had an extraordinary meaning. "No matter what kind of unthinkable torments and tribulation they suffered in the process, the benevolent people will eventually win and stay. This is the heavenly law that good is rewarded and evil is punished. I believe those who persecute Falun Gong will see bad endings."
"The traditional Chinese culture manifested by Shen Yun is utterly pure," said Mr. Huang.
Mr. Han has seen Shen Yun twice in Osaka. He made a special trip to Nagoya this year to watch Shen Yun for the third time. "Every time I see the show, I felt the energy of righteousness. It is because of Shen Yun that I realized the traditional Chinese culture is utterly pure," said Mr. Han.
Reporting by Liao Chaoren
Shen Yun Performing Arts, based in New York, tours the world on a mission to revive traditional Chinese culture. After its performances in Japan, Shen Yun Performing Arts New York Company will continue to top venues in Korea and Taiwan, followed by Australia and New Zealand.
For more information visit ShenYunPerformingArts.org
Read the Chinese article