Businesses Welcome Clearer Rules on Credit Card Contracts
February 13, 2013 9:03 pm Last Updated: October 1, 2015 11:10 am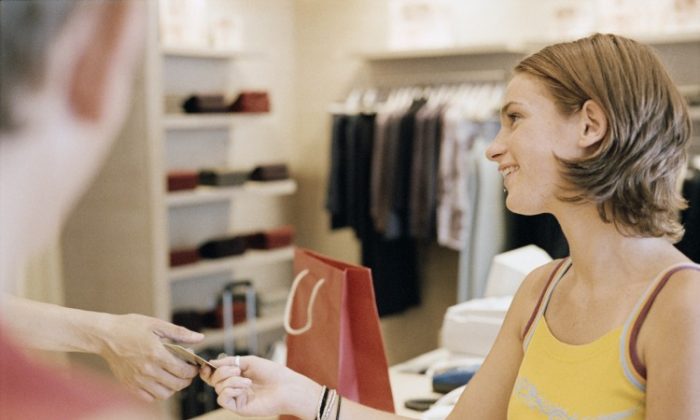 Businesses are applauding clarification of rules for the credit and debit card industry released by the federal government Wednesday that they say will prevent some unfair practices.
The Financial Consumer Agency of Canada (FCAC) issued guidance on three issues related to the Code of Conduct for the Credit and Debit Card Industry in Canada, which was introduced in 2010.
The FCAC commissioner's guidance includes inappropriate sales and business practices, disclosure to merchants in multiple provider agreements, and multiple contract cancellation penalties, costs, or fees.
"We are particularly pleased that the commissioner addressed RCC's concerns that the Code of Conduct for the payment card industry was being undermined by inappropriate sales and business practices," Diane Brisebois, president and CEO of the Retail Council of Canada (RCC), said in a statement.
Some of these practices included "discrepancies between agreements and statements [that] were often misleading or dishonest, lacked clarity, and were incomplete," the statement said.
The Canadian Federation of Independent Business (CFIB) also welcomed the move, noting in a statement that one of the concerns it had raised was "the practice by some rogue players in the credit card industry to circumvent the code by splitting contracts to trap small merchants into exorbitant fees."
According to the RCC and CFIB, merchants often thought they were signing a single contract but instead found themselves obligated to multiple service providers.
In other cases, they signed merchant-acquirer agreements with some companies and later found that they had actually entered into additional contracts for related services.
The code allowed them to cancel their contract without penalty, such as if fees go up or new fees are added, but they discovered there were additional costs or penalties to cancel related contracts.
Under the new rules, payment card network operators will be required to provide merchants with clear and simple contracts for debit/credit card processing services.
Moreover, "merchants will be permitted to cancel the merchant-acquirer agreement and all related service contracts without penalty, following notification of any new or increased fees by any participant or related service providers," the commissioner's guidance states.
The code was created to encourage choice and competition as well as to help merchants control their costs and pass on savings to customers, said Ursula Menke, commissioner of the FCAC, which is responsible for monitoring code adherence.
"However, over the past year, we have seen certain practices by some in the industry that undermine the letter and spirit of the code," she said.
"This guidance is meant to address these issues by providing better disclosure to merchants and eliminating inappropriate sales and business practices that result in increased costs for merchants, and consequently for consumers as well."