Strong winds and extremely dry conditions from the ongoing drought continue to fuel more than 50 bushfires across Australia's state of Queensland.
Residents at Linville, inland from the Sunshine coast, were just after 3 p.m. warned to prepare to leave because a fire is heading their way.
There are 57 fires raging in the state.
An amazing satellite 🛰️ image, with sunrise revealing extensive areas of raised dust moving off the southern #QLD coast in the wake of the cold front. Large smoke plumes from the ongoing bushfires also clearly visible. Keep up to date with @QldFES for latest fire information. pic.twitter.com/7ZdmgrbJh4

— Bureau of Meteorology, Queensland (@BOM_Qld) September 6, 2019
Queensland Fire and Emergency Services predictive services inspector Andrew Sturgess says the fire danger weather has never been as severe this early in spring.
The gusty wind conditions over the last few days coupled with the devastating drought along the east coast, with record low rainfall recorded for southern Queensland and northeast inland of New South Wales over the last 17 months, has resulted in the severe fire conditions.
Map of active wildfires across #Australia. Notice the concentration in drought stricken N #NewSouthWales & #Queensland. Unfortunately no significant rain in these areas through next week. pic.twitter.com/a0fGn2LHQt

— Jason Nicholls (@jnmet) September 7, 2019
In New South Wales, parts of which are facing the worst drought in living memory, 57 fires were burning, with the largest having burnt through more than 56,000 hectares (138,000 acres) of land.
Since Thursday in Queensland, more than 20 structures—including 15 houses—have been destroyed, with that number expected to rise.
Acting Premier Jackie Trad said the fires overnight also claimed a piece of Queensland's history in the Gold Coast hinterland.
"Unfortunately overnight the Binna Burra Lodge, which has been part of the tourism landscape since 1933, has succumbed to devastation by the fires," she said.
"We are concerned with several areas, including Central Queensland, but we have firefighters working throughout today and throughout the night."
During the afternoon, weather conditions were bringing very fire high dangers to the north of the state.
At Linville, residents were told to leave if they didn't have a plan because the fire would probably hit George Street, John Street, David Street, Anne Street, William Street and Alice Street, Linville before 5 p.m.
The two other fires of concern are a huge blaze near the border towns of Applethorpe and Stanthorpe, and a bushfire in difficult terrain near Binna Burra in the Scenic Rim.
Scenic Rim Regional Council Mayor Greg Christensen warned it is still too dangerous for many to return to their homes because they risk being trapped by falling trees and other hazards.
The fire has already destroyed 11 homes that they know about.
"The reality is we should expect significant structural loss (and) that has already occurred, and potentially much more loss."
Water bombing is helping the firefighting efforts at the fire near Binna Burra.
In Stanthorpe people are bracing for another long day and night.
Many Stanthorpe and Applethorpe residents were evacuated from the path of the fast-moving bushfire there on Friday, and people in Applethorpe evacuated again on Saturday.
QFES assistant commissioner Megan Stiffler has told them they would not have the fire under control before Monday.
The focus on Sunday is strengthening containment lines so it can't jump them if the winds get worse.
"Things are looking good but you still have to stay informed," she said.
Trees and powerlines are down so it remains too dangerous for people to return home until authorities say it is safe.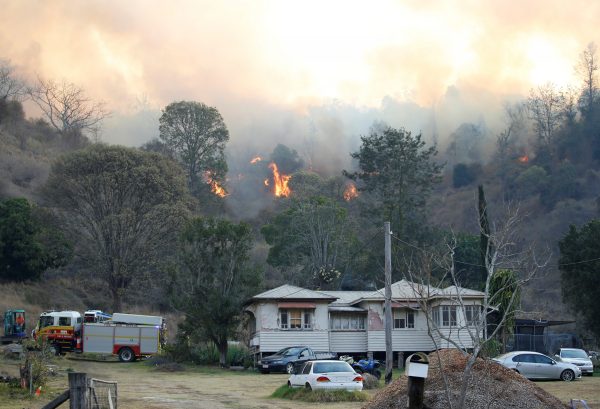 In Stanthorpe people have been taking food to the showgrounds for those in need as well as offering homes for the displaced.
Authorities have praised affected residents for heeding advice but warned against complacency.
Australia's east coast has endured two years of below average rainfall, creating drought conditions in wide parts of the country.
Sturgess said the dangerous fire conditions should be considered an "omen" or "warning of the fire season that we are likely to see in southeastern parts of the state where most of the population" over the summer months of December, January, and February.
By Liza Kappelle
Watch Next:
Agenda of Political Control Driving the Climate Change Narrative