The Burmese military junta released more than 1,600 prisoners on April 17 in an amnesty to "bring joy" to mark the country's Buddhist new year, but political prisoners weren't among those released, according to reports.
Lt. Gen. Aung Lin Dwe, a state secretary of the junta, said that a total of 1,619 prisoners, including 42 detained foreigners who will be deported, were pardoned to "bring joy to the people and address humanitarian concerns."
Burma Prisons Department's spokesman Khin Shwe claimed that he was unaware of any political prisoners being released under the amnesty, as he observed that most of those released were drug offenders and common criminals.
An official from Yangon's Insein Prison said that 160 people were released from the penitentiary, but they didn't include those convicted of political offenses.
Among the political prisoners detained in Burma, also known as Myanmar, are ousted government leader Aung San Suu Kyi and her Australian economic adviser, Sean Turnell, who is being held at Insein Prison.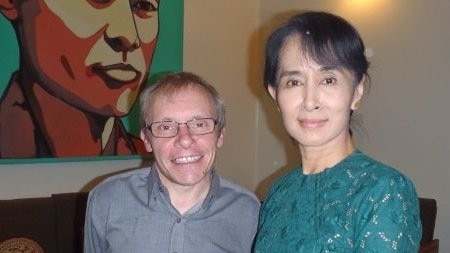 Mass prisoner releases are common in Burma on the country's major holidays. In October last year, the junta released more than 5,600 people who were arrested for taking part in anti-coup protests.
Tun Kyi, a senior member of the Former Political Prisoners Society, said that political detainees are being held as hostages and used as "bargaining chips" by the Min Aung Hlaing-led military junta in order to appease other countries.
He said it's unsurprising that political prisoners weren't released under the amnesty because the military leader "knows the political prisoners will oppose him again if they were released."
According to the Assistance Association for Political Prisoners (AAPP), a nonprofit human rights organization based in Thailand, the 1,619 released prisoners only represent a fraction of the junta's total detention of 10,238 people, including Suu Kyi.
Of the total detainees, AAPP stated that 59 detainees, including two children, have been sentenced to death. About 1,976 people are evading arrest warrants, while 120 others were sentenced in absentia, with 41 of them sentenced to death.
"The exact identities and total figure remains to be verified, but we will continue to confirm the recently released," the rights group said.
Human rights group Fortify Rights and Yale Law School's Schell Center said in a report on March 24 that "the whereabouts and well-being of many detainees are unknown, effectively amounting to a situation of mass enforced disappearances."
The report states that the military junta systematically imprisoned and forcibly disappeared several thousand people in Burma, including children, civilian opinion leaders, elected officials, peaceful protesters, journalists, and human rights defenders.
The Associated Press contributed to this report.