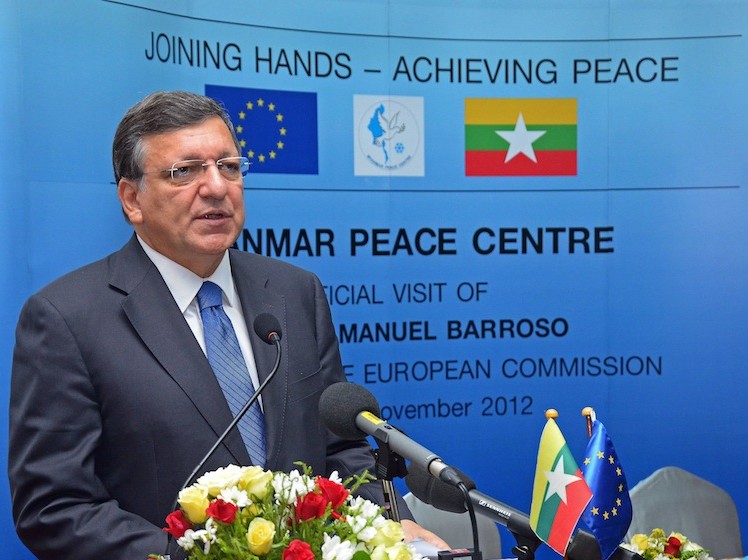 Deadly sectarian clashes between ethnic Buddhists and Muslims in Burma's Rakhine state needs to stop, said European Commission President Jose Manuel Barroso on Saturday after holding talks with Burmese President Thein Sein.
Barroso was in Burma for the first time and discussed how to boost trade after imposing sanctions for decades on the Southeast Asian country. Burma, which was renamed Myanmar by the formerly ruling military junta, has embarked on a path toward reform in recent months, but there is deep unrest in several parts of the country.
"We are deeply concerned by these events and by the consequences for the reforms and democratization of the country. We hope that all religious leaders will call for restraint," said Barroso, according to a transcript of his speech in Yangon. "Violence needs to stop and urgent humanitarian needs have to be addressed."
The European Union would pledge some $5 million for humanitarian aid if need be, he added.
In recent months, violence between Rohingya Muslims and Rakhine Buddhists has flared, leaving hundreds of people dead and thousands of homes burned to the ground. Tens of thousands of people—mostly Rohingya—have been displaced in the conflict.
"Myanmar has suffered from decades of violent conflict and internal divisions. It is now time to turn the page and fully embrace the formidable opportunity of peace," Barroso said.
The Burmese government has also battled with rebels in Rahkine, Shan, and Karen states for decades, underscoring the instability in the country that could potentially undermine some of the reforms that have already been made in recent months.
The conflict that recently flared in Rahkine state is the most dire. Human Rights Watch last week published photos of the destruction caused in the state, while the United Nations estimates that some 75,000 have fled the state.
Barroso is the latest Western official to visit Burma, which ceded power to a civilian government last year after being ruled by a military dictatorship since 1962. He follows visits from U.S. Secretary of State Hillary Clinton and U.K. Foreign Secretary William Hague. The United States also said it would lift sanctions against Burma to encourage development.
Barroso offered Burma more than $100 million in E.U. development aid, and the Burmese government announced a new foreign investment law geared at currying favor with international corporations, reported the BBC on Saturday.
Opposition leader and Nobel Peace Prize laureate Aung San Suu Kyi also met with Barroso, but Suu Kyi told the broadcaster that she will not take sides as regards the conflict in Rakhine state.
"I am urging tolerance but I do not think one should use one's moral leadership, if you want to call it that, to promote a particular cause without really looking at the sources of the problems," Suu Kyi was quoted as saying.
The Epoch Times publishes in 35 countries and in 19 languages. Subscribe to our e-newsletter.