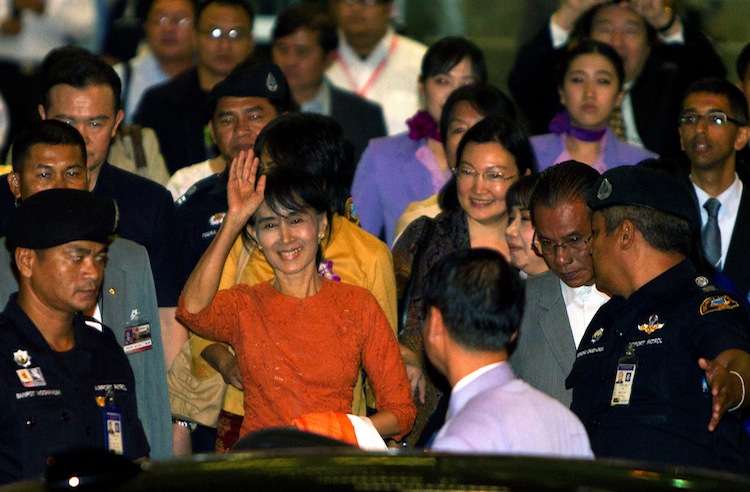 Burmese opposition leader Aung San Suu Kyi will make her first international trip in nearly a quarter-century, starting with Thailand on Tuesday.
Suu Kyi was under house arrest for 15 of the last 22 years under the former military junta. When not detained, she dared not leave Burma (also known as Myanmar) fearing she would be refused reentry. The 66-year-old Nobel Peace Prize laureate was only released from detention just under two years ago.
"It's a part of my job. I'm going to stay for four or five days … I will visit one refugee camp," she told AFP before she left. Suu Kyi added that she "didn't feel anything special" about the trip.
 
The trip comes just after a meeting with Indian Prime Minister Manmohan Singh in Rangoon Tuesday. Singh, the first Indian head of state to visit Burma in 25 years, extended an invitation to Suu Kyi to visit India.
Lately Burma has been working to improve its poor human rights record, releasing more than 300 political prisoners and allowing opposition political parties to compete in elections.
Amnesty International, however, recently criticized the country over human rights violations in ethnic minority areas over the past year. Amnesty says those abuses have increased despite government assertions to the contrary.  
In Kachin State just last month, Burmese soldiers harassed religious believers firing on several church buildings and injuring local preacher Ding Kyang with a shot in the knee, reports Kachin News.
Amnesty said it "regrets that it can report very little progress on a persistent human rights challenge," according to a report last week.