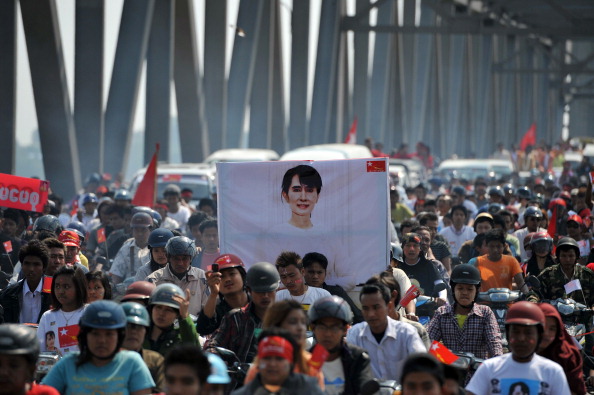 Burma's new law allowing for peaceful protests and assembly—something aggressively forbidden under the military junta—fails to meet international standards, Human Rights Watch said Thursday.
The prominent New York-based rights group argues that the law allows authorities to break up demonstrations for a wide range of reasons and that violators of the law can be penalized with prison terms. The group advises Burma to consult with international organizations to recast the legislation.
National League for Democracy leader Aung San Suu Kyi said the government had placed restrictions on her campaign activities for parliamentary by-elections on April 1.
Last month, a stadium event was planned, but Suu Kyi and her supporters were prevented from entering the facility. Instead they were forced to hold the rally a mile away in an open field. The event was cut short in the end because of severe heat. 
"Burma's new law on assembly rejects the previous ban on demonstrations, but still allows the government to trump the Burmese people's basic rights," stated Brad Adams, Asia director at HRW, according to the report on Thursday.
There has been excitement over reforms enacted by Burma over the past year since the longstanding military regime ceded power to a civilian government headed by former general President Thein Sein. The new government has been credited with allowing opposition parties to run in the elections and has released some political prisoners in recent months.
U.S. Secretary of State Hillary Clinton plus British and French foreign ministers have all visited the country since, hailing the direction of the reforms.
However, some of the reforms that were highly-touted—including the law in question on assemblies, and ceasefires with ethnic minority groups—have fallen short of expectations.
"The government shouldn't be given credit for allowing some freedom just because none existed before. Instead, it should be pressed to make sure its laws meet international standards," Adams said in the HRW release.
By placing a large number of restrictions on public demonstrations, marches, and other forms of assembly, it essentially allows the government to misuse it and continue the precedent set by the junta, which ruled the country since the early 1960s, HRW said.
Under the current law, if a group holds an assembly without permission, it can result in a one-year prison sentence for those involved. And if the group gets permission from local authorities, certain types of conduct, including criticizing the government, or "doing anything that causes fear, a disturbance or blocks roads, vehicles or the public" could result in a six-month jail term.
HRW says many of the provisions in the law are vague and could subject to arbitrary interpretation.
"Peaceful protesters shouldn't go to jail just because a police officer may not like what they said," Adams said.