The Dragon Boat Festival, one of the most celebrated Chinese traditions, usually brings throngs of people together at this time of year as they engage in boat races and enjoy bamboo-wrapped sticky rice dumplings as a family.
But Beijingers are in no mood for festivities this year.
The city is now back to being in semi-lockdown as authorities ramp up virus tests after the virus made a resurgence in the city two weeks ago. Around 2.3 million citizens in Beijing have undergone testing, while businesses across the city have reported clustered infections.
"No one wants to gamble with their lives," a worker at a local courier service SF Express in Beijing's Fengtai district—home to the suburban Xinfadi food market that authorities claim is the source of the city's initial cluster of infections— told The Epoch Times. Employees throughout the entire company have received testing and are awaiting results. The company has also stopped delivery services to around 44 Beijing districts that authorities have labeled as high or medium risk regions.
One food delivery driver who has taken an average of 50 orders since June came down with the virus on June 22. In another case, one couple—both working for a local supermarket—fell sick after using a public restroom.
On Thursday, as the city saw the arrival of the annual three-day holiday for the Dragon Boat Festival, the streets were eerily empty, with only occasional janitors, stranded migrant workers, and police and security officers.
As the city's residents do their utmost to stay clear of the deadly virus, the phrase "have you been tested?" has become the most popular greeting of late, according to Chinese netizens.
In a June 24 press conference, Lei Haichao, director of Beijing Municipal Health Commission, said that the outbreak in the city was "basically under control." The regime's history of coverup, however, as well as recently leaked documents, have called into question the reliability of such claims. According to official reports, around 300 people have tested positive for the virus as of June 26, while another 25 asymptomatic carriers are under medical observation.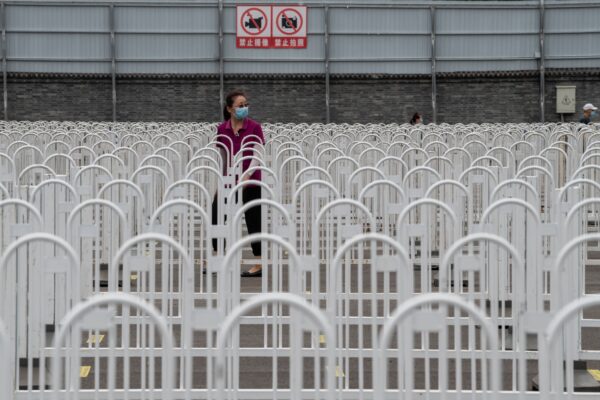 Around 500 health personnel have been dispatched to Beijing hospitals from other parts of the country for testing and medical support.
A video recently circulating on social media showed personnel in orange uniforms and white hazmat suits sealing off residential buildings with metal boards. A staff member from the senior care center in Haidian district, one of the hardest-hit areas, confirmed that the draconian measures were being implemented on June 25, saying that the building's entrance had been blocked by authorities after virus cases emerged.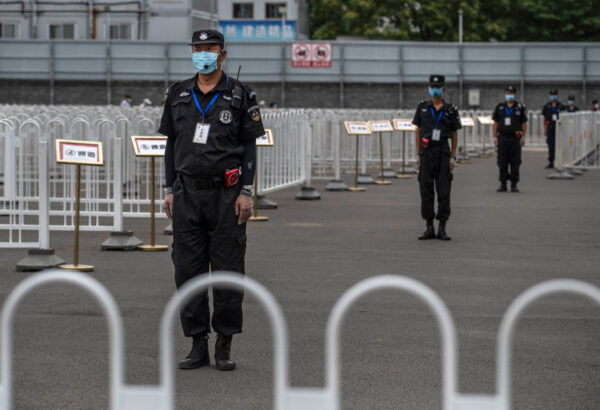 Neighborhoods and buses in Beijing have resumed entry temperature checks, while nursing homes have banned family visits. People wishing to leave the city have also been asked to provide proof that they have been clear of the virus for at least a week.
The virus from the Beijing wave has already been reported to have traveled to at least five other provinces and one municipality across China.
Xinfadi Market
Known as the "food basket" of Beijing, the Xinfadi market—where the latest outbreak is reported to have begun—has been one of the largest produce markets in Asia, and for the past 17 years, boasted some of the highest volume sales among 4,600 wholesale markets across the country. The virus, which has brought all trade to a shuddering halt due to government policies, will not only disrupt Beijing's food supply chain, but also leave a lasting impact on lives of approximately 100 million in the city and surrounding regions, said China watcher Li Linyi.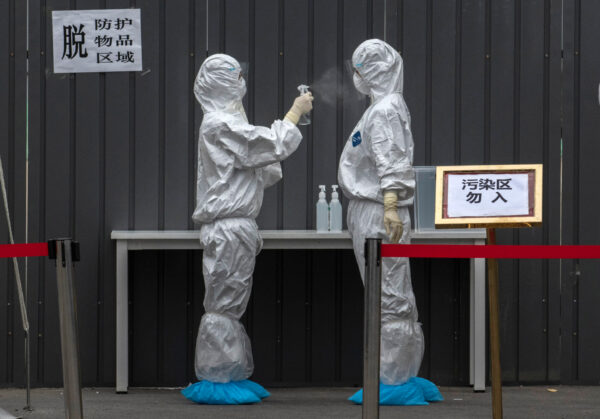 Staff members from at least seven restaurants tested positive for the virus after trips to the market. Many more are languishing in the cash flow drought created by the government's prolonged shutdown that is now stretching into the indefinite future.
"What can you plan for? There's likely no chance to grow at all," a worker from a travel agency near Beijing West Railway Station said in an interview.
Another travel agent said they have been taking training classes at home and avoid going out. "We are barely able to survive," he said.