Prime Minister Boris Johnson said on Aug. 11 that there are "bumpy months ahead" for jobs, as UK employment numbers suffered their biggest quarterly fall since 2009, according to recent government survey data.
Meanwhile, a separate survey showed that one-third of British employers are expecting to have to lay off workers in the third quarter.
"We always knew that this was going to be a very tough time for people losing their jobs," Johnson told reporters when asked about the data. "Clearly there are going to be bumpy months ahead and a long, long way to go."
The Office for National Statistics (ONS) on Aug. 11 published its latest labour market overview, which analyzes data from different surveys of households and businesses to illustrate current trends in the British labor market.
Early estimates for July from Pay As You Earn Real Time Information indicate that the number of payroll employees fell by 2.5 percent (730,000) compared with March, the report stated. This is the largest quarterly fall since May through July 2009, during the global financial crisis.
The decrease in employment is largely driven by workers aged 65 years and over, the self-employed, and part-time workers.
However, 253,000 self-employed workers changed to employees in the second quarter, which partly explains why the number of full-time employees had a record increase in the three months up to June.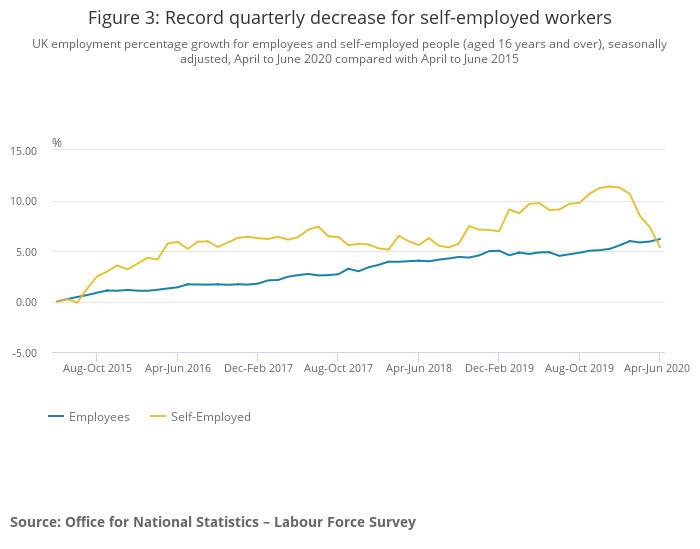 Job vacancy numbers in the UK between May and July were around 370,000, an increase of 10 percent compared to the record low number in April to June.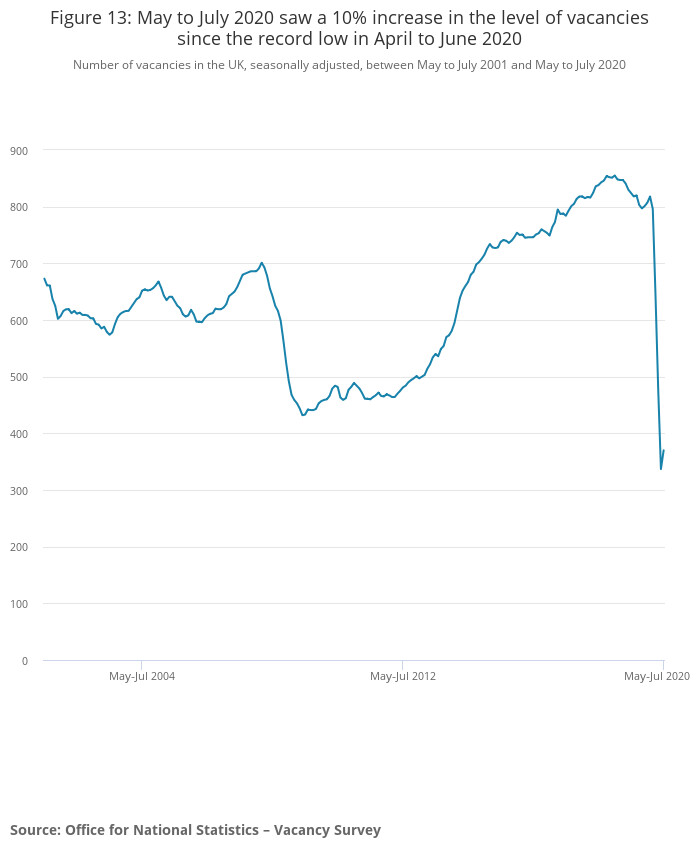 Hours worked has continued to fall, reaching record lows both compared to the previous year and the previous quarter, the report stated.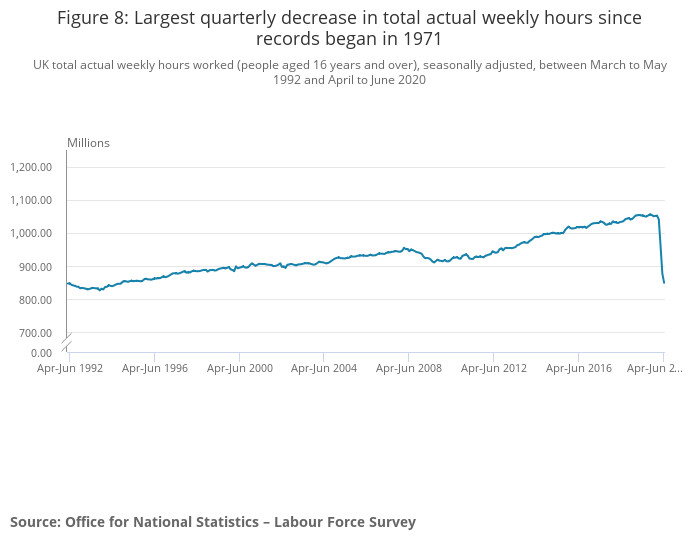 Despite the steep drop in employment, the estimated unemployment in the second quarter is 3.9 percent, largely unchanged on both the year and the quarter. But that reflected more people who had given up looking for work and therefore weren't considered unemployed.
Also, an estimated 300,000 people who were temporarily away from work because of the pandemic said they were employed but getting no pay, the ONS said.
Another reason the unemployment rate held was the government's Coronavirus Job Retention Scheme, which pays furloughed workers 80 percent of their wages. However, there are worries that the number of unemployed will surge as the scheme winds down.
Layoffs
A separate survey published on Aug. 10 by the Chartered Institute of Personnel and Development (CIPD) and The Adecco Group indicates that one-third of British employers are expecting to lay off workers in the third quarter.
The Labour Market Outlook Survey indicated that the net employment score—a measure of the proportion of employers intending to increase or decrease staffing levels—dropped from the previous quarter and is considerably worse than last winter.
Among the 2,000 organizations surveyed, only 21 percent said they planned to increase staff levels, while 45 percent will keep their current staff levels, and 29 percent intend to decrease staff levels.
"A real concern is that this is just the first wave of bad news for the jobs market," said Gerwyn Davies, a senior labor market adviser at the CIPD.
"The fact that reduced hiring rather than increased firing of permanent staff is the main cause of the jobs slowdown to date bodes ill for the coming months if more employers turn to redundancies [layoffs] as a last resort."
Finance Minister Rishi Sunak said the government's support programs were working, but job losses were inevitable.
"I've always been clear that we can't protect every job, but … we have a clear plan to protect, support and create jobs to ensure that nobody is left without hope," he said.
Debenhams on Aug. 11 stated that it will cut 2,500 jobs in addition to the 1,000 already cut in May. This is the latest of the mass job cuts by major British retailers, including Marks & Spencer, Boots, John Lewis, and WH Smith.
Reuters contributed to this report.