Buler Squash Challenge in Progress in Hong Kong
Squash—HK Buler Squash Challenge Cup
July 3, 2013 10:30 am Last Updated: July 3, 2013 10:30 am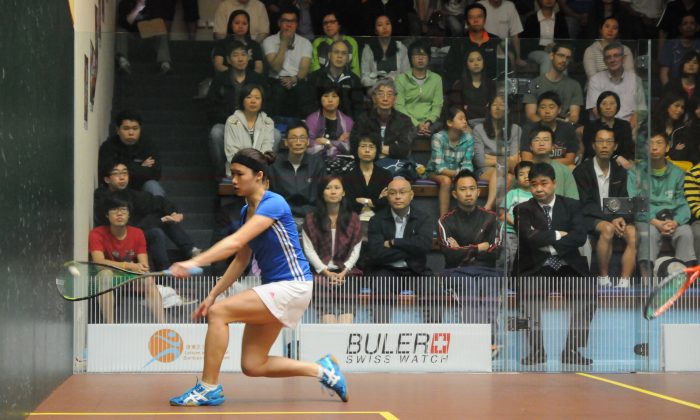 The Buler Squash Challenge Cup, which is now ongoing at the Hong Kong Squash Centre, has again attracted many top squash players from around the world, with seven of the top 30 women and 11 of the top 100 men players taking part in this annual tournament.
Defending men's and women's respective champions, Max Lee and Joey Chan, will be aiming to repeat their performances in front of their home crowds, but will face strong competition.
In the women's competition, world No. 14 Annie Au of Hong Kong will be eager for revenge following her loss to Chan (22) in the Hong Kong Championships just a week ago. Meanwhile, Donna Urquhart (17) of Australia, Johana Chinappa (27) of India and Amanda Sobhy (28) of the USA, will be fighting for the title along with other established and up and coming internationals.
In the men's challenge, Lee, world No.34, will need to defend his title from a number of closely ranked players including, Mohd Nafizwan Adnan of Malaysia (32) and Abdulah Al Muzayen of Kuwait (33).
Round one of the main competition starts tonight, Thursday July 4, leading to the finals on Sunday July 7.
Junior Squash
Hong Kong girls took away top honours from the 20th Asian Junior Individual Championships 2013, in Amman, Jordan, that was held from June 25 to June 29.
Ho Ka Po won the under 19 championship and Choi Uen Shan won the under 17 title. Liu Hiu Lam reached the Final of the under 13 event and picked up the silver prize.
Hong Kong participants also won four bronze medals.
Ho Ka Po defeated Anaka Alankamony of India in three straight games, winning 11-9, 12-10, 12-10. Meanwhile, Choi Uen Shan beat Malaysian Nazihah Hanis Abd Razakat also in three games 11-7,11-9,11-6 in the under 17 event.