UPDATED: Buildings Collapse in Philadelphia, Possible Gas Explosion
July 29, 2013 11:44 am Last Updated: July 18, 2015 5:19 pm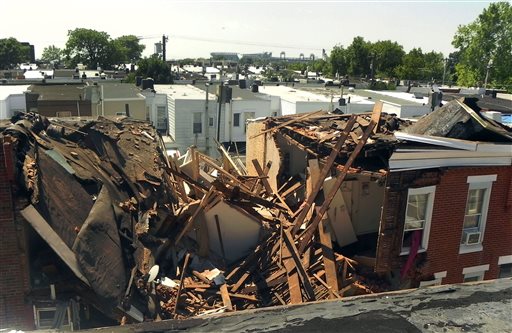 Three buildings collapsed in south Philadelphia on July 29, injuring at least eight people but killing none. 
The collapses happened on Daly Street around 11 a.m., reported local broadcaster WPVI-TV. Residents on the 400 blocks of Daly and Wolf Streets were evacuated to the Taggart School.
Philadelphia Gas Works was called about a possible gas leak connected to collapse, but the cause of the collapse is not yet pinpointed.  
Eric Gripp, sergeant at the Philadelphia Police Department, said on Twitter that people should stay clear of the 300 and 400 blocks of Jackson Street, the 400 block of Daly Street, and the 300 and 400 blocks of Snyder Avenue because of "possibly building explosion/house collapse." 
428 Daly Street collapsed and two adjoining homes were seriously damaged.
Laura McColgan, who lives around the corner from the three homes, told NBC that she was brushing her teeth when she felt an explosion. 
"I heard a very loud noise. Not being sure what it was, I came downstairs and went out my back door," McColgan said. "I went outside and saw everyone running around the corner. I saw the building down, saw the smoke and smelled the horrible smell of gas as well." 
"It definitely was an explosion," she added. 
The Philadelphia Inquirer is reporting at least eight people are injured, citing officials. Six of these persons were taken to Jefferson University Hospital, while a child was taken to Children's Hospital of Philadelphia.