488 University Luxury Condo to Rise Above Distinguished Toronto Avenue
September 2, 2014 9:40 am Last Updated: September 4, 2014 2:42 pm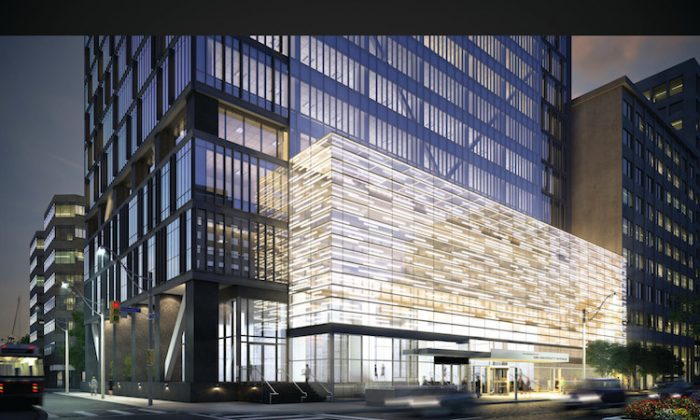 This week, Amexon launched 488 University, a 55-storey mixed-use building at the corner of University Ave. and Dundas St. West. 
This type of development may be a future trend as the city looks to add more mixed-use buildings, and there is no place to go downtown but up.
Sigmund Soudack & Associates and Core Architects have worked together to design an exoskeleton of steel and glass around the existing 18-storey office building that not only provides a glittering, modern new look, but also serves as part of the supporting structure of the additional 37 residential floors.
At completion, the building's commercial and residential floors will be accessed differently, with the residential tenants' luxurious porte-cochere on Simcoe Street creating an exclusive entrance. 
The residential lobby will have an express elevator taking residents to their "sky lobby" on the 18th floor. The 18th and 19th floors hold 30,000 square feet of amenities, concierge, mailboxes, and elevator access to the residential floors. Planned amenities extensive, including indoor and outdoor pools, as well as a fully staffed restaurant for residents and their guests.
"We're in a sweet spot in Toronto," said Shiff, and indeed, 488 University is walking distance from U of T, Queen's Park, the Four Seasons Centre for the Performing Arts, the MaRS Discovery District, OCAD—the list goes on. The building also has direct access to St. Patrick subway station and PATH if you'd rather walk to work underground in winter. 
Because the residences start on the 20th floor, the views are stellar in every direction, with east, west, and south showing views of the lake and cityscape, while views of Queen's Park and the verdant U of T campus can be seen facing north. 
The units are spacious and bright, designed by much-lauded II by IV Design. The smallest suites are 544 sq. ft. one-bedroom units, the largest 1,620 sq. ft. three-bedroom units. The balconies, bathrooms, and kitchens are large for the location and the suite design has noticeably long sightlines, and clever use of glass doors and walls to ensure every room feels expansive and full of light.
Luxury finishes and appliances come standard, as do nine-foot ceilings and automated control of climate, lighting, multimedia from either your mobile device, or in-home touch screen. 
"We're making sure we have no issues at all," noted Shiff. "We're using the latest and best material." 
Along with solar panels, car sharing, and charging stations for electric cars, the building's exterior glass is American-manufactured low-emissivity glass which repels heat in summer and reflects heat back in during winter. It also protects residents from UV and infrared light without sacrificing any of the visible spectrum. 
With 35 years of experience, and a vast portfolio of hospitality, industrial, residential and commercial properties, Amexon sees residential condo development as a growing part of an already very large business. 
For 488 University, Amexon chose the team from their South Beach project on the waterfront in Etobicoke. South Beach Condo garnered international attention, winning the 2012 Best High-Rise Architecture and Best Mixed-Use Architecture at the London-based International Property Awards, as well as the Ontario Home Builders Association Most Outstanding High-Rise Building in 2009.
Core Architects has taken care to create a light-filled podium that will hold a 50-foot high atrium in the lobby, as well as a five-star restaurant and luxury retail. 
Amenities:
Private staffed restaurant on the 19th floor for residents and their guests
Indoor and outdoor pools; hot tub
Change rooms with sauna; steam rooms
Gym with cardio and weights
Pilates, yoga, and spinning rooms
Squash court
Valet parking
Sky bar restaurant and lounge
Screening room, conference room, business centre


Register at 488university.com and you can get an invite to the opening events held this weekend. 
Prices: $388,000 – $1,295,000
Maintenance: $0.54/sq. ft.