A new children's toy is causing a stir ahead of the "official" launch of the Christmas shopping season on Nov. 23, better known as Black Friday.
Conservative gift retailer Keep And Bear recently launched a brand new line of toys: MAGA building blocks.
The "Build the Wall" kit packs a patriotic message: "The wall will keep America safe and strong. Only then will we be able to help those in need."
The set comes with more than 100 pieces, including "President Trump in a MAGA hard hat!"
"A mob of 10,000 Central American migrants is marching through Mexico and heading toward El Paso, Texas," the product description says. "We understand why they want to flee Honduras and live and work in America. After all, we are the greatest nation on earth."
"In the interest of national security, however, we cannot allow just anyone and everyone to cross our borders. While there are good people attempting to enter our nation, there are also gangs, criminals, and terrorists. Everyone who wants to enter our country must enter legally for the safety of all."
That's why "the wall must be built," says the toymaker, and is offering the set to customers for pre-order at $29.95 a pop.
Recommended for kids aged 5 and up, the toy is part fun, part politics.
"This toy makes a great Christmas gift for your kids and grandkids!" the product description says on the website.
Crafted With Pride in America
All of the T-shirts Keep And Bear sells are made in America.
"Our T-shirts come with the Triple American Made Guarantee. This means our shirts are made in America, printed in America on an American-made printer by a Veteran!"
The Keep And Bear website was launched in 2016 to spread the word about the film "Keep And Bear: America's Most Controversial Right."
"This important film makes the case that gun ownership is more than a Constitutional right," the about us section of the website explains. "The Second Amendment protects all other civil rights from the abuses of a tyrannical government."
The website grew on the back of the film's popularity into one of the largest online sellers of conservative-themed goods.
"We now feature hundreds of items including t-shirts, bumper stickers, flags, Bibles, DVDs, books, toys, and patriotic novelty items. All items support and celebrate God and Country."
'Trump Sends Hillary to Prison'
The kit is one of many Trump-themed items on the website. Others include "Santa Trump" Christmas cards, a "Make Christmas Great Again" book, and "Trump 2020" camouflage caps (sold out at the time of reporting, no word on whether they're getting more in).
There's also a "Trump Sends Hillary to Prison," building block set, featuring figures of the two 2016 presidential campaign rivals, with one resembling Hillary dressed in an orange jumpsuit.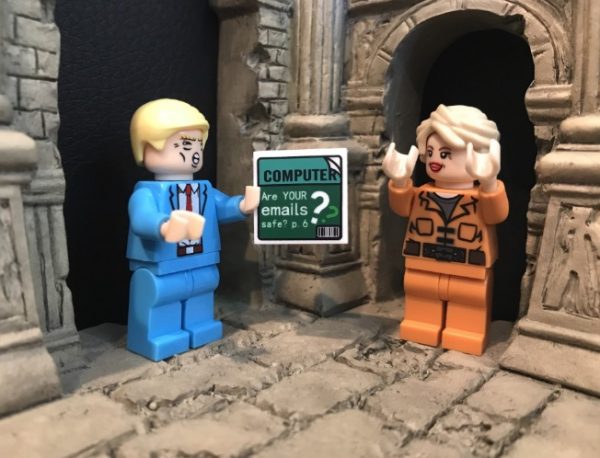 "Trump called for Clinton to be jailed during a campaign rally in San Jose, Calif.," the product description states.
"She made the call not to send in support when our embassy was being attacked in Benghazi, which resulted in the death of four American citizens," the website explains. "She deleted thousands of emails from her private server in order to hide them from the FBI during a security investigation. Add this to the fact the Clintons have had many of their enemies murdered."
Trump-themed novelty items seem to be trending ahead of this year's Christmas shopping season.
'Trumpy Bear'
An infomercial for "Trumpy Bear," a plush brown teddy bear with a distinctive blond comb-over, has aired on at least 10 cable channels, according to the Kansas City Star.
While some Americans may react with bemusement or disdain at the Trump-themed plush toy, the people in the ad are full of enthusiasm.
"God bless America, and God bless Trumpy Bear," one woman says in the video, fondly holding the stuffed toy.
In another shot, Trumpy Bear sits behind the windshield of a motorcycle as it cruises down the street.
"I'm a former Marine, and I'm proud to have Trumpy Bear ride by my side," the motorcycle driver, a man identified as Michael Rufino, says in the ad.
The toy has taken social media by storm, with one enthusiast posting "He loves our flag and he loves our country, he'll always stand for the national anthem."
I would like to introduce you to my trumpy bear isn't he beautiful he loves our flag and he loves our country he'll always stand for national anthem pic.twitter.com/kDU6W3JK7w

— Carol W (@cwiss12) October 13, 2017
Trumpy bear comes with a certificate of authenticity and can be had via GetTrumpyBear.com for "just 2 easy payments" of $19.95, plus shipping and handling.