Two police officers in Buffalo, New York, who were accused of using unnecessary force against an elderly protester in 2020 have been cleared by an arbitrator of wrongdoing.
Officers Robert McCabe and Aaron Torgalski acted to protect themselves and only acted after Martin Gugino, the protester, ignored multiple commands, arbitrator John Selchick wrote in a 43-page decision.
The situation unfolded at Niagara Square, where protesters were ordered to leave because of a city-ordered curfew.
According to testimony from several other officers, Gugino responded to the announcement of the looming curfew by saying he found the curfew to be a violation of his constitutional rights and he would have to be arrested because he wouldn't comply.
"You might as well take me to jail now because I'm not leaving here, I'm going to jail one way or the other," Gugino was said to have told one officer.
Most protesters left the area, although Gugino instead walked toward the approaching police emergency response team, of which McCabe and Torgalski were members. Body camera footage showed Gugino "walking straight to McCabe, with his left arm held by his side, holding a black object that looks like a motorcycle helmet, and holding in his outstretched right arm and hand what appears to be a cell phone," Selchick wrote.
Gugino then moved the phone across McCabe before placing it near Torgalski's arm.
Torgalski pushed Gugino with his arm, and McCabe used a baton to push Gugino, who stumbled backward before falling.
The interaction lasted about five seconds.
Gugino suffered a fractured skull, his attorneys have said.
McCabe testified that he told Gugino to get back several times and wanted the protester to walk away. McCabe said he was "in shock, honestly," when his commands were ignored. He noticed how Gugino appeared to be scanning him with the phone, describing the action as "very odd." The officer didn't know at the time what Gugino was holding in his left hand; it was a motorcycle helmet.
McCabe said Gugino's arm was at one point close to Torgalski's firearm and that the push was to get the protester "away from our personal space," adding, "We had no intention on injuring him." McCabe said the amount of force he delivered was "minor," and he was surprised that Gugino fell.
Torgalski said he heard McCabe command Gugino to get back and witnessed Gugino's actions, though the officer didn't know Gugino held a cellphone until later. Torgalski said Gugino was "too close" to his colleague and that he couldn't see what was inside the helmet Gugino held.
"He made contact multiple times, twice with my right forearm and down to the edge of my glove, my right glove," Torgalski said.
The officer said he felt "something wasn't right" and was concerned about catching COVID-19. Torgalski said his intention was to remove Gugino from his personal space.
Detective Sergeant John Losi, leader of the emergency squad, testified that Gugino ignored multiple commands. He pushed the officers ahead of him, including McCabe and Torgalski, to help keep the squad moving. That force contributed to the contact with Gugino, according to McCabe. Losi said Gugino's fall didn't "seem consistent with the amount of force I would have applied to Jamie [McCabe] or he could have applied to Gugino."
After Gugino fell, Losi stopped the squad so an ambulance could reach the protester.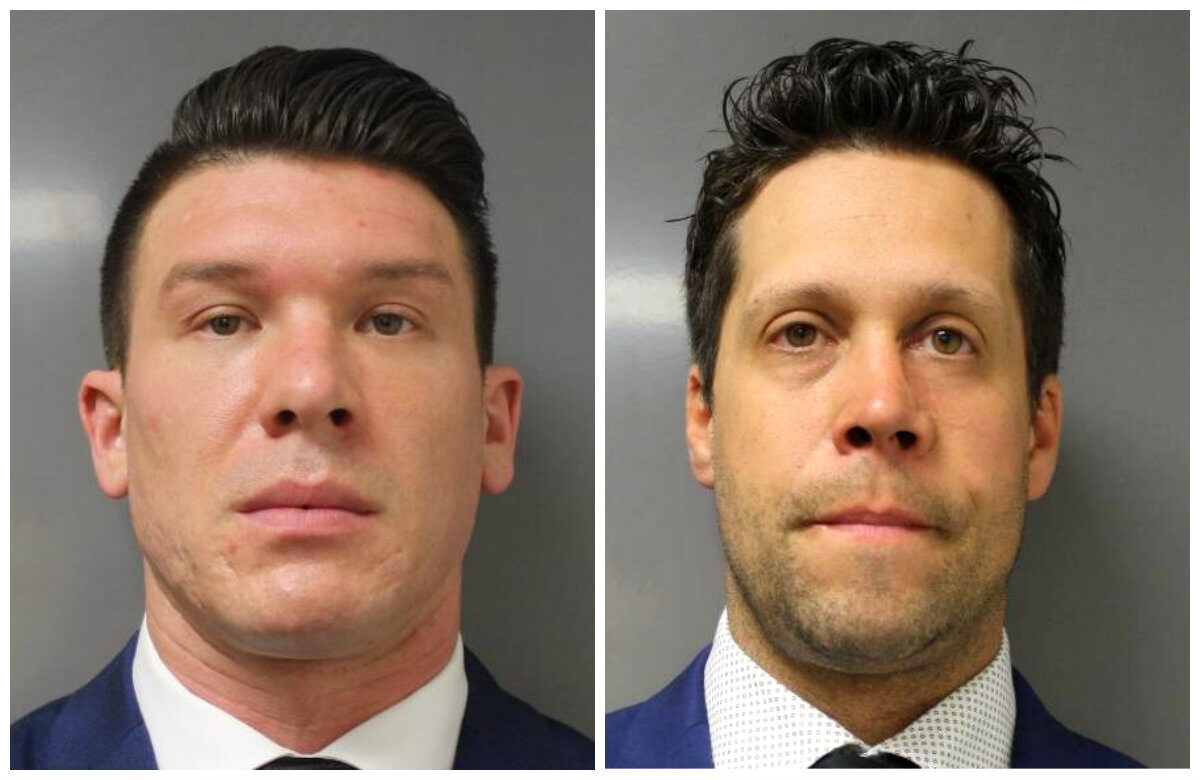 Gugino refused to testify during the case, ignoring a subpoena, the arbitrator said.
The city had accused the officers of using unnecessary force, but the Buffalo Police Benevolent Association, a police union, said they did not.
The Buffalo police department's rules regarding use of force, which include mandating the use of force be reasonable and not reckless, supported the union's stance.
"Respondents did not have the option of stopping and debating with Gugino, who was clearly intent on confronting the line of officers," Selchick said.
"It would be folly to believe that the respondents were somehow required to ignore the fact that Gugino was acting in an erratic fashion, was preventing the forward movement of the Response Team, after not complying with the directive to move back, and was making odd physical gestures within a foot of respondents."
"We are not surprised by the ruling," Melissa Wischerath, a lawyer representing the protester, told The Epoch Times in an email. "We are not aware of any case where this arbitrator has ruled against on-duty police officers so his ruling here on behalf of the police was not only expected by us, but was certainly expected by the union and city who selected and paid him."
John Evans, president of the Buffalo police union, said Gugino embellished his fall, and the move backfired because he ended up striking his head.
"I'm grateful arbitrator Selchick saw through this and made the decision he did," Evans told The Epoch Times in an email. "I wish there was a way to repair these officers reputations, because they are great guys who did not deserve the mistreatment they have."
The officers will be reinstated, a city of Buffalo spokesperson told The Epoch Times via email.
The city is declining to comment further.
McCabe and Torgalski saw criminal charges dismissed in 2021 by a grand jury. Erie County District Attorney John Flynn noted at the time that Gugino broke the law because he violated the curfew.
Gugino sued the city soon after. The matter is in mediation, according to court filings. The arbitrator's decision doesn't affect the case, according to Wischerath.