Tampa Bay Buccaneers defensive lineman Gerald McCoy said there might "be an uproar" if some NFL players are forced to stand for the national anthem.
"I don't think guys are gonna like it," McCoy said, ESPN reported. "I think it's gonna be an uproar if that is to happen because you're basically taking away a constitutional right to freedom of speech. If guys wanna have a, I guess you would call it a peaceful protest, I don't think it's right to take that away."
McCoy said he has no plans to kneel or protest during the singing of "The Star-Spangled Banner."
NFL chief Roger Goodell wrote a letter to the owners of all 32 teams that he would like players to stand for the anthem, according to a memo he sent out on Tuesday, Oct. 11. "Everyone should stand," he wrote, adding that the league will come up with a plan to "move past this controversy."
Goodell said that "like many of our fans, we believe that everyone should stand for the National Anthem. … We want to honor our flag and our country and our fans expect that of us," NPR reported.
"The controversy over the Anthem is a barrier to having honest conversations and making real progress on the underlying issues. We need to move past this controversy, and we want to do that together with our players," he wrote.
Goodell and team owners are slated to meet next week in New York City.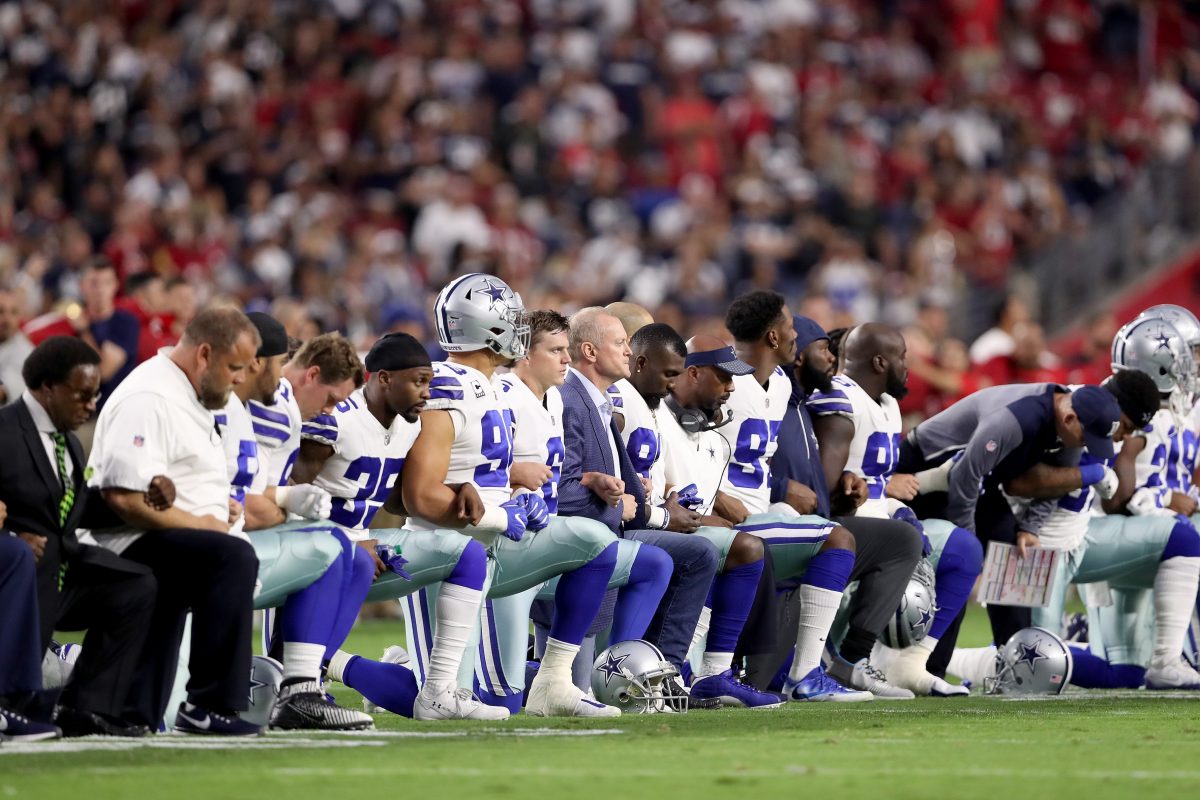 President Donald Trump has been the most vocal critic of players protesting during the anthem, suggesting that those who take knees should be fired.
After word spread of Goodell's letter, Trump tweeted, "It is about time that Roger Goodell of the NFL is finally demanding that all players STAND for our great National Anthem-RESPECT OUR COUNTRY."
However, in a statement on Wednesday, the NFL said, "Commentary this morning about the Commissioner's position on the anthem is not accurate," according to ESPN.
An NFL spokesman, meanwhile, told Sports Illustrated that the NFL's game operations manual says, "During the National Anthem, players on the field and bench area should stand at attention."
The protests started last season when former 49ers quarterback Colin Kaepernick refused to stand during the anthem, saying he was protesting "police brutality" and "racial injustice."
He initially sat out on the bench, drawing widespread condemnation, then changed the form of his protest to taking a knee during the anthem. Kaepernick currently doesn't play for an NFL team, but a number of players have followed suit, sitting or kneeling during the anthem.
Last month, on Sunday, Sept. 24, at least 200 NFL players took a knee or engaged in another form of protest during the anthem after President Trump commented on the protests. He added that TV ratings for games are going down as a result.