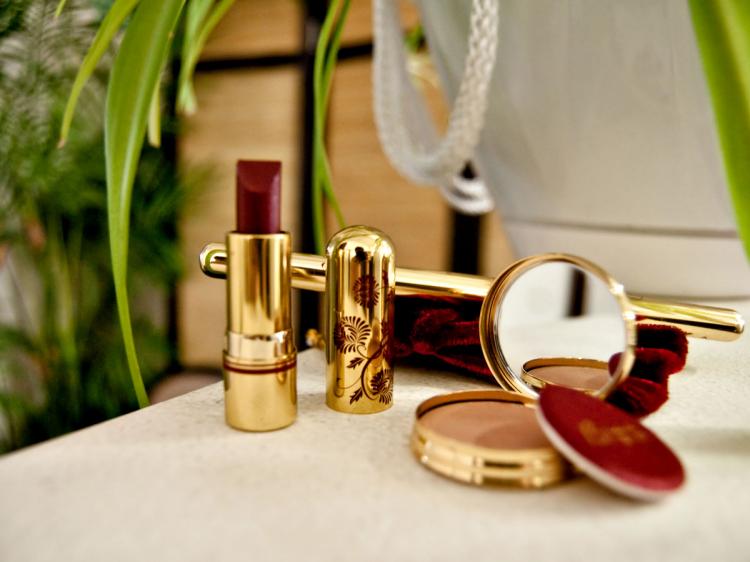 The beauty industry is always looking forward. We wring our hands at fashion shows, hoping to predict what shade of lipstick or eye shadow will be "in" next season. The new face cream that employs the most cutting-edge science immediately becomes a consumer magnet. All across the board, it's about new and different.
But in Pasadena, one husband-and-wife cosmetics team is looking to history for inspiration. In 2004, Argentina-born designer Gabriela Hernandez created the vintage makeup line, Bésame.
Bésame recreates products mainly from the 1920s to the '40s. From the packaging to the ingredients, everything in the classic line aims to mimic the products of that era.
"The line is a throwback, romantic kind of line," said Hernandez. "We like femininity. We like women to be women; not stick figures, not to be androgynous-looking creatures." The name itself is a reference to the hit '40s song Bésame Mucho (which translates to "Kiss Me a Lot").
Bésame's first item was a bullet-shaped lipstick hailing from the days of the second World War. At the time, lipsticks were manufactured using bullet shell molds. The tiny lipstick with dainty gold casing was launched online in 2004, and the line grew from there.
Each lipcolor in Hernandez's line is taken straight from historical samples. Hernandez has in her home office a stash of vintage lipsticks acquired in antique shops and at swap meets in Buenos Aires. "You can still find things [in Argentina] because a lot of the immigrants fled to that country," Hernandez said.
The shades are mostly variations of red, highly pigmented, and without shimmer, as mica was not used as a light reflecting agent until later. Due to customer demand, Hernandez extended the color line into the '60s with shades such as gold lamé and champagne.
As the brand developed, Hernandez strayed from traditional formulations. Her Voluptuous lipsticks feature a softer formula with a core of anti-aging oils; a modern formula for those who want the added benefit of miniaturization.
Currently, Hernandez is reformulating the foundations and concealers, and expects them to be ready by the end of year or the beginning of next.
For eyes, she may expand eyeshadow shades, but will stick to a traditional palette. Hernandez has been working to develop a cake mascara. The challenge is to find a way to eliminate the splatter factor when a wet brush scrapes across the cake. Finding a supplier is also a quandary, because "not many people make that kind of thing anymore."
Review
A couple of Bésame's standout products are its original Enchanting lipstick ($15) and its boudoir rouge ($15). I tried both, along with their Masterline eye pencil.
Enchanting Lipstick in Merlot
Bésame's flagship product comes in 10 shades from reds and pinks to golds and violets. Immediately, you will notice that the lipstick is exceptionally small compared to other lipsticks on the market. That's because they are twice as pigmented and contain few moisturizing agents to make them shiny or sheer.
It's not drying and lasts nearly all day. Expect to reapply if you're a messy eater, but otherwise there's no need to give it any thought throughout the day.
Boudoir Rouge in Sun Kissed
The rouge comes in a half-dollar size gold tin bearing Bésame's signature red chrysanthemum design. The clasp to the tiny compact may need getting used to as you'll have to wedge a fingernail underneath to open.
The formula itself is silky smooth and immensely fine as the top ingredients are talc and bismuth oxychloride. Though both of these get a bad rap, talc is not known to cause irritation in its cosmetic form. Bismuth oxychloride, however, can cause irritation in some people.
The rouge comes with a small puff. If you want the traditional rosy cheeks look, use it. If not, go for a small-headed brush, the softer the better, as a harder brush will knock off too much powder since this formulation is very soft.
This particular shade, Sun Kissed, is a perfect toasted apricot that imparts just enough warmth without looking bronze.
Masterliner Pencil (for eye)
Classic Masterliner pencils come in formulations for lips, eyes and brows. Each of these pencils comes with two color-harmonized shades in a twist-up form.
Don't expect to get a lot of product—there's about an inch of pencil on either end. I tried the eyeliner, which has surprisingly good staying power. It's creamy but nearly budgeproof once it's settled.