LAGUNA BEACH, Calif.—A brush fire scorched about 145 acres in the hills of Laguna Beach on Feb. 10 causing residents in communities with multimillion-dollar homes to evacuate.
The fire was reported at around 4:10 a.m. and spread quickly throughout the hillside area near Pacific Coast Highway. The fire was 5 percent contained as of 9:45 a.m. Thursday.
While the fire is moving to the north toward Newport Beach, it "is not spreading rapidly at this time," Orange County Fire Authority (OCFA) Chief Brian Fennessy said at a briefing.
There were 75 engine crews fighting the blaze, assisted by crews in four Cal Fire air tankers, five hand crews, two bulldozers, and five water-dropping helicopters.
"We no longer have a fire season, we have a fire year," Fennessy said. "It's February 10, it's supposed to be the middle of winter."
An "immediate evacuation order" was issued for Irvine Cove and Emerald Bay residents at 6:30 a.m. by the City of Laguna Beach. An evacuation warning was issued for residents residing in the North Laguna area.
"We've got almost an engine in front of every home—that's how robust the response was," Fennessy said.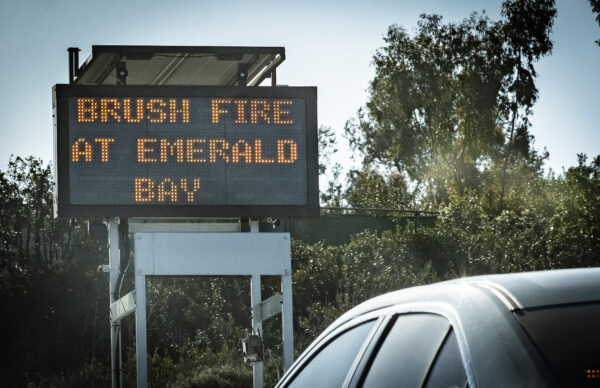 A portion of Pacific Coast Highway was closed in the area. As of 11:15 a.m., the highway was reopened.
The flames erupted in the midst of Santa Ana winds that prompted a wind advisory in the area. The flames were being driven primarily by the winds and mountain terrain. The hillsides are filled with thick, dry brush. The area has not had a significant fire since 1993.
Fire crews from OCFA were deployed, along with personnel from the Laguna Beach Fire Department, assisted by water-dropping helicopters in a mutual-aid response from the Los Angeles County Fire Department.
Law enforcement personnel, including those from the Orange County Sheriff's Department and the California Highway Patrol were deployed to secure the area.
Winds are expected to die down Thursday afternoon, but firefighters were closely monitoring the winds because "they can pick right up again," Fennessy said.
"And so, our biggest concern would be that fire moving north, jumping where we've got it held right now, and moving north towards Newport Beach," Fennessy said. "I'm satisfied with the number of resources we have at scene, and we have en route; and at this time, I'm feeling pretty confident we've got a pretty good handle on this fire right now. … The bulk of the fire is away from the structures now."
No structures were damaged and no injuries were reported.
Fennessy urged residents under mandatory evacuation to leave their homes immediately as many may fail to realize the danger of the fire until it is too late.
"That's usually about the time we're entering those neighborhoods, and we no longer go and fight that fire [because] we have to go into rescue mode and get those residents out of there," he said.
The city advised all evacuees to leave the area south on Coast Highway as road closures remain active.
The massive hillside blaze forced the cancellation of classes Thursday at all schools in the Laguna Beach Unified School District—El Morro Elementary School, Top of the World Elementary, Thurston Middle School, and Laguna Beach High School.
Those seeking temporary shelter can head to the Los Olivos Community Center at 101 Alfonso in Irvine and the Laguna Beach Community and Susi Q Center at 380 3rd St. in Laguna Beach.
The cause of the fire is under investigation, Fennessy said.
City News Service contributed to this report.