On May 6, two young appellants, Xing Mei and Xing Jian from Henan Province arrived at Tiananmen Square to kneel with their protest banner and call for the release of their mother. They were taken away and detained by local policemen and then released at three o'clock that same afternoon.
Witnesses said that they had seen the two youngsters kneeling in Tiananmen Square displaying a banner that had described unjust treatments they had received at the hands of the Chinese Communist Party (CCP). The children called out "We want our mother! We've been wronged!"
One witness said, "Three or four armed policemen had arrested the children and wrote down their personal information and the reasoning behind their protest. The youngsters were then taken to the Tiananmen Public Security Bureau."
Around 3:00 p.m. Xing Mei and Xing Jian were released.
Mei and Jian's parents are Xing Wangli and Xu Jincui. Their home is in Hongzhuang Village, Xixian County, Xinyang City of Henan.
In July 2002, when Jian was seven years old, he was hit by the car owned by Chen Ruzhou, an employee of the Xingyang Cotton and Flax Company. The accident caused serious internal injuries to Jian including an injured liver and a fracture of his right leg. The Xing family believed that the settlement awarded by the local traffic courts was unjust and appealed the case many times to the relevant authority. The local authority and courts refused to listen to the appeals of the Xing family. The family has since begun an appeal of their case to the higher authorities.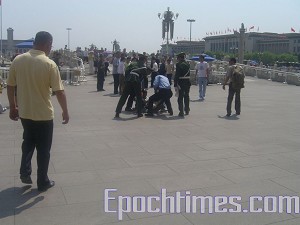 During Xing's many appeals for his son's case he was arrested eight times. He has conducted two hunger strikes, each lasting more than five days. In 2004, the Xingyang Municipal Labor Education and Rehabilitation Administration Commission sentenced him without trail to one year of forced labor.
Finding themselves cornered from all sides, Xing's wife Xu, with her mother He Zeying, father-in-law Wu Desheng, daughter Mei and son Jian, decided to attract attention to their appeals by setting themselves on fire at the top of one of the buildings in Tiananmen Square. Following their failed attempts at self-immolation, all five persons were discovered by the police and rushed to the hospital for emergency treatment.
In April 2005, Xu was sentenced to three years imprisonment for the crime of "gathering a crowd and disturbing public order." She is currently being held in the Xinxiang Women Prison in Henan.
According to Xing's relatives, with Xu being held in prison, they have been threatened that if they continue with their appeals and/or file lawsuits against the people involved in this case, the Xing family all will be ruined . Eleven year-old Jian continues to suffer from health problems caused by the accident, often complaining of headaches and physical weakness. Because both brother and sister miss their mother very much and could foresee no other alternative to obtaining her release, they decided to use the holiday season (May 1st Labor Day) to go to Tiananmen Square and make their appeals public.
Due to Xu's imprisonment, her husband, farming for a living, has been both father and mother to their two children. With the help of his friends and relatives he plans to use his free time to appeal to the higher authorities in Beijing. He hopes to bring his wife home soon.