Darrell E. Brooks Jr. pleaded not guilty on 77 mostly felony charges stemming from the Nov. 21 massacre at the Waukesha Christmas Parade that killed six people and injured 61.
Brooks, 39, was arraigned Friday in Waukesha County Circuit Court in a brief hearing before Court Commissioner Kevin Costello. Brooks remains jailed in lieu of a $5 million bail.
Brooks is accused of driving his red SUV down the parade route and intentionally mowing down groups of parade participants. The attack left bodies strewn about Main Street as bystanders and first responders rushed to provide life-saving aid.
He is charged with six counts of first-degree intentional homicide, 61 counts of first-degree recklessly endangering safety by use of a dangerous weapon, six counts of hit and run causing death, and two counts of bail jumping—all felonies. He's also charged with two counts of battery, with a domestic-abuse modifier.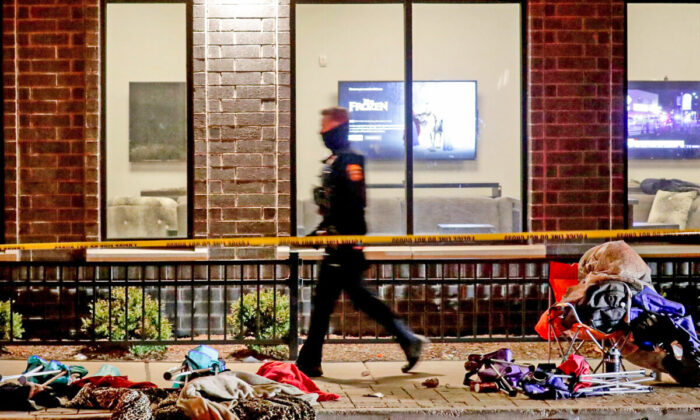 Killed in the attack were Jackson Sparks, 8; Tamara Durand, 52; Jane Kulich, 52; LeAnna Owen, 71; Virginia Sorenson, 79; and Wilhelm Hospel, 81.
The 61 injured ranged in age from children to elderly and suffered injuries from road rash and muscle damage to broken bones and skull fractures. Parade participants and spectators were injured.
Not-guilty pleas were entered on Brooks's behalf by defense attorney Jeremy Perri. During the brief hearing, Brooks sat reviewing paperwork with his other attorney, Anna Kees. He was dressed in an orange jumpsuit. His hair was cropped in a military-style cut, a vast difference from the long dreadlocks he wore when arrested.
Brooks was granted a motion for substitution of judge in the case, which was reassigned to Waukesha County Circuit Court Judge Jennifer R. Dorow. The next hearing will be at 9 a.m. March 11.
The parade massacre has drawn international attention because Brooks was let out of jail just two days prior on $1,000 bail in a Milwaukee County case in which he is accused of running over the mother of his child with the same SUV. In that case, he faces charges of second-degree recklessly endangering safety, disorderly conduct, battery, resisting an officer, intimidating a victim by threat of force, intimidating a witness, and felony bail jumping.

At the time he was charged in that case, Brooks was out on $500 bail in a 2020 Milwaukee case in which he is accused of firing a handgun at a car containing two occupants. He is charged with two counts of recklessly endangering safety by use of a dangerous weapon, and possession of a firearm by a felon.
The lenient bail recommendations of the Milwaukee County district attorney have come under increasing scrutiny. A group of Republican state lawmakers wrote to Gov. Tony Evers, a Democrat, demanding he remove District Attorney John Chisholm for malfeasance.
A group of Milwaukee County residents petitioned Evers to remove Chisholm from office. Evers decided against that idea, relying on an analysis from attorney Matthew Flynn, who said the petition was flawed and could not trigger the governor's power to remove a district attorney.
Wisconsin lawmakers are discussing legislation to toughen the state's bail laws.