Darrell E. Brooks Jr. will stand trial on six counts of first-degree homicide and 71 other counts stemming from the Nov. 21, 2021, Waukesha Christmas Parade massacre, Waukesha County Court Commissioner Kevin Costello ruled after an hourlong preliminary hearing on Jan. 14.
Waukesha County District Attorney Susan Opper and Waukesha, Wisconsin, police detective Thomas Casey alleged that while Brooks drove his 2010 Ford Escape through the parade route, one victim landed on the hood of the vehicle, obstructing Brooks's view. Brooks braked the SUV to roll the victim off the hood, then ran the person over as he continued down the parade route.
Defense attorney Anna Kees suggested that Brooks, 39, was under the influence of marijuana at the time he allegedly struck the 67 victims. She also said that after his arrest, Brooks told detectives, "I didn't mean to kill nobody."
Costello said the testimony met the standard to force a trial on the charges.
"There is ample evidence on each of those (charges) to show, sir, that you probably committed a felony or felonies within the jurisdiction of this court, and based on that, I am going to bind you over for trial," Costello said after testimony concluded.
Brooks will be arraigned at 10:15 a.m. on Feb. 11 at the Waukesha County Courthouse.
He sat quietly during the hearing, wearing a red jail-issued jumpsuit—a stark difference from his previous court appearance, where he wore a green smock used to prevent inmates from harming themselves.
6 Killed, 61 Injured in Massacre
Brooks is charged with six counts of first-degree intentional homicide, 61 counts of first-degree recklessly endangering safety by use of a dangerous weapon, six counts of hit and run causing death, and two counts of bail jumping—all felonies. He's also charged with two counts of battery with a domestic-abuse modifier. He's being held at the Waukesha County Jail in lieu of $5 million bail.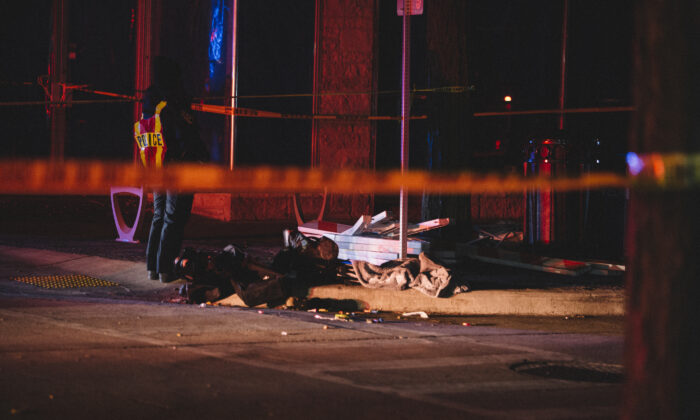 The homicide charges each carry a maximum penalty of life in prison. The recklessly endangering safety charges with the dangerous-weapon modifier each carry a maximum punishment of 17 1/2 years in prison. Each charge of hit and run causing death carries a maximum prison sentence of 25 years. Bail jumping has a maximum prison term of six years per count. Each battery charge has a maximum penalty of nine months imprisonment.
Casey testified that Brooks got into a fight with his girlfriend at Frame Park in Waukesha on Nov. 21, 2021, and while police units were responding to the incident at the park, Brooks drove off and approached the downtown route of the annual Waukesha Christmas Parade.
Casey said he encountered Brooks near the start of the parade route and stood in front of the SUV and pounded on the hood, ordering Brooks to stop. Brooks sped off and turned west onto Main Street, where the parade had been underway for about 35 minutes. Casey identified Brooks as the driver of the red Ford Escape.
He said police have reviewed hundreds of video files from citizens, businesses, and city cameras along the nearly mile-long parade route.
The SUV had initially stayed on the open north side of Main Street. But after reaching Barstow Street, "it begins to do a zig-zagging motion through the crowd," Casey testified, clarifying that he meant participants in the parade.
"Between Barstow and Broadway, the vehicle is zig-zagging through the crowd, hitting people, running people over," Casey said, noting that the SUV increased speed. "It appears that the vehicle is intentionally aiming for people. You can see the vehicle running over people."
The SUV reached speeds of up to 50 miles per hour, he estimated.
Rolled Victim From Hood
One of the most graphic descriptions at the hearing came when Casey described a victim who had landed on the SUV's hood.
"At one point, there's someone on the hood of the car, where the vehicle jams on its brakes. It appears to have the person come off the hood of the car, and then continues driving and drives over that person," he said.
The victims of the massacre were spread out among eight groups: Re/Max Service First, the Waukesha South High School Marching Band, Burris Logistics, Waukesha Blazers Baseball, Waukesha Xtreme Dance, Citizens Bank, the Milwaukee Dancing Grannies, and the Catholic Community of Waukesha, according to Casey.
Killed in the attack were Jackson Sparks, 8; Tamara Durand, 52; Jane Kulich, 52; LeAnna Owen, 71; Virginia Sorenson, 79; and Wilhelm Hospel, 81. The 61 injured ranged in age from children to elderly and suffered injuries from road rash and muscle damage to broken bones and skull fractures, Casey said. Parade participants and spectators were injured.
"Is it fair to say that, from the video, that most of the parade participants, because Mr. Brooks was coming up from behind them, were not aware of what was going on?" Opper asked.
Casey replied: "That is correct."
"It appeared from the video that most of them were struck without knowing he was approaching them with his car," Opper said.
Casey testified that two other officers tried to get Brooks to stop along the parade route, including Officer Bryce Scholten, who fired three shots into the SUV near West Avenue, to no effect.
"The vehicle was driving directly at him and forced that officer to discharge his service weapon," Casey said.
No Mechanical Problems
The Wisconsin State Patrol's mechanical inspection unit examined the SUV at the State Crime Lab.
"It was determined that there is nothing on the vehicle that is defective that would make the vehicle so it would not stop or accelerate," Casey said, noting that aside from some give in a tie rod and a mismatched tire, "they did not find anything mechanical wrong with the vehicle."
In her cross-examination, Kees asked Casey if there were instances where Brooks avoided hitting people.
"There were times he avoided people," the detective said.
Kees said when Brooks was arrested, officers smelled marijuana and noticed that he had "red, bloodshot, glassy eyes."
Kees noted in her questioning that the SUV didn't drive on the sidewalks or "try to make any other vehicles get knocked over or roll into other vehicles or parade participants or spectators."
"I did not see him knock over any other vehicles," Casey said in response.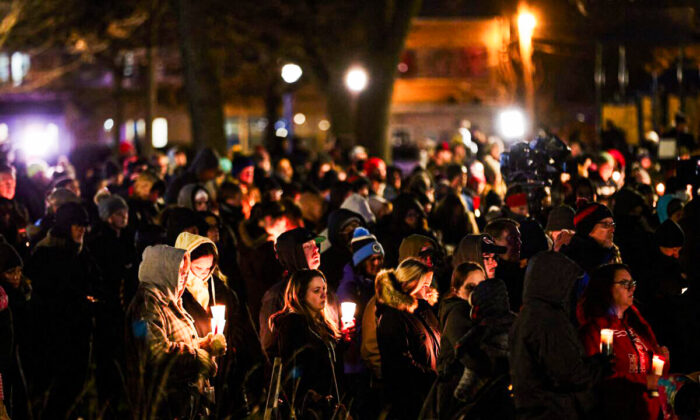 During the interrogation of Brooks, detectives showed him photos and videos of the people struck along the route.
"He did not want to look at them, is that fair to say?" Kees asked.
Casey replied: "That is fair to say."
During questioning, Brooks put his head down and turned away to avoid looking at the damage from the parade route, Kees said.
"And at one point he even begged the law enforcement officer to stop showing them to him, correct?" she asked.
"I believe so," Casey said.
The parade massacre has drawn nationwide outrage, because Brooks had been let out of the Milwaukee County Jail just two days prior after posting $1,000 bail on charges that he punched the mother of his child in the face, then ran her over with the same SUV used in the Waukesha carnage. He was also out on $500 bail in a case where he was accused of shooting at two people sitting in a vehicle.
Waukesha-area state lawmakers demanded that Gov. Tony Evers remove Milwaukee County District Attorney John Chisholm for malfeasance for allowing such low bail recommendations. A group of Milwaukee County taxpayers filed a complaint against Chisholm with Evers, but the governor rejected the complaint after an attorney he hired declared that it was invalid.