Brooklyn's Business Miracle
May 28, 2014 6:30 am Last Updated: May 28, 2014 6:31 am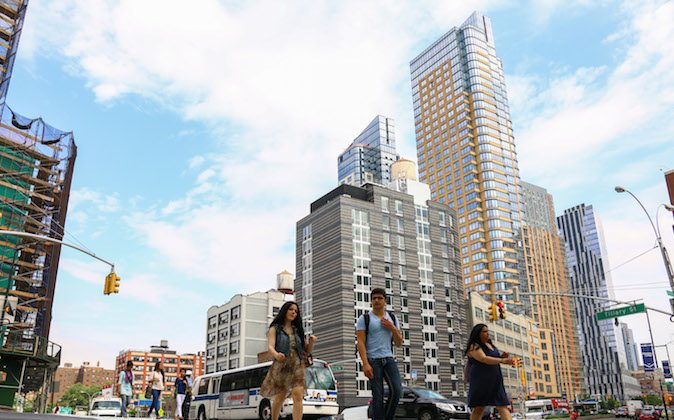 NEW YORK— In 2008, Jud Mongell skateboarded past a brick building in quiet Greenpoint and "liked it right away."
A conversation from years back in Australia about the search for decent coffee was stuck in his mind, and Mongell wanted to open something like a cafe.
"It was a very natural, organic sort of unraveling of circumstances that led to it," said Mongell, 41, owner of the restaurant and oyster bar Five Leaves. He contemplated a cafe, then a bar, and then decided to get a food license as well because he said he thought "It'd be fun to make food."
The rent was much cheaper than a storefront in Manhattan, but the foot traffic and buzz was more muted as well. The small, tightknit community was the vibe Mongell preferred, but "who would want to sit there?" Mongell thought, worried. "We wondered if anyone would come."
One would hardly think that way about the popular borough today.
Five Leaves has grown as Greenpoint's grown, from a small place to a global destination, according to chef and restaurant partner Ken Addington.
According to a report released by state Comptroller Thomas DiNapoli Wednesday, bars and restaurants have led Brooklyn's job growth, adding nearly 10,000 jobs from 2008 to 2012. In that period, Brooklyn's leisure and hospitality sector grew 36 percent, twice the rate of the rest of the city. And the borough's economy across the board has grown in the last decade, outpacing other areas of the city in many regards.
Steve Hindy, co-founder of Brooklyn Brewery, stated in response to the report, "Educated young people have been pouring into Brooklyn for the past two decades, and they responded to the 2008 recession by starting businesses in the food, beverage, media, and tech sectors."
Economic Growth
Seven years ago, Ben Van Leeuwen was driving around near the end of his last semester at Skidmore College and realized there were no legitimately good ice cream trucks.
Van Leeuwen, his brother Pete, and wife Laura O'Neill had no background in food. They set out to research ice cream and realized how unnatural some of the ingredients tend to be, and determined they would make natural ice cream. They started with just two Van Leeuwen Artisan Ice Cream trucks in the spring of 2008, and the first brick-and-mortar store came just months afterward, aided by a partnership with a neighborhood bar.
The three of them all still live in Greenpoint, said O'Neill, 32, and that had been one of the determining factors to the location. "It was the sense of community, you really got to know people in the neighborhood," O'Neill said. There is still a community, but the neighborhood has grown many times in density. "Now it's a lot like Manhattan."
They have since expanded to three ice cream shops, six trucks, and a separate restaurant serving Bali cuisine, and are on the verge of expanding to Los Angeles.
The growth of companies like Van Leeuwen and Five Leaves is not an outlier. Job growth in Brooklyn has been nearly twice as fast as the rest of the city, nearly 20 percent from 2003 to 2012.
Many of these restaurants also try to source and produce locally, and food manufacturing has also been strong in Brooklyn, accounting for a third of total manufacturing. A decade-long trend has finally reversed, and the city's manufacturing sector is stable.
Wages
Wage growth in Brooklyn is second to Manhattan, with a 42 percent increase from 2003 to 2012. Yet, the average private sector salary in Brooklyn, $38,550, is lower than any other borough. The median household income of $45,230 in 2012 was also lower than the citywide $50,900.
This is due to job growth being concentrated in low paying industries like retail, and health care, which accounts for about a third of the borough's jobs.
Unemployment was also higher in Brooklyn than citywide, and has been for the last two decades. However, the report points out, it varies widely by neighborhood.
In neighborhoods like Greenpoint, Brooklyn Heights, and Cobble Hill, the comptroller estimates that unemployment was 50 percent lower than the borough-wide rate of 8.8 percent.
About 16 percent of Brooklyn's census tracts have a 50 percent lower unemployment rate while 13 percent of the census tracts probably have at least 50 percent higher unemployment rates, the comptroller estimated.
"While Brooklyn faces challenges such as unemployment and the high cost of housing, the borough's overall economy is flourishing and is poised to keep growing," DiNapoli said.