Bronx NYCHA Tenants Sue for Repairs
September 29, 2014 2:54 pm Last Updated: September 29, 2014 4:50 pm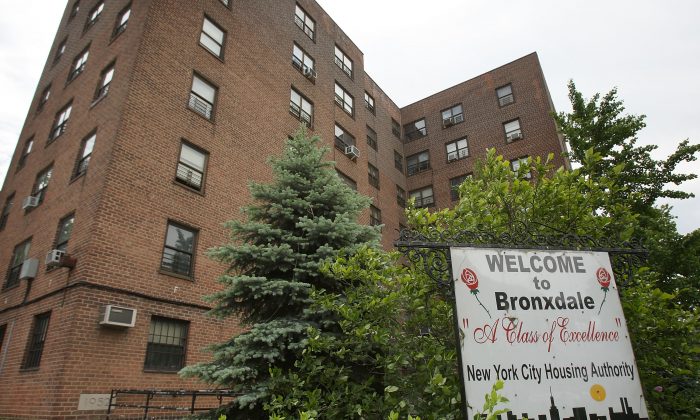 Leaking water, peeling paint, broken windows, and severe mold have caused 25 tenants of the Morris Houses to sue their landlord—the New York City Public Housing Authority—for repairs. Though just a handful of tenants are suing for the repairs, the project in the Bronx is home to over 3,000 residents who have dealt with inconsistent heat and hot water over the past twenty years.
"Despite years of deplorable conditions, NYCHA has yet to meet its obligations to us, the tenants of Morris Houses, by making necessary repairs. We pay rent but nothing is done," said Morris Houses tenant leader Heidy Rios in a press release. "We have been ignored for too long, and it is time for NYCHA to hear us and do its job."
These longstanding requests for repairs that go unheard are unfortunately common, often lagging on for years. In 2013, the maintainence backlog reached excess of 350,000 and NYCHA began an accelerated repair program. But apartments in poor condition were widespread and the problem persists.
The Morris Houses, at 1460 Washington Ave., where NYCHA tenants are suing for repairs:
However, actions like the Morris Houses lawsuit have proved fruitful in the past.
Last summer, over 300 tenants at the Smith Houses filed a lawsuit against NYCHA to make repairs for the crumbling plaster, exposed wires, and missing smoke detectors in the buildings. Manhattan Housing Court judge Phyllis Saxe ordered NYCHA to immediate begin working on these backlogged repairs after the tenants.
The Urban Justice Center (UJC) and New York Lawyers for the Public Interest had represented the tenants, and called the strategy unprecedented. The Morris Houses tenants are also represented by UJC.
"Families should not have to live with water leaks, severe mold and broken entrances that pose public health and safety risks. We look forward to a speedy order from the Court to help remedy this situation," said Garrett Wright, UJC Senior Staff Attorney, in a press release.
Last December, another group of tenants won a lawsuit against NYCHA regarding repairing moldy walls. The walls were found to have been painted over, causing residents respiratory problems and attracting vermin.
Previously, NYCHA would take months or more to remove mold, but the court order established a deadline of 15 days for affected units across all projects. 
For the tenants at the Morris Houses, this may not have kept up. However, the tenants suing NYCHA say the point is not to publicly blame the housing authority.
"All we ask is for our repairs to be completed in a timely manner and with a sense of urgency for our health's sake, and for our rights to safe and livable conditions," said housing organizer Nova Strachan in a press release. "We as residents don't want to paint this picture that NYCHA is this big monster … Public Housing is the last truly affordable housing in this country, so we want to work together with NYCHA to make these needed changes in our developments."
The NYCHA issued the following statement: "Under new leadership, NYCHA has made major strides in reducing its repairs backlog and wait times and continues to make progress. Moving forward with shrinking resources to upgrade and repair its large, aging portfolio, NYCHA is also focused on developing a plan to preserve and maintain public housing for the next generation. Also, as part of the Authority's commitment to provide greater transparency, updates on its repairs data are available on the NYCHA Metrics section of our website."