A broken teapot bought for $20 has sold for about 575,000 (US$800,000) after it was found to be one of America's first pieces of porcelain.
The blue and white teapot, made in the United States by John Bartlam toward the end of 18th century, is reported by the BBC to be so rare as to possibly be the only one of its kind in existence.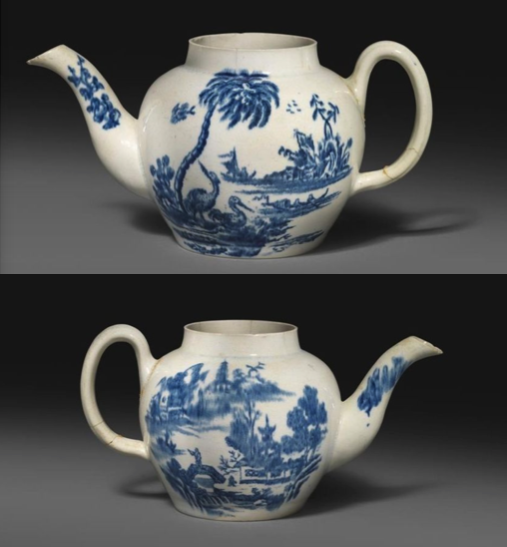 The bargain hunter who bought the item initially thought it was common pearlware, the Telegraph reported, and that with its missing lid and broken handle glued back on was not worth much.
But the unnamed buyer took it to an expert at Woolley and Wallis auctioneers in Salisbury, UK, for a formal appraisal. It was there that he was told that the piece was actually the work of Bartlam, a Staffordshire potter who took his business abroad to the United States.
Bartlam left England around 1763, the Independent reported, and became the first known manufacturer of American porcelain.
Appraisers said this was the only known Bartlam teapot in existence, making it the earliest U.S.-made teapot ever to be discovered.
This teapot is missing a lid, and the handle is repaired. Yet it sold for more than $800,000 at auction. Why? https://t.co/FuLci2c1gy

— New York Times Arts (@nytimesarts) February 23, 2018
Based on what experts told him, the buyer expected the pot might fetch somewhere between $27,000 and $70,000 when it went to auction in Lincolnshire, the Telegraph reported.
But interest unexpectedly skyrocketed, and thanks in particular to strong engagement from U.S. bidders, it sold for a hammer price of $643,000. Adding in all the fees brought the final price tag to just over 575,000 pounds (US$803,000).
London dealer Rod Jellicoe ended up with the unique item, having bid on behalf of the Metropolitan Museum of Art in New York. It is there that the unique teapot will be housed.
According to the Telegraph, expert Clare Durham, of Woolley and Wallis Auctioneers, said that the vessel's historic importance rests in its association with the very beginning of American porcelain production.
"The teapot marks the birth of American porcelain. At the time the United States was saying, 'We don't need British porcelain anymore.'"
"It means so much more to the Americans than it does to us hence why it ended up being bought by the Metropolitan Museum of Art," Durham said. "Bartlam made a fair amount in America but no pieces survive over there. We don't know how the tea service came to Britain but it might have been when Bartlam visited in 1769."
The 9 cm (3-inch) tall teapot is decorated with a bright blue pattern featuring two cranes under a palm tree on one side, and on the other–a man on a bridge.
Recommended Video:
Timelapse Video Captures 'Ocean' of Clouds Over Vancouver, British Columbia