A British jihadi who became one of the most wanted terrorists has been killed in a drone strike in Syria, the Sun newspaper reported on Thursday, Oct. 12.
Dubbed the 'white widow' after her husband, also an ISIS terrorist, was killed in 2015, Sally Jones was a key online recruiter for ISIS.
Fifty-year-old Jones was killed in June by a U.S. drone strike close to the border with Iraq, according to the Sun, which quoted a British intelligence source.
Jones, a former punk rocker, travelled to Syria from her home in Kent in 2013, taking her then 11-year-old son with her, to marry an ISIS terrorist she had met online.

CIA officials told their British counterparts that a U.S. Air Force Predator killed Jones, according to the Sun.
The Home Office source is quoted as saying, "The Americans zapped her trying to get away from Raqqa. Quite frankly, it's good riddance."
Jones has used her son—who has previously appeared in an ISIS execution video—as a human shield in the past, prompting speculation that he may have been killed in the drone strike.
According to the newspaper report, the source said that her son, Joe Dixon, had not been specifically targeted by the missile strike, as he would not have been regarded as a combatant.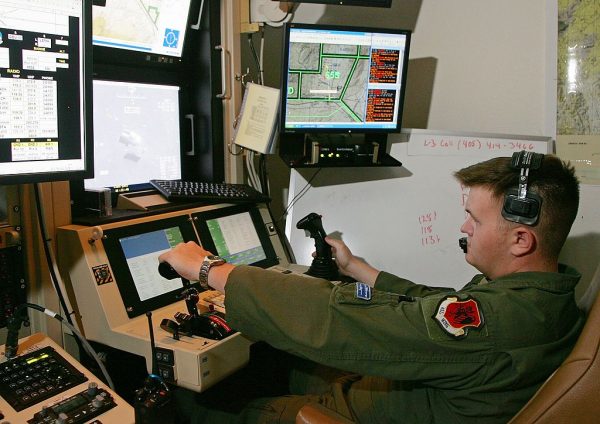 The report does not say whether he was with her at the time of the strike.
Jones used social media to try to recruit for ISIS and spread messages of hatred, with more than 20 different handles on Twitter, according to the Guardian, but her online activity stopped in recent months.
According to the Sun, Jones was last seen fleeing from Raqqa, heading for a town on the border with Iraq.
Maj. Adrian Rankine-Galloway, a Pentagon spokesman, told the Guardian, "I do not have any information that would substantiate that report but that could change and we are looking into this."
Maj. Gen. Chip Chapman, the former head of counterterrorism at the Ministry of Defense, told Press Association that under the U.N. Charter, Jones's son was too young to be classified as a soldier.
"Even if he got up to really bad things, he shouldn't have been targeted," he said.