Top British universities may be unwittingly assisting China's military forces in their development of weapons of mass destruction by allowing them access to cutting-edge research, a social policy think tank has said.
In research published on Monday (pdf), Civitas, the Institute for the Study of Civil Society, said that the "pervasive presence of Chinese military-linked conglomerates and universities in the sponsorship of high-technology research centres in many leading UK universities" is being largely overlooked.
The report's authors found that top research centres based at at least 15 universities, including Cambridge University, Imperial College London, and Manchester University, are generating "dual-use" research unintentionally, unaware that it could be deployed in China's development of its military, such as intercontinental ballistic missiles, advanced weapons and military vehicles, and metals and other materials.
Radomir Tylecote, a former Treasury official, and Robert Clark warned that Britain's oversight of research that may be vulnerable to Chinese military exploitation is insufficient and doesn't make strategic sense.
"China is demonstrating rapid technological-military development and growing force-projection capabilities," they said in a statement.
"To risk financing and enabling these developments suggests a lack of strategic coordination."
They called for an urgent review of the safeguards and security implications around research collaborations with China both inside and outside universities, particularly in light of the Chinese regime's stated aims of matching U.S. military capabilities by 2027 and surpassing them by 2049.
One recommendation is for the government to draw up a list of barred Chinese firms and institutions, prohibiting their funding of research in the UK.
Another is the setting up of a dedicated official body to track and assess university sponsorship akin to the Committee on Foreign Investment in the United States (CFIUS).
"Those measures should form part of an urgent reassessment of the security implications of the so-called 'Golden Era' policies towards China and the strategic assumptions that underpinned them," the report states.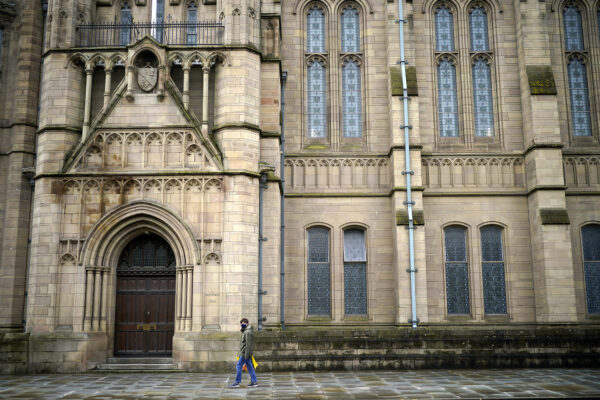 The report details UK universities' relationships with 22 military-linked Chinese universities and manufacturers, but stresses that the researchers were not knowingly contributing to military development.
However, because of China's "civil-military fusion" strategy, "any claim to be able to reliably cooperate only with the civil branches of Chinese military-linked companies and universities [is made] less credible," the report states.
The authors noted that several institutions included in the report, titled "Inadvertently Arming China?", did not agree with their analysis, and all were given an opportunity to respond.
Imperial College London said that the "limited instances" where they receive sponsorship from Chinese companies are "for fundamental scientific research," and that it "conducts its own due diligence prior to any sponsorship arrangement."
"We also work closely with the Export Controls Joint Unit and other relevant UK government agencies. All relationships with third parties are subject to prior and continued review," the university added.
The University of Cambridge denied it had ever had "any formal research funding" or conducted research with Chinese universities or military-linked companies.
Manchester University said it had due diligence measures in place to allow its researchers to "question the potential of their research" and only collaborated with outside organisations "within the legal remits of the export control legislation."
According to The Times of London, the Civitas report comes as Britain's customs authority, HMRC, is to tell up to 200 British academics that they are to be investigated for export violations that risk aiding the Chinese military in weapons development.
HMRC, Imperial College, and Cambridge and Manchester universities did not respond to requests for comment.