A British surgeon accused of joining ISIS is begging his former patients in the UK to help him overturn the refusal of British authorities to allow him back into the country.
Muhammad Saqib Raza, 40, from Leicester, was captured over a year ago attempting to smuggle himself out of Syria and since has been held in a jail run by Kurdish forces a four-hour drive from Raqqa, the former capital of the recently annihilated caliphate.
But the facial surgeon, who worked for the British national health service, claimed that he was the victim of an elaborate kidnap plot that unwittingly led him deep into the caliphate.
Speaking to the Mirror in an interview published on March 23, Raza said that he has had no contact from British authorities and that he is frightened his cellmate, a feared ISIS intelligence officer, is planning his death.
Raza appealed to his former patients for help.
"When you, my patients, wanted help, I treated you like you were my own family," he said.
"Now I'm stuck in this prison hellhole and nobody cares.
"My patients, maybe you care. I beg you, patients of mine, to help me in return for what I did for you."
Raza criticised infamous ISIS bride, Shamima Begum, who travelled to Syria at the age of 15 to join the so-called caliphate, saying allowing her to return without rehabilitation would be dangerous.
"She must be held responsible for a decision she made.
"Yes she was 'only' 15, but in the NHS we can allow consent (for operations) from people aged 12," Raza said.
Although she has since expressed a degree of remorse, Begum has never denied her motivations for travelling to Syria, like many of the thousands of foreign-born fighters.
A British 'Isil' doctor captured in northern Syria claims he was the victim of an elaborate kidnap plot and wants to…

由 The Telegraph 发布于 2018年11月2日周五
But Raza is adamant that he did not go to Syria to join the caliphate, claiming in an interview with the Telegraph to have been deceived into travelling from Turkey to Syria by an ISIS recruiter.
He said he now fears for his life.
"I'm alongside a guy who I saw in [ISIS] territory. He was a feared intelligence officer. He is probably planning my death.
"This same man says he is the son of a British barrister or something."
"And despite his terrorist background he says he's confident he can get back into England. People like him are very dangerous."
The question of how to handle the foreign-born fighters who headed out to Syria to join ISIS has loomed larger in recent months with ISIS squeezed to its final dregs, finally collapsing to nothing on March 21, as the remaining few hundred terrorists were routed from their remaining position.
The UK Home Secretary revoked the citizenship of ISIS bride Shemina Begum, following a series of interviews in which she said she wanted to come home, but expressed little remorse.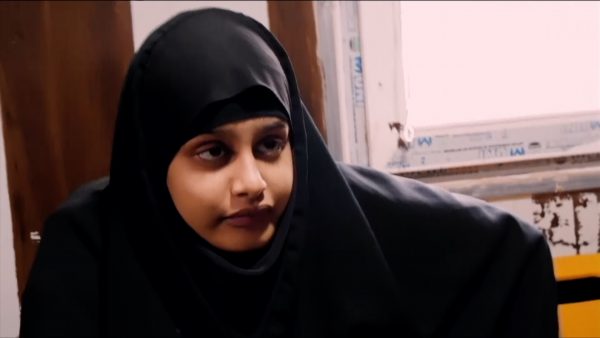 Begum is staying in a refugee camp of 40,000 people, which is now home to the estimated 1,500 people who traveled from Western nations, predominantly Europe, to join ISIS.
Security experts such as British intelligence service head Alex Younger have warned, however, that would-be returnees like Begum were "potentially very dangerous." Because they were in "that sort of position," people like her were likely to have acquired certain "skills or connections."
Survivors and other victims of the murderous cult's reign of terror, meanwhile, are furious at the prospect of ISIS women getting a sympathetic hearing in the Western press, or worse—a free pass.
Ali Y. Al-Baroodi, who survived ISIS's bloody occupation of Mosul, told The Jerusalem Post that that claims on the part of jihadi brides that they were "just housewives," as Begum has insisted, are simply false.
"It was hell on Earth and every single one of them made it so," he said, asking sarcastically if perhaps local victims of the jihadi women should "apologize for disturbing their stay there."
British authorities have previously stated that successfully prosecuting ISIS members for the crimes committed in Syria is potentially very difficult, instead choosing to block the return of those who headed out to Syria.