A British restaurant chain has launched a trial that gives free children's meals if the parents don't use their phones at the table.
The trial started on Nov. 29 and was slated to last through Dec. 7.
Frankie & Benny's installed "no phone boxes" at tables and said people who deposit their phones inside until the end of the meal will receive free food for their children.
The company said research indicated more than seven out of 10 children want parents to spend less time on their phones.
The chain has approximately 250 locations across the United Kingdom.
"Our staff will be actively encouraging customers and families to take part in the initiative but of course, we can't force them to hand over their phones," a spokesman told the Daily Mail. "If the initiative is a success we'll certainly be looking at ways to activate it on a more permanent basis."
The move comes after a slew of American restaurants tried to discourage cellphone use in recent years.
At Hearth in New York City, chef Marco Canora added boxes on the table last year that said, "Open Me!" If diners open the boxes, they find a note inviting them to leave their phones inside.
"If there's one time in the 24 hours in your day that's a time to engage with the person you're with, it makes sense to me that it's around the dinner table," Canora told Eater.
Eleven Madison Park, another top New York City restaurant, has also introduced boxes and encouraged diners to relinquish their phones for the duration of a meal. The boxes encourage people "to enjoy the company of those at the table and be just a bit more present with one another," the restaurant said on Instagram.
Another restaurant, Sneaky's Chicken in Iowa, started a 10 percent discount on Wednesday nights for diners who hand over their phones.
"It was just something that we just wanted to see if we could stop for a little bit and have people enjoy each other's company more than their cellphones," General Manager Christy Wright told the Des Moines Register.
Cellphones Undermine Social Benefits
Research has shown that having a cellphone at dinner can be disruptive, even if the phone isn't being used.
In 2014, University of Virginia researchers found that even having phones visible at dinner caused a distraction during conversations.
When phones were present, people had less empathy for each other. When they weren't, people reported higher levels of empathy.
And in a study published in the Journal of Experimental Social Psychology last year, researchers said that phone use leads to distraction, which undermines the benefits of social interaction.
Conversely, when phones were put away during the meal and not visible, participants enjoyed their meals and interactions more.
"This research suggests that despite their ability to connect us to others across the globe, phones may undermine the benefits we derive from interacting with those across the table," the researchers wrote.
Americans seem to agree with the research. In a survey by the Pew Research Center, 62 percent of respondents said it was generally not okay to use a cellphone at a restaurant; 88 percent said it wasn't okay to use a cellphone at a family dinner.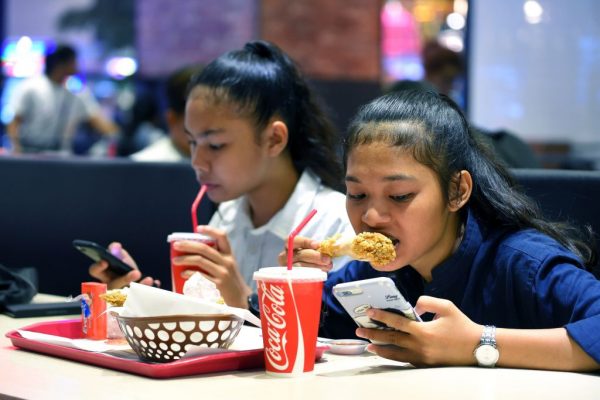 How to Get Rid of Phones at the Table
Etiquette expert Karen Thomas suggested a way to request no phones before eating with friends or family.
"I've said to a colleague, 'Would you mind if we make this a cell-free dinner or luncheon so we can really get our work done?'" Thomas told Market Watch. "If it's a friend, you could go the same route and say, 'Do you mind if we make this a cell-free evening? That way we can enjoy each other's company.'"
Elaine Swann, another etiquette expert, suggested using the words "we" and "us."
"'I really want to spend time with you; how about we put our phones away for a while?' Use 'us' [and] 'we' so you attempt to soften the blow," she said.
"With children and your family, my advice is that you put in place what I call 'techno-free-zones.' Your zone can either be a time zone where there is a particular time of day that you don't use your phone … or the zones can be a specific area of the house."
From NTD News