A British officer in charge of Britain's evacuation of between 6,000 to 7,000 people from Afghanistan says Taliban commanders around the airport in Kabul have not sought to disrupt the effort.
Royal Navy Vice Admiral Ben Key says "pragmatic, tactical, low level" discussions have had to take place with the Taliban terrorists as they control entry points into the airport.
While conceding that it's only been a day and a half since the evacuation commenced, Key told BBC Radio that the Taliban have so far appeared "acquiescent and understanding of what we're trying to achieve."
British officials are calling in people to go to the vicinity of the airport as and when a flight becomes available for them. There, they have to be allowed through into the airport grounds by the Taliban. Once inside, British officials undertake the necessary security checks before taking them to the airfield where they await their flight back to the U.K.
Britain is seeking to evacuate 4,000 U.K. nationals and Afghan allies who have helped over the past 20 years.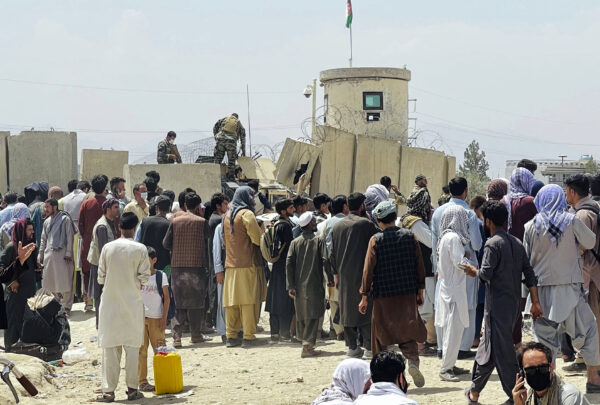 NATO Blames Afghan Leaders
Meanwhile, NATO Secretary-General Jens Stoltenberg is blaming a failure of Afghan leadership for the swift collapse of the country's armed forces but says the alliance must also uncover flaws in its military training effort.
Stoltenberg says "the Afghan political leadership failed to stand up" and that "this failure of Afghan leadership led to the tragedy we are witnessing today."
His remarks came after he chaired a meeting Tuesday of NATO envoys to discuss the security implications of the Taliban's sweeping victory in Afghanistan.
NATO has been leading international security efforts in Afghanistan since 2003 but wound-up combat operations in 2014 to focus on training the national security forces.
Referring to way the Afghan armed forces withered in the face of the Taliban offensive, Stoltenberg said that "it was a surprise, the speed of the collapse and how quickly that happened."
He says "there are lessons that need to be learned" at NATO.