U.S., British, and French forces launched air strikes against targets in Syria in the first coordinated Western military action against the Damascus regime.
In the video, released by the British Royal Air Force, ground troops can be seen preparing to deploy Panavia Tornado GR4 jets.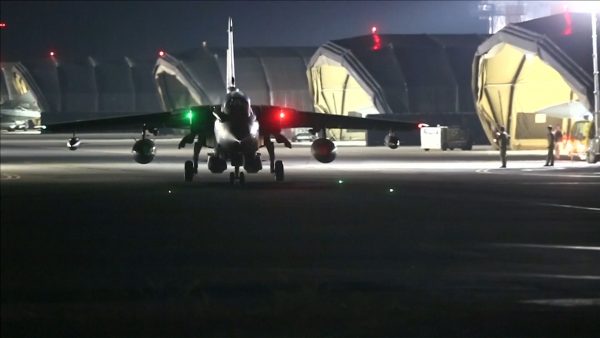 The footage also shows pilots enter aircraft cockpits and take off with payloads that included Storm Shadow missiles, The Drive reported.
Over 100 missiles were fired on the morning of Saturday, April 14, targeting what representatives of coalition forces called chemical weapons sites in retaliation for an earlier poison gas attack.
#BREAKING – First photos of the #Syrian capital as the air defense struck #US, #UK and/or #French cruise missiles striking the city. Radar guided anti-air guns and anti-air missiles utilized in the air defense of the city. pic.twitter.com/2XUtU7Z8D7

— SURA (@AlSuraEnglish) 14 kwietnia 2018
It is reported that in addition to the RAF's Storm Shadow projectiles, French SCALP-EG and the American JASSM were also likely used in the strike, as well as Tomahawk cruise missiles.
Speaking from the White House on Friday, president Donald Trump announced the military action, and said its intention was to degrade Syrian chemical weapons capabilities.
The targets included a Syrian center in the greater Damascus area for the research, development, production, and testing of chemical and biological weaponry as well as a chemical weapons storage facility near the city of Homs. A third target, also near Homs, reportedly contained both a chemical weapons equipment storage facility and a command post.
BREAKING: Shadow missiles used against military facility 15 miles west of Homs, believed to be site of chemical weapon precursors – UK Defence Ministry pic.twitter.com/zIKYE8jgPB

— Reuters Top News (@Reuters) 14 kwietnia 2018
President Trump said the three allies had "marshaled their righteous power against barbarism and brutality."
He also did not rule out future military action.
"We are prepared to sustain this response until the Syrian regime stops its use of prohibited chemical agents," the US president said in a televised address.
British Prime Minister Theresa May described the strike as "limited and targeted."
She said she authorized British forces to join in the strikes after intelligence indicated Syrian president Bashar al-Assad's government was responsible for an attack using chemical weapons in the Damascus suburb of Douma a week ago.
French President Emmanuel Macron said the strikes had been limited so far to Syria's chemical weapons facilities.
Breaking: Another explosion in #Syria pic.twitter.com/8T1vfqjEd3

— Arturas Kerelis (@arturaskerelis) 14 kwietnia 2018
Reuters contributed to this report
Recommended Video:
Putin Responds to Speculation of New Cold War