Britons bought and sold a record number of homes in recent weeks as pent-up demand from the CCP virus lockdown and a desire to leave London bucked the usual summer slowdown, industry data showed on Monday.
Property website Rightmove, which says it is used by 90 percent of British estate agents, reported the highest number of home sales agreed in a month since it began tracking the data more than 10 years ago.
Transactions in July were more than 20 percent higher than the previous record set in March 2017 in an "unseasonal record high for new seller asking prices," Rightmove said in a report.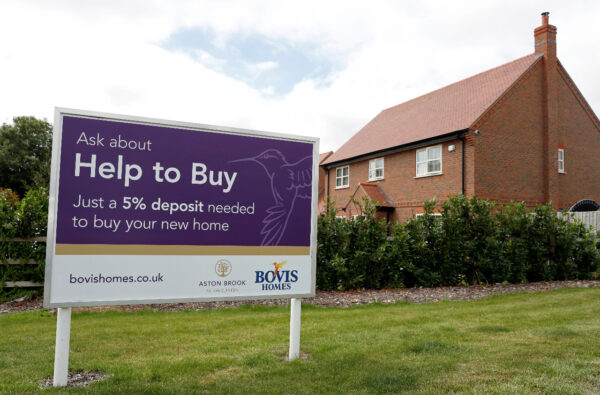 The most recent figures from the Bank of England, which cover June—before July's announcement of a stamp duty tax break on moving home—showed a sharp increase in demand for mortgages.
"The rulebook has been rewritten as the post-lockdown mini-boom accelerates," Rightmove said.
Summer Holidays
There is normally a fall rather than a rise in prices during the summer, Rightmove said, with sellers usually needing to try to "tempt holiday-distracted buyers."
Buyers themselves are also usually turning their attention to summer holidays and contributing to a seasonal slowdown.
"We associate this time of year with diving into the pool rather than the property market, and of sand and sun rather than bricks and mortar, but buyers have had a record £37 billion [$48.5 billion] monthly spending spree," Rightmove director and housing market analyst Miles Shipside said in the report (pdf).
"Home movers have put more property on the market and have agreed more sales than in any month for over ten years."
Buyers have more choice as more properties are available than in "any month since 2008," Rightmove said, with 44 percent more up for sale compared to the same time last year.
'Pent Up Demand'
"Rather than just a release of existing pent-up demand due to the suspension of the housing market during lockdown, there's an added layer of additional demand due to people's changed housing priorities after the experience of lockdown," Shipside said.
Average asking prices for August—based on data collected from July 12 to Aug. 8—were 4.6 percent higher than a year earlier as the normal summer softening in demand failed to materialize.
Rightmove also said market momentum is still building.
The most recent weekly sales-agreed forecast was up 60 percent on the corresponding week in 2019 in a "virtuous home moving circle," according to the report.
There are significant regional variations within the current housing mini-boom.
People are showing a preference for getting out of the city following the lockdown caused by the CCP (Chinese Communist Party) virus, commonly known as novel coronavirus, Rightmove said.
The 10-year high has seen more properties on the market in every region; however, there was a push in house prices to their "highest ever level in seven regions," Shipside said.
Only in London was there the typical 2 percent monthly fall in asking prices, with prices up almost everywhere else in Britain other than London's commuter belt, which, along with the city itself, saw the highest number of people wanting to move.
Rural Locations
"There is real demand to live in rural locations providing green space," Kevin Shaw, managing director of residential sales at Leaders Romans Group, said in the report.
"Increased demand for living space and gardens" is a key factor in the market spike, he said.
"As many of us continue to work from home, people have realized business can function well while doing so, and so no longer want to commute into big cities five days a week, or live in urban environments closer to offices," Shipside said.
"The out-of-city exodus has helped push prices to record levels in Devon and Cornwall, for example, where working from home means a different lifestyle much closer to your new doorstep."
Tax Breaks
Estate agents also told Rightmove that buyers had been given extra impetus to move by a temporary exemption from property purchase taxes for homes costing up to 500,000 pounds ($654,650) announced in July by finance minister Rishi Sunak.
Many investors and buyers are "exploiting the savings that are to be made," Shaw said.
Dominic Murphy, managing director of DM & Co. Estate Agents in Solihull in the West Midlands, said that "buyers will be doing all that is in their power to push sales through before the end of the stamp duty holiday."
Demand was up across the board, however, not just for homes that benefited directly from the tax break.
Processing Delays
Rightmove advised that amid the current property boom, buyers and sellers would face slower processing procedures.
"Record levels of buyer activity lead to processing delays and mean that patience is required to get sales agreed to completion," Rightmove said.
"Mortgage lenders and conveyancers may struggle to cope with the increased workload, not only now but as pressure rises further in the run-up to the 31st March stamp duty holiday deadline."
Transactions with no mortgage chain will be the most reliable across the sector, Murphy said, and least at risk of falling through due to chains breaking further along the buying line.
Murphy said he expected the market to "remain buoyant," until post lockdown job losses come through and potentially destabilized buyers' mortgage ability.
Reuters contributed to this report