A British F-35 jet crashed into the Mediterranean on Wednesday, the UK's Ministry of Defence (MoD) has confirmed, with the pilot ejecting safely.
An MoD spokesman said: "A British F-35 pilot from HMS Queen Elizabeth ejected during routine flying operations in the Mediterranean this morning.
"The pilot has been safely returned to the ship and an investigation has begun, so it would be inappropriate to comment further at this time."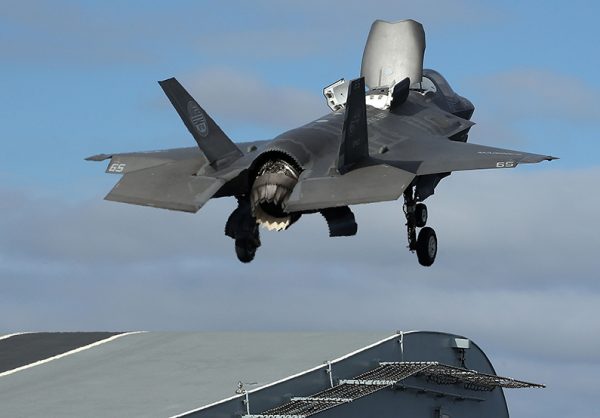 The incident happened at around 10 a.m. UK time on Wednesday.
Former soldier Tobias Ellwood, who chairs the Defence Select Committee in the House of Commons, said he had "many questions" about the crash.
The jet, estimated to be worth around £100 million ($135 million), was on patrol from the Royal Navy aircraft carrier HMS Queen Elizabeth, which is returning to Britain from its maiden deployment to the Indo–Pacific region.
The carrier deployment, which the MoD said was "the largest concentration of maritime and air power to be deployed from the UK in a generation," was aimed at countering the security challenges posed by the Chinese regime.

The MoD previously reported that the carrier was carrying eight F-35B Lightning II fast jets of the Royal Air Force.
Jets from the carrier previously participated in strikes against the remnants of the ISIS terrorist group in the Middle East.
This is the first time a British F-35 has crashed, but the jet has been involved in several crashes.
In September 2020, a U.S. Marine F-35B aircraft crashed near the Naval Air Facility El Centro in California following a mid-air collision with a KC-130J refuelling tanker. The pilot of the F-35B ejected successfully, and the KC-130J landed safely.
In April 2019, a Japanese F-35 jet crashed into the Pacific Ocean during an exercise with three other F-35s off the coast of northwest Japan. The 41-year-old pilot was killed.
PA contributed to this report.