British culture secretary Nadine Dorries has granted listed status to a plaque commemorating the industrialist and colonialist Cecil Rhodes at a University of Oxford college.
The Oriel College memorial in Oxford, has a plaque of Cecil Rhodes (1853–1902) on the outside wall,  just around the corner from the much-contested statue of the British mining magnate and politician.
'Special Historic Interest'
In 2018, Historic England advised the government that the plaque should not be listed.
However, on Friday British culture secretary Nadine Dorries, head of the Department for Culture Media and Sport (DCMS), said she felt it to be of "special historic interest."
"We are committed to retaining and explaining our heritage so people can examine all parts of Britain's history and understand our shared past," a DCMS spokesperson told the BBC.
Grade 2 listed is defined as a UK building or structure that is "of special interest, warranting every effort to preserve it." This means it cannot be taken down.
British colonialist 19th-century industrialist Rhodes was associated with southern Africa and Rhodesia, had a country named after him, made a fortune from founding the diamond company De Beers, and became prime minister of Cape Colony. He donated a huge sum in his will to Oriel College to fund scholarships.
According to historians, Rhodes laid the foundations of modern apartheid.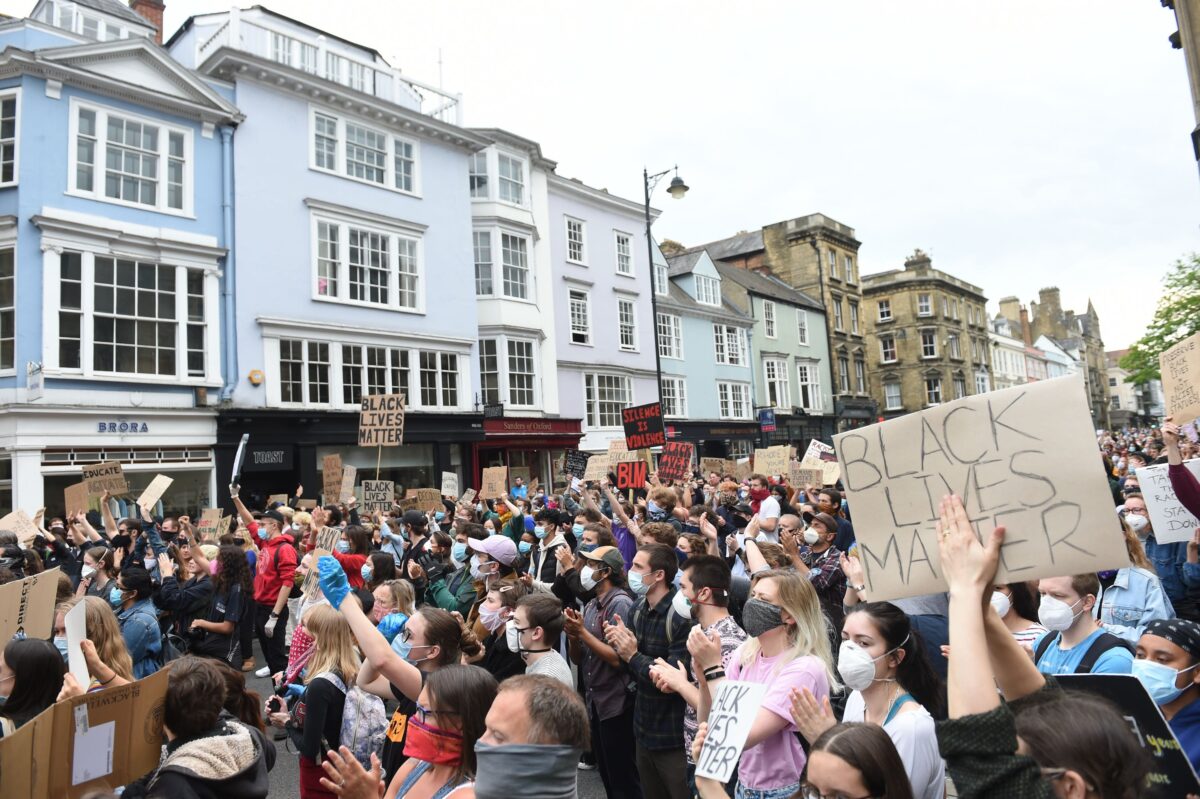 A student-led "Rhodes Must Fall" protest erupted in 2016, and again during the Black Lives Matter movement of 2020.  Though it was later decided not to remove the statute, citing "regulatory and financial challenges."
Laws were enacted in 2021 to protect England's cultural and historic heritage.
Under the regulations, if the council intends to grant permission for removal of a particular statue and Historic England objects, the Communities Secretary will be notified so he can make the final decision about the application in question.
Protect the Statues
The UK government also introduced a series of measures to protect the statues, including new bills with jail terms for damaging memorials, planning permission for demolishing monuments, and threatening institutions with funding cuts if they remove historical objects over protests.
Unlike Rhodes's statue, Colston's statue was toppled during a Black Lives Matter protest on June 7, 2020, before being dumped in Bristol Harbour and later recovered by Bristol City Council.
Colston, a 17th-century British merchant and philanthropist, profited from his shares in the Royal African Company (RAC), which members traded gold, ivory, and enslaved Africans. He had also been an active member of RAC's governing body for 11 years.
Alexander Zhang and Lily Zhou contributed to this report.