While Britain continued to tackle the CCP virus pandemic that all but halted travel and closed shops, pubs, and restaurants, British firms were planning to cut 300,000 jobs, according to data obtained by the BBC under a freedom of information (FOI) request.
The 300,000 figure revealed by the BBC on Tuesday is based on data submitted to the government under a legal requirement to do so from companies planning 20 or more redundancies.
The information about planned job cuts comes before the next official government quarterly statistics and may highlight, ahead of time, the likely job losses to be expected later in the year.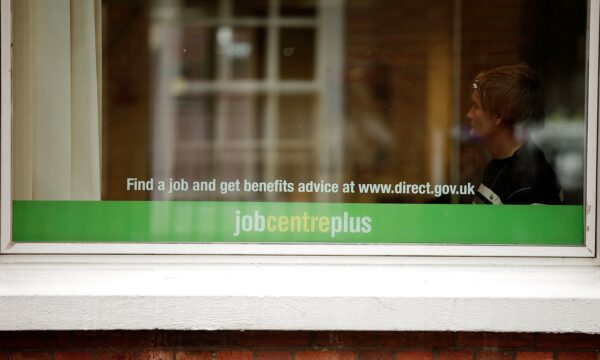 According to the data obtained under the BBC's FOI request, 1,888 employers planned for 156,000 job losses in June, six times more than in June 2019, while 1,784 companies planned almost 150,000 job losses in July, nearly seven times than in July 2019.
The potentially bleak outlook for jobs posed by the figures echoes Britain's Chancellor Rishi Sunak foreseeing a "very difficult and uncertain time" ahead when speaking to the BBC last month.
He said that not "absolutely everybody can and will be able to go back to the job they had," and made no indication of varying the October deadline for the end of the government's Job Retention Scheme and other measures that have protected millions of jobs and paid out billions in loans and grants to businesses during the lockdown put in place to slow the spread of the CCP (Chinese Communist Party) virus.
Contracted Economy
The UK economy contracted in the second quarter of this year by 20.4 percent, according to the Office for National Statistics (ONS).
This contraction reflects the hundreds of thousands of British job cuts during the CCP virus pandemic.
Despite the job cuts, government unemployment figures remained stable at 3.9 percent in the second quarter—the same as in the corresponding quarter last year, according to the ONS.
This stability in unemployment figures, however, is only technical, and is mainly due to those people covered by the government's job protection measures not being counted in the unemployed figures despite not actually being in work.
Plan for Jobs
The government has said that they will continue supporting jobs going forward.
"We are continuing to support livelihoods and incomes through our Plan for Jobs to ensure that nobody is left without hope or opportunity," a government spokesperson told the BBC on Tuesday.
"This includes a £1,000 retention bonus for businesses that can bring furloughed employees back to work," he said.
The government plans come after many job cuts in the already fragile retail sector.
Retail firms that have recently cut large numbers of jobs include Marks & Spencer, Boots, Dixon's Carphone, WH Smith, and John Lewis.
'Hammer Blow'
"The effect of the coronavirus lockdown came on top of retail's existing problems. It has been a hammer blow against the sector," The Centre for Retail Research said in a statement on Monday.
Some new retail jobs, however, have been announced amid the CCP virus crisis. Tesco, for example, said last month that they will be creating 16,000 permanent jobs.

The planned new jobs are due to a rapid surge in Tesco's online business during lockdown, and in April the retail giant became the first retailer to fulfill a million online grocery orders in a single week.
Tesco also said it plans to offer 1,000 places to young people as part of the UK government's Kickstart scheme announced by Sunak in July to provide funding to employers to create job placements for 16 to 24-year-olds.
'Blunt Instrument'
Other sectors hit hard by the CCP virus crisis include travel and tourism.
Matthew Fell, the cheif UK policy director for the Confederation of British Industry (CBI), acknowledged the need for lockdown but highlighted the damage done to trade and the need for a targeted approach going forward.
"Quarantining has been necessary to help contain the virus, but it is a blunt instrument that has damaging effects on trade and tourism alike," he said in statement on Tuesday.
"The move to regional travel corridors is a positive step towards what must be a more targeted approach. Industry and government must continue to work together on vital next steps, such as the introduction of testing at airports as a genuine alternative to lengthy quarantine periods," he said.