The British government is to introduce new legislation aimed at cracking down on foreign spying and interference in the country's economy and democracy.
The Foreign Influence Registration scheme forms part of the National Security Bill announced Tuesday in the symbolic Queen's Speech, which outlines the legislation intentions of the government in the next session of the British Parliament.
The bill will overhaul counter-espionage rules—some of which date back to the First World War—and hand the intelligence and law enforcement agencies greater powers to protect Britain's strategic interests and uphold society's integrity by "deterring, detecting, and disrupting" foreign agents.
The crackdown comes in the wake of revelations about malign foreign powers—including Russian and Chinese agents—which have sought to influence British politicians, business leaders, and universities.
"The threat of hostile activity from states targeting our democracy, economy, and the values we hold dear is real and ever-evolving—which is why the modernising measures included in the National Security Bill are so essential," Home Secretary Priti Patel wrote in an op-ed published in The Daily Telegraph on Wednesday.
She added: "Defeating the hostile activity that threatens our people, property, economy, democracy, and freedom requires us to be even more sophisticated than those who would hurt us. Therefore, we must give those who keep us safe from these harms the tools they need to prepare, plan, and take action to protect us."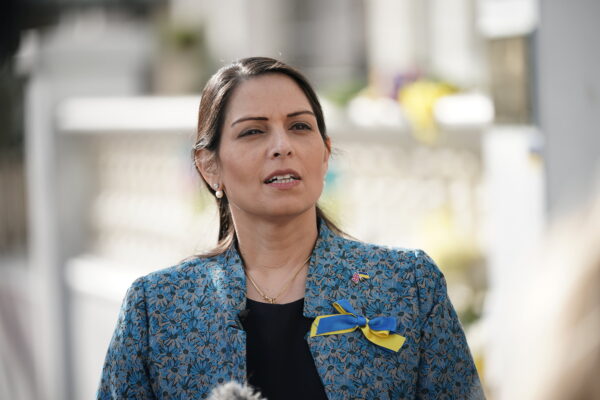 Patel singled out Russian operatives that "entered our country to commit murder" and "individuals who engaged in political interference activities on behalf of the Chinese Communist Party."
Foreign nationals suspected of working for hostile states will face restrictions on where they can work, study, and travel.
If thought to be recruiting spies or spreading malign influence, hostile agents will be barred from institutions including universities and Parliament under so-called Asbo, or anti social behaviour, measures.
Individuals working for foreign states face deportation if they fail to declare themselves in a U.S.-style register.
Director General of MI5, Britain's domestic counter-intelligence and security agency, Ken McCallum told reporters: "Laws designed to deal with wartime espionage have not kept pace with the threats MI5 is now tackling. State actors are stealing not only national security secrets but our cutting-edge science, research, and technology."
He added: "They are attempting to interfere covertly with our democracy, economy and society. We see coercion and, at the extreme, direct threats to life."