Britain came to a standstill on Monday as the nation paid its last respect to its longest-serving monarch, Queen Elizabeth II, who died on Sept. 8 after 70 years on the throne.
Hundreds of thousands lined the Queen's funeral procession that carried the monarch from lying in state at Westminster Hall to her state funeral and on to Windsor Castle for the committal service.
It was announced on Sept. 10 that the day of the Queen's state funeral would be made a public bank holiday.
Downing Street indicated that it was up to individual businesses how they would approach the bank holiday.
But many businesses, including supermarkets, fashion stores, and cinemas, decided to close for some or all of the day.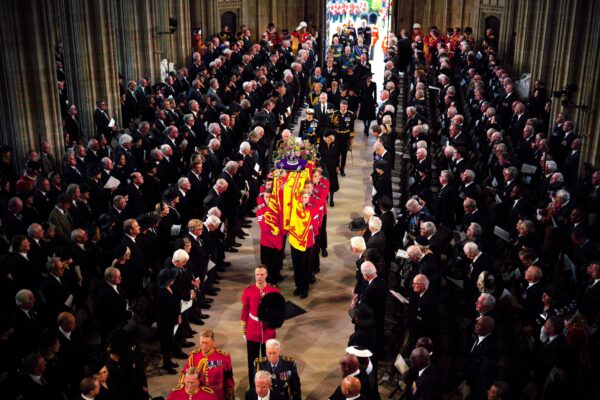 Shops Shut
The country's biggest retailers, such as Tesco, Sainsbury's, Morrisons, Lidl, and Aldi, shut their stores so that workers could pay tribute to the Queen.
"We want to express our deepest condolences to the royal family, as well as our gratitude to Her Majesty the Queen for her unwavering service," said Jason Tarry, UK chief executive of Tesco, the UK's biggest grocery business.
Many convenience stores remained shut during the funeral ceremony but reopened at 5 p.m. after the service.
McDonald's said it would shut its 1,300 UK restaurants as a mark of respect on Monday, though outlets would be allowed to reopen at 5 p.m.
Cinema chains such as Cineworld and Odeon also kept their venues shut.
But a number of pub groups said they would have venues open during the day. Pub group Stonegate said it would remain open and planned to show the funeral on screens.
Flights Cancelled
Air traffic was also affected by the funeral, with more than 100 flights cancelled at Heathrow Airport.
The west London airport announced that 15 percent of its 1,200 flights due to take off or land on Monday would be disrupted "to avoid noise."
The airport said it wanted to ensure the skies over London would be quiet during the two-minute national silence as the Queen's funeral at Westminster Abbey neared its end shortly before noon.
Departures and arrivals would also be halted during the arrival of the funeral cortege and procession at Windsor Castle, and diverted around the castle during the private family service on Monday night.
PA Media contributed to this report.